Hey there Horror Fans! Got a inkling for a scary clown movie? Do creepy clowns freak you out? How about just plain haunting face paint that rubs you the wrong way? Well I think we all had to do a double take after the Gacy years, but for the meantime we thought we'd give you a nice little selection to choose from. Now my disclaimer on this list is "clown horror" films that I've yet to see which have been appropriately placed in the special mentions below. When they make the viewing circle, I might have to swap a few out ;) My choices are subjective, but what I feel are appropriate also
Out of proper courtesy though, I do ask that commenters call a few out that "should" be in the top 10. Which upon that we'll be more likely to push 1 or 2 forward on the review cycle (or bump it up to a top 20??)
Scary Clowns:
The difference you'll find is while some are "clown" focused films, a few others just have a smaller scary clown moments.TV shows were left out, though I did note a few memorable moments in the special mentions (sometimes scarier than the films on this list)…enjoy!
(not in ranking order)
=============
01- Stephen King's It (1990) (Tim Curry as Pennywise the Clown)
Now here is a no brainer. Tim Curry was scary as the Devil in "Legend", that freak in the "Rocky Horror Picture Show", and "especially" playing the role of "Pennywise the Clown". I think placing Curry in any makeup simply is not a good thing for our fragile minds. HMM, maybe Curry should have been the new Freddy Krueger??? (or his sister "Penny Krueger" – sorry lame joke ;)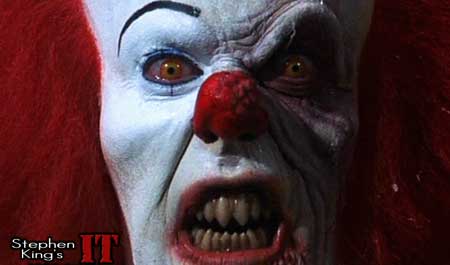 02- Amusement (2008)
Nothing amusing about one surreal clown creepster. In three tragic secrets, (stories) we get a small variety of subplots all involving the presence of clown horror. Amusement was a great film, one that I purchased right away upon viewing.If you've been putting this one off, don't! It's worthy of this list and for your DVD shelf.
03- Killer Klowns from Outer Space (1988)
Campy, fun and they still look like Klowns you don't want to wake up to. Regarded as a cult classic for campy clown films, you really can't ignore this on as a mainstay repeat lister. For a clown film, it gets my vote for being most "80's" of the group.
04- Clownhouse (1989)
"Just before Halloween, 3 young brothers alone in a big house are menaced by three escaped mental patients who have murdered some traveling circus clowns and taken their identities."
Now "Clownhouse" wears a darker presentation than some of these others. The film was banned, then released, then not released, then released again. In the end, it takes its dark clowns pretty serious. If you can locate a copy………….worth a viewing! History aside, its still a pretty good film.
05- Blood Harvest (1987)
"In a small town, people are being murdered by having their throats cut."
OK, weirdo Tiny Tim plays his 1 and only role of Mervo in this obsolete movie. Tiny really didn't have much of a movie career…..and so he gives to the world a "creepy clown". Ya I'm not sure what the public response was at the time but you can't help but get a pit in your stomach on this one.
06- Poltergeist (1982)
Who can't forget that scary clown doll creeping under the bed? This film damaged alot of youths who promptly discarded any clown toys in possession. I imagine, in Hell …clown dolls creep around on a daily basis. Time to start praying!
07- Carnival of Souls (1998)
Actor Comedian Larry Miller plays the role of Louis Seagram, a rapist and murderer. While I'll admit this was a piss poor film or bears no resemblance to its 1962 horror film "Carnival of Souls", Larry Miller comes across creepy as hell. Not so much in a fantastical way as others on this list but in a more sleezy molester kind of way. Miller should never be a clown!
08- Killjoy (2000)
This originally wasn't going to be one of my choices, however with a franchise (3 films) behind the character, I think ol' KillJoy has earned a place. What I'm calling the scary ghetto clown, Killjoy does have one set of creepy chompers on him. He might be a prankster, but he's not someone you want to mess with none-the-less.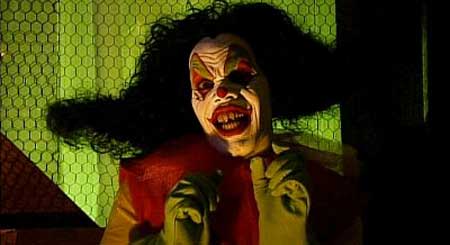 09- Zombieland (2009)
The film had nothing to do with clowns , and is rather a full-blown zombie movie.. Though there is that 1 confrontation when "zombie clown" comes after Jesse Eisenberg that stands out from this list as being a noted moment worth mention. Zombie Clowns are the worst type of clowns……..rrrrrrrrrr!
10- 100 Tears (2007)
"Two journalists are on the trail of a demented serial killer who may be much closer than they think."
You got to give this one a try if you are in the mood for just simply brutal clown violence. This one takes things to the extreme with lots of gut slicing chaos! It's a frightening clown portrayal in a less fantasy based arena.

__________________________________________
New entry! (updated 9.11.2014) – All Hallows' Eve (2013)
While this list was published quite awhile ago, it was the recent viewing of a new clown horror film that prompted me to instantly include its entry into our list. Without changing the original list itself, I would have to put new entry "All Hallows' Eve" as the favorite over all (even giving Stephen King's It" a run for its money.
New entry! (updated 10.23.2014) – American Horror Story: Freakshow (TV Series)
New entry! (updated 10.17.2015) – The Legend of Wasco (2015)
They keep on coming…..them scary-ass clowns…though we love em!
Future brothers-in-law Tyler and Byron bond by dressing as the Wasco Clown and taking pictures that spread across the internet, a viral hit overnight. What starts as great fun turns deadly as the very real Wasco Clown returns to terrorize the town. A Tale of Legend come to Life, a test of the friends' courage to overcome their fear of a circus nightmare, resurrected.

New entry 2016 – Clown (2014)
The description says it all "A loving father finds a clown suit for his son's birthday party, only to realize that it is not a suit at all". How about a clown suit that doesn't want to come off as its possessed by a demon from old world times?
Clown (2014) is an entry that can't be ignored.
New entry 2016 – Rob Zombie's 31 (2016)

Has a clown theme with killer clowns hired to kill for high stakes.
Though despite a gaggle of clowns, we are going to select "doom-head" as the worthy entry here.

New entry 2017 – It (2017)
Yep, we know it. 2017's version of Pennywise was just as much a hit as Tim Curry's version. If box office success was an indication, then this one is surely a clear winner. Make sure to check out other Pennywise articles listed on HNN
Seen a scary clown movie? Think it should be on this list?
Leave your comments below!
=========================================================
SPECIAL MENTIONS:
Camp Blood (2000)
Camp Blood 2 (2000)
Clownstrophobia (2009)
Dead Clowns (2004)
Dead Silence (2007) (the Clown Doll puppet is often cited)
Dear Mr. Gacy (2010)
Drive Thru (2007)
Fear of Clowns (2004)
Fear of Clowns 2 (2007)
Final Draft (2007)
Fraternity Massacre at Hell Island (2007)
Funny Man (1994)
Gacy (2003)
Hellbreeder (2004)
House of 1000 Corpses (2003) (Captain Spaulding)
Jingles the Clown (2009)
Klown Kamp Massacre (2010)
Masters of Horror ("We All Scream For Ice Cream" Episode)
Millennium TV Series (1996) (episode  "Gehenna")
Mr. Jingles (2004)
Out of the Dark (1989)
S.I.C.K. Serial Insane Clown Killer (2003)
Secrets of the Clown (2007)
Spawn (1997)
The Clown at Midnight (1999)
The Clown Murders (1976)
The Devil's Rejects (2005)
The Fun Park (2007)
The Last Circus (2010)
To Catch a Killer (1992)
Torment(2008)
Urban Massacre (2002)
Vulgar (2000)
Within the Woods (2005)