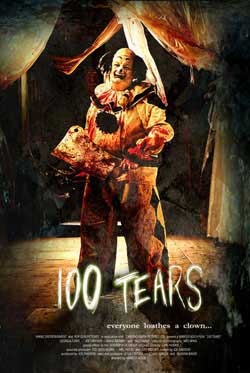 SYNOPSIS:
For 20 years a man named Luther Baxter posed as Gurdy The Clown, better known to the public as the Teardrop Killer. Two news reporters, looking for a front page article to write, go into investigating the Teardrop Killer, only to find themselves face to face with the killer himself.
REVIEW:
So as we start we role credits over a man putting on what appears to be clown makeup, in a room full of porcelain clown dolls. In the same room is a girl bound, trying to break free, as she does we see the clown's brains getting blown out by his own hand.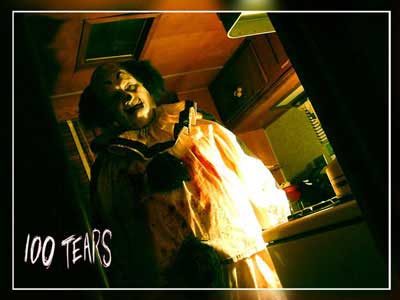 Make sure to check out "100 Tears" Trailer
Next we jump back to the week before all of this happened where we meet news reporters Jennifer and Mark, who are in a big discussion about what kind of story they can write up to get on the front page of the newspaper they work at. So Jennifer suggests doing an article on serial killers, which Mark denies at first, but finally agrees to do. So they go off to investigate things while we head to a halfway house where it appears that our killer pal Gurdy the Clown shows up, with an enormous clever in hand, to have a little fun with the residents, killing 9 and kidnapping a couple more to later torture and dispose of.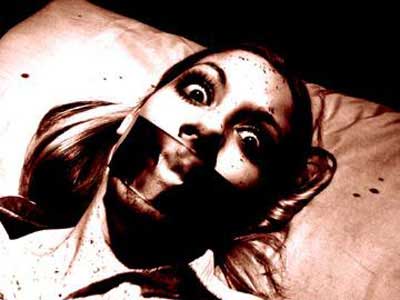 The next morning Jen and Mark show up at the crime scene and go inside to look for clues but in turn find a terrified girl claiming to have seen a killer clown in the building. And the investigation continues. As they get closer to finding Gurdy, he himself tracks down an important family member to join him in his bloody spree. Will Jen and Mark get any closer to The Teardrop Killer or will his killing continue? Watch and see.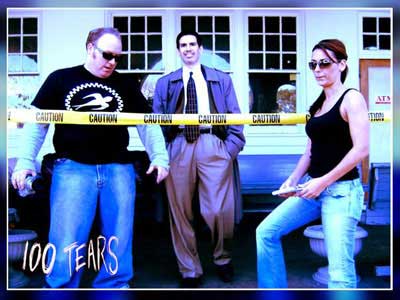 Now I have to say I really like these boys at Pop Gun Pictures, Joe over there was so kind to send me the screener, and awesomely enough, a small bag of my favorite Halloween treat, candy corn. THANKS JOE!
Now back to the movie. I want to be honest, the way the story unfolds doesn't grasp me really tight, but I really gotta say Jen and Mark's characters really helped move the story into place and although it really put a lot of down time on the killing spree, they did a damn good job putting things together, and in the long run, that's important as hell to me. I hate being lost in a story not knowing what the hell put the characters in their situations.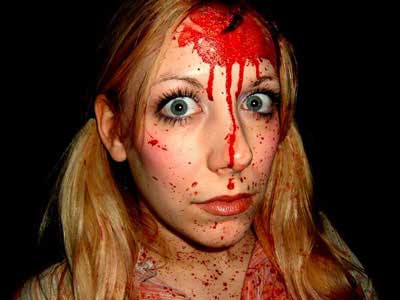 As for Gurdy, my friends here we have one twisted son of a bitch right here, enormous clever in tote, running around decapitating people and severing their limbs before brutally disemboweling them. Come on, how does it get any better than that? The kill scenes were outstanding and considering this movie isn't a high budget movie, the FX for this movie showed that Marcus Koch can hold his own and produce some truly twisted visuals. The man has bloody style!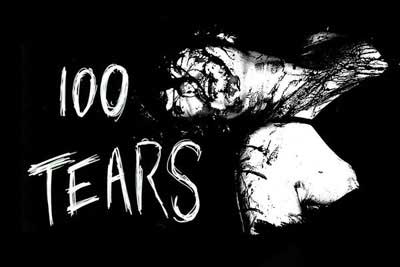 In my personal opinion as far as the story goes it's not the easiest to keep up with but it's not bad, though if your expecting a compelling story this won't take you to the moon. With that said this is one brutal movie. Blood, guts and gore flying left and right in every scene Gurdy's a part of, and let me tell you, it's extremely entertaining. The majority of the kills bring me back to the 80's before CGI destroyed the realism of a murder on film and bring a %$%*@ tear to my eyes with how well they are produced. This movie is perfect for extreme gore hounds and I, myself, loved it. 100 Tears is an 80's slasher for modern times, dusted off and resurrected in the form of one pretty gruesome film. This is a grade A gore film, so go get it!
100 Tears (2007)