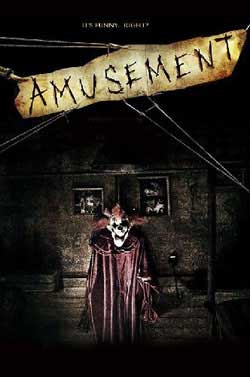 SYNOPSIS:
While being interrogated by a police psychiatrist, the near-catatonic Tabitha (Katheryn Winnick) tries to explain why she and two of her childhood friends (Laura Breckenridge and Jessica Lucas) are being hunted by a serial killer. The truth that's dying to come out weaves together three tragic secrets from their past. Keir O'Donnell and Tad Hilgenbrinck co-star as two of the girls' boyfriends who become unwitting targets in their deadly game.
REVIEW:
Rob and his girlfriend Shelby are driving home on the long boring highway when he decides to follow this big mac truck whose driver is making some sweet time by weaving in and out of traffic at a high speed. When you follow cars like that on the highway and warn each other of the upcoming traffic it's called a convoy. Shelby wakes up and is angry at how fast Rob is going and tells him he better get a grip and slow down. They pull off the exit following the intimidating trucker to a rest stop and find out that a man and his family are following them making this a three car convoy.
An attractive blond named Tabitha arrives at her Aunt's to baby sit and is unnerved to find that the boy's babysitter left early with out waiting for her to get there. What babysitter in there right mind leaves little children unattended? Who knows what sort of trouble two little boys could get into while not having any supervision- they could of really gotten hurt. Later when she puts the boys to bed she finally retires to her room there. Her aunt has it filled with an uncountable amount of clowns. A sinister scary life sized one sits hunched in the rocking chair. There is no way I could sleep in that awful room!
Lisa Swan is out one night with her roommate Cat at this classy uptown type of bar. Cat has met a man she thinks is interesting an attractive but she is debating even letting him drive her home. Lisa tells her to go for it and she'll meet her home in 30 minutes. Well Cat doesn't come home…at all. Lisa sends her boyfriend over to the rundown rat trap Paris Pension hotel to see if she is with the guy she left with. Her boyfriend doesn't come out for hours so she waits for just the right moment then slips unnoticed inside. It doesn't take Lisa long to see what big of a mistake she made by coming here, and alone at that.
Now all three of these girls were best friends as children and attended the same school Briar Hill with a really weird little boy who had a very distinctive laugh and liked to play jokes. The problem here is his jokes were mean and cruel, not funny. As a class project they all had to make shadow boxes of a scene that they enjoyed. All the girls had little cute boxes that they all took time and care making. He was excited to show them his box and waited there giggling as they peeked inside. It was not a pretty site and the girls ran to tell. That one incident is enough to show you how mentally ill he really was and at such a young age. They always said that hurting or killing animals is one of the first signs of a serial killer in the making!
Amusement shows you how each girl comes to be in the grips of their childhood tormentor, and what will happen when he is thru with them. Will anyone make it out of here to tell their terrifying story? The first two stories each had it's nail biting moments in fear where the third was spooky and gritty but more of the story flexing all together for one tied in twisted tale. I have no fear of clowns, but when Tabitha dealt with being in the room with that giant one, it totally unnerved me. I wouldn't be able to rest until I took him and threw it out the back door. No scratch that I'd have to burn it or something! I will admit I have already watched it twice and could go once more…I was just that into it. Will all of you enjoy it as much as me? It's not perfect, but it is a film worth trying out!