Special mention: "Funny Games" (1997)
Take my advice and just stick with the 1997 German version. The accents will drive you a bit crazy but what made this film work so well was the directors way of lingering on shots. 2 boys torture a family and play games through the movie. What I found almost unbearable was the camera style that stays with certain shots …without cuts and lets the horror of the moment draw you in like a live spectator. Disturbing emotions run high with the level of abuse these teens cause as well as drawn out visual suffering that has to be experienced. It is a different type of disturbing than some of the other films but very strong on the contender list.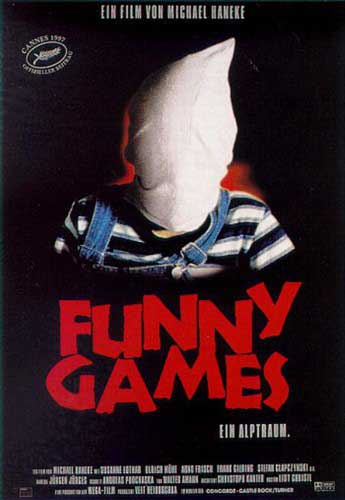 Well, if your brave…then dig into these gems (a statement of course subjectively whispered). Though I wouldn't recommend all at once. Stay tuned when I revisit this with some more goodies ……down the road.
For now here is some honorable mentions that deserve a place but didn't make THIS top 25 list. Collectors take note!!!
______________________________________________________
VIDEO NASTIES:
These little gems have their own list for a good reason. The selections are worth checking out in various capacities. Video Nasties refers to the banned list implemented back in the day on "too controversial" films. These all provide a nice helping of disturbing content. The films have of course been topped in recent years with hardcore violence becoming mainstream even from a Hollywood standpoint. Video Nasties have always been a group on their own (a group within a group). We'll add ones that qualify for this list as they are reviewed. Stay tuned for more articles and reviews on the VIDEO NASTY FILMS.
______________________________________________________

CAT III: ASIAN EXTREME:
Cat 3 ranges from extreme horror to extreme sexual to …well combinations of both many times. There are too many to name that offer some of the most disturbing content you'll ever find. Though the biggest problem lies in locating many of these to even watch. As a whole they deserve to be mentioned. We've even provided a more thorough and "mostly" complete list for diehard collectors. In some respects the CAT 3 films could easily overtake this whole list so its entries were kept to a chosen few.
AMAZON LINK (Contains Limited Titles)
UPDATE:
For one of the few books written on this subject, please check out author Phil Russell's Book "Beyond the Darkness: Cult, Horror, and Extreme Cinema" which can be purchased directly at: for direct paperback copy , for Kindle version
Our review of "Beyond the Darkness"


(CAT III films can be found on the 2 lists below)
Asian Category III Article and List of Films
Asian Category III – Posted Reviews List
Wait there is much more! You'll definitely want to check out our list of
"Extreme Cinema: List of Disturbing Films Compendium"
ARTICLE SECTIONS:
Extreme Cinema – PART 1
Extreme Cinema: Top 25 Most Disturbing Films of all time – part4