If you had a chance to check out our hottest alien females, then you probably already started thinking about hot vampires to boot. Now I'll be the first to admit that hot vampire chicks seems …well quite the bit hotter than hot alien chicks. Maybe it's that they want to kiss your neck and drain you or maybe its that alot of the early vampire films (70's and such) often added that lesbianism overtone. In fact historically there have been quite the bit more naked vampires than nailed Aliens, so that probably says something. One thing we've learned in the horror genre is that the films don't have to always be great to still be damn sexy. A few of these choices back that statement up. Anyways, enough white skinned admiration its on to the hot of the hot, the sexiest hottest vampires.
(not in ranking order)
01 – Santanico Pandemonium "From Dusk Till Dawn" (Selma Hayek)
Santanico Pandemonium….it doesn't matter much if you can say the name or not. When Salma came out sporting a rather large snake as she slithered around in her striptease dance…visual snapshots were indeed taken. Probably for that matter one of the most memorable strip tease dances in horror history. Oh ya, she happens to be a snake-faced vampire as well..yikes!
02 – Selene "Underworld" (Kate Beckinsale)
By the reports of Kate's return to the "Underworld" franchise, one thing is clear. She IS "Underworld" and one slick vampire to boot. Something about that blue tonality and perch-like stances that just makes it all come together. Selene proved one thing. That is, the franchise can't live without her.
03 – Jessica Hamby "True Blood" (Deborah Ann Woll)
Redheads and vampire functions seem to really hit high marks. Deborah was forever turned and somehow gets hotter with every new episode. I think add in to the fact that she tends to be rather naughty just makes the circle complete in this Jessica Hamby character. Red-head, naughty and slick vampire…there ya go.
04 – Sonja "Underworld: Rise of the Lycans" (Rhona Mitra)
Rhona came into the 3rd release of the popular franchise at the mercy of having to follow up a well established character. In fact, probably what threw folks off was that she resembled Kate's character Selene almost to a T, and yet wasn't her at all. "Sonja" played by the equally hot Rhona Mitra was still full of sexy vampness in a way that seemed to flow from her regardless of role. Though in the end, the fans wanted Kate, and so Rhona was taken from the ranks.
05 – Mae "Near Dark" (Jenny Wright)
Jenny Wright was a early favorite for horror fans. Her girl-next-door nature and her subtle sweetness seemed almost at odds with the fact that she was a bloodsucker. For years Jenny disappeared into hiding thus leaving only a memory of her flawless performance in one of the best vampire themed films, to ever immerge. Mae, that harmless country girl, who just so happens to be a blood sucking killer.
06 – Rayne "BloodRayne" (Kristanna Loken)
The first of our hot vamps from the Blood Rayne franchise arrives with Kristanna Loken smoking the screen up with her combination fast moves, good looks, and savvy action sequences. In this film she battles a breed of human vampire hybrids called the Dhampir. This movie impressed me more with its high action presentation.
07 Rayne "Bloodrayne: The Third Reich" (Natassia Malthe)
Natassia Malthe seems to be a huge part of the marketing on this one. Though I don't blame them as her inclusion really injects plenty of sex appeal to the series. This entry is set in 1943 during the hey day of nazism. It's rather bizarre plot involves getting Rayne's blood injected into Hitler for immortality. Cool eh?
08 – Lilith "Bordello of Blood" (Angie Everhart)
Angie Everhart may be the only thing I actually remember from this "Tales From the Crypt" release. With fangs or not, her tall red headed bad ass physique would make any non vampire submit upon command. This film wasn't that great but it probably gets watched even more due to Angie appearance in it.
09 – Fran and Miriam "Vampyres" (Marianne Morris and Anulka Dziubinska)
I'm guessing there are not as many horror fans who saw this early exploitation vampire film. It has its due cult feel to it but what I remember most was 2 vampire girls lovemaking and drinking the blood of strangers. For this sexiness, they get a combo entry for hot vampire scenes that involve 2 chicks.
10 – Marie -"Innocent Blood" (Anne Parillaud)
Anne Parillaud you might most remember from her inspiring role in the film "La Femme Nikita". Alot of her more recent roles are actually in her homeland of France, Though that French accent and slinky demeanor seemed to inject some vampire magic into this lost 90's gem. In fact, in the film synopsis it states her having 2 appetites…sex and blood. There we go again with the vampire sex thing. In Innocent Blood, Marie decides to curb her blood draining a bit and re-focus it on Pittsburgh gangsters. Kind of a crime fighting vampire if you may. A worthy entry into this listing.
11 – Solina ,Valerie Sharpe, Lucy Westerman "Dracula 2000" (Jennifer Esposito, Jeri Ryan, Vitamin C)
Ok, while the women were busy checking out Gerard Butler, many of us actually had our sites on seeing these 3 lovely ladies as a killer team concubine. When they all emerge wearing white with naughty intentions on their minds, well many fantasies were fulfilled (and maybe the rewind button as well)
12 – Victoria "Twilight" (Rachelle Lefevre)
While Bella seems to be getting all the attention, most fan boys were actually checking out some of the supporting characters. Victoria, a pissed off ex-girlfriend vamp seems to be getting the backseat, in a world where she certainly should not. Rachelle, sporting a blond reddish hairstyle certainly is the sexier alternative than our monotone Bella.
13 – Jennifer "Suck" (Jessica Paré)
Yow…. rock and roll chick and fangs…what more could you ask for? It's funny because as Jennifer evolves into more of a vampire, the hotter she gets. One of my favorite vampire films from this list. It's blend of humor, music and vampires was a great combo indeed!
14 – Nyssa Damaskinos  "Blade II" (Leonor Varela)
It's a been a few years since I've seen this one. Nyssa Damaskinos is our vampire natural born daughter to vamp heavy Damaskinos. Her gothy inclusion here made her a striking candidate to vamp hotness and the Blade franchise.
15 – Ingrid Pitt (several film roles)
Ingrid left a mark on the horror industry in the 60-70's era. Often in horror nostalgia books, you'll see this lovely beauty sporting fangs in one of her many vampire roles. Countess Dracula" being one of the more notable. Ingrid born native Polish brought a rare sexiness to the screen that made her an instant scream queen from that era. Ingrid was one of the original sexy vampires and for that matter one of the best.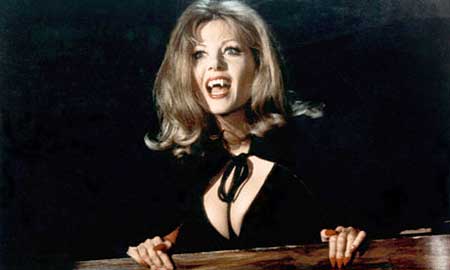 Top 15 Hottest Sexiest Female Vampires