Welcome to Tromaville…
This is Lloyd Kaufman's home away from home. President of Troma he's done a ton of his own films as well as has released many upon many of other people's films. And I am going to give you my top 10. Now understand my top 10 may not be anywhere near your favorite but I will explain why they are the way they are.
10- The Toxic Avenger II and III
I love these 2 a lot but they are the least of my favorite. Filmed back to back I believe they deserved to be tied together for 10th place. Toxic Avenger even spawned his own Cartoon series Toxic Crusader I remember watching as a kid. Never knowing that it was originally based on an R rated crazy series.
09- Class of Nuke Em High II and III
Just like Toxic 2 and 3 I think Class of Nuke Em High 2 and 3 should be tied. I liked the Nuke Em High Series a bit more than Toxie. I have yet to see Return to Nuke Em High which I am very much looking forward to but I wanna watch em when I can get Vol 2.
08- Citizen Toxie: The Toxic Avenger IV (2000)
Citizen Toxie had a lot of hilarious scenes. And I loved the making of Documentary. I wish all the films had a feature length doc to go with it. Very amusing film.
This seems to be a favorite among the fans. And I know why. It's tongue and cheek humor has made it a lot of fun for all us aspiring filmmakers.
Toxie was the one that started it all for Troma but wasn't always my fave. It was a lot better than some of the trash they had in the 80s but honestly never stuck with me like the rest of the films did
07- Class of Nuke Em High (1986)
This was my favorite "Class" movie. I remember going on a binge and watching all the Class movies like "Class of 1984" and "Class of 1999". Class of Nuke Em High was a lot more fun. The Special FX in it were amazing for how low budget it was.
04- Tromeo and Juliet (1996)
Written by Guardian of Galaxy's James Gunn and being the first movie to introduce the beautiful Tiffany Shepis. Tromeo and Juliet was a  well made adaptation of the Bard's classic tale. I loved it alot when I first saw it and it still holds up today.
03- Cannibal the Musical! (1993)
Trey Parker and Matt Stone you may know them as the creators of South Park made a movie in college and got it put out by Troma. It is non stop hilarity with amazing musical numbers. If you haven't seen it I suggest check it out.
02-  SGT. Kabukiman NYPD (1990)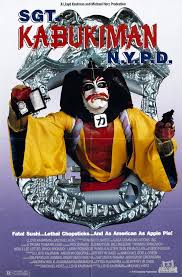 For years I keep hearing they wanted to make a SGT Kabukiman LAPD and man would I want to see that. Kabukiman was always a favorite to me because he was a fun super hero. Something Troma hadn't really explored much of. Kind of like Troma's Batman but goofier.
And number one is…
This is my personal favorite for one main reason… it was an 80's epic action adventure story. If they had had a big budget it would have likely been a Chuck Norris or Arnold Schwarzenegger flick. This movie made me get all sorts of excited and had a fun time doing it.
Well thats my top 10. If you don't agree or you'd rather state your favorite feel free to comment below. Remember to also ReTweet this on Twitter and help Troma get out there more.
If you don't know who or what Troma is check out their site