Hey there movie collectors. You may or may not have seen our article on great horror films not on blu ray, however we are surely not ready to stop there with so many great highly regarded cult films still sitting off to the side waiting for a up-rezzing to occur. We here at HNN (Horrornews.net) are not only passionate horror lovers but lovers of all great cinema works. This is especially true to our massive collective of cult film reviews posted over the years
With that said, fans of cinema (like myself) are adamant about having the best quality version on hand to enjoy, to listen to, and especially experience the advantage of higher resolution per home viewing (yep all 85″ of it! – silent pause….). This fact alone has led me to the creation of this article which hopefully will trickle over into distributor's hands as takeaway request for excellent films that still seem to have alluded the crossover into high resolution. While the industry is so quick to churn out the next Tom Cruise or Jennifer Lawrence (not that there is anything wrong with that), we film aficionado's would really like to see old favorites take the stage, as well.
So, the real question is which of these stellar blu ray distributors will make claim to these delights? Shout Factory, Arrow Films (US division, please), or a pretty strong contender in this category, Criterion
Though make not mistake we are not stopping there, as these films could just as easily get the high resolution treatment from Mill Creek Entertainment  and/or Olive Films (which are 2 distributors that have surprised me over the years with some great blu ray restoration-and release products!)
Sure we know about the DVD's and we are well aware that many of these movies can be acquired thru overseas means. Why they are available there and not here first is still a mystery ? (However, we suspect certain contractual aspects having some reason for delay.)
Fair enough, but as we have always said, if you don't ask you won't receive, so this brings us full circle to a call for some great cult favorites that deserve a blu ray treatment. We know of course readers will have a smattering of their own additions, so feel free to shout that per comments below! This list is just a small push to call out for bigger things!
(not in ranking order)
01) Zero Effect (1998)
That movie where Bill Pullman plays "that" genius private investigator with sidekick Ben Stiller. Yes, an often-viewed favorite that took its time to get to DVD (which has also gone OOP) and has taken even longer to come to blu ray. Really this is just a great movie that has just enough quirkiness to have become a cult favorite over the years. While Nicolas Cage movies are rushed to high resolution practically overnight, the favorites of yesterday seem to have stayed lost in the dark!
02) The Doom Generation (1995)
There really isn't any way to describe this film that doesn't use the words, cult favorite. And in the same instance, it's very likely that many have never seen this film and know its attraction. It stands as actress 1 of Rose McGowan's early appearances (in fact her 3rd movie casted gig) and is a perfect introduction to Rose's gothy sort of appeal that she embraced many years later. In this case, I thought its synopsis was a perfect summary of this film. "Jordan White and Amy Blue, two troubled teens, pick up an adolescent drifter, Xavier Red. Together, the threesome embark on a sex and violence-filled journey through an America of psychos and quickiemarts."
03) Bully (2001)
Man, this Larry Clark release of 2001 was such a great Larry Clark film that needs a proper upgrading. Director Larry Clark is pretty known for his push-the-envelope films that focus on younger adults, however, this movie in particular works as a star ensemble featuring the younger talents of Brad Renfro, Nick Stahl, Bijou Phillips, Rachel Miner, Kelli Garner and others that just hit the mark on troubled teens, sex, and the dark situations they can get themselves into. A fine film, Larry Clark should release this and others onto a Larry Clark bluray set (just a hint…all that I'm saying!)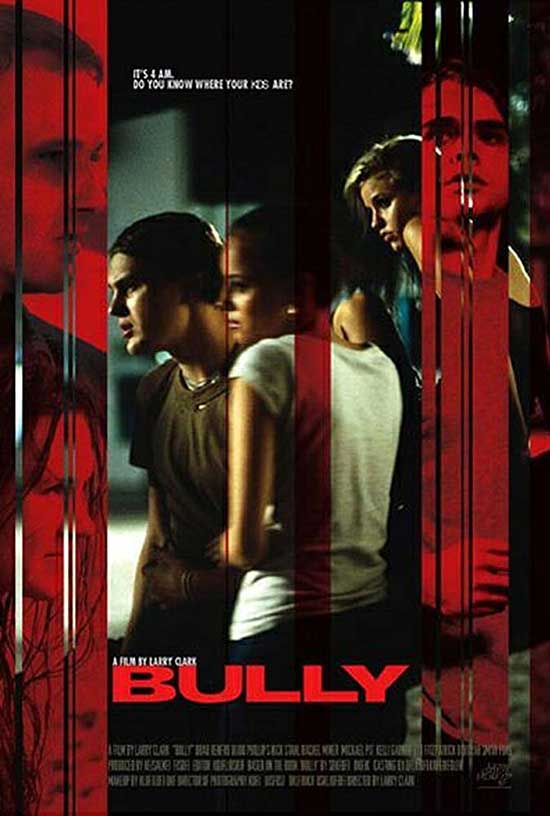 04) 7 Faces Of Dr. Lao (1964)
A really weird cool film from the 60's that more people just need to see. Starring the likes of Tony Randall and Barbara Eden, this film is a must have classic. In short,"7 Faces Of Dr. Lao" is a fantasy western with an Asian spin. Though it's the inventiveness of the story and its characters that really make this a film like no other
When a traveling circus comes to town they bring all sorts of oddities and characters. The film itself was produced by George Pal who had a talent for science fiction classics. His influence here is well noted as we are introduced to medusa, a serpent, pan, Merlin, and even the abominable snowman. Though it doesn't stop there with a few surprises in between (you have to see)! Long overdue for proper restoration and high res treatment, this one has been squarely on the blu ray wish list of mine for awhile.
05) Crossroads (1986)
What is it about the film "Crossroads" that seems to take forever to get proper release? A 1986, rock, blues extravaganza that roots itself on the legend of the famed Devil crossroads deal, "Crossroads" would not see a DVD release until 2004 (and now drags its feet for proper bluray release). One of actor Ralph Macchio's better known releases (that doesn't involve karate), "Crossroads" also gained recognition for its stunning guitar duel which featured virtuoso Steve Vai as Jack Butler, the devil's guitar player. An additional kudos goes to the classical guitar work and blues work  played through out the film. This is a classic cult film and most coveted guitar-players-guitar film that is long overdue!
Update: 2021!
Crossroads gets a BR release! – Thx! Mill Creek
06) Over the Edge (1979)
A film that came out on the tail end of 1970's, stands as a perfect example of small town teen angst at its best. The film also featured a a stellar soundtrack that in my mind really represented a perfect placeholder for some of Cheap Tracks more well know hits, "Speak Now or Forever Hold Your Peace" and "Surrender" (also note The Cars, Van Halen" and Valerie Carter's perfect ending song "Ooh Child")
The movie was the film world's introduction to actor Matt Dillon, who played the part of troublemaker Richie. In short, this movie while being an independent low production release, represented an era and how the teens of those times were feeling. Often underrated, this film is perfect for a "must-release list" getting a up-rezzed version worthy of our modern TV's
Update:
Just announced – coming on blu ray per Arrow Films!
07) After Hours (1985)
A great 1985 cult film that featured the directing talents of Martin Scorsese and key actors Griffin Dunne and Rosanna Arquette. Nothing comes closer to fun cult comedy film than 1985's "After Hours". The premise here has character Paul Hackett making his way thru the night and its rather collective bunch of eclectic personalities. The film simply works as a fun ride that finds its way eventually to morning. "After Hours" has always been great fun and a pleasure to watch…. now we just need an upgraded version to make its way to shelves.
08) Crash (1996)
Crash, not to be confused with the action-drama of same name, is really one of David Cronenberg's best releases. Folks, it's a movie about fanatics that are obsessed with cars. Not the usual sort of way, but a cult-like sexual attraction that really kind of opens the doors into this real life obsession. The film features James Spader, Holly Hunter, Elias Koteas, Deborah Kara Unger, and Rosanna Arquette (a line up worth mention just in itself). I would love to see this movie get the respect it deserves and find its way to blu ray production. It soundtrack, visuals, cinematography and premise really are a perfect mix of cult style at its best!
Update:
Apparently Criterion was listening and ported this 1 to BR, in addition Arrow films does the same (region2) – ugh
09) Killing Zoe (1993)
A great action film that has gained a film following much in the same way as "Pulp Fiction". "Killing Zoe" is an action packed treasure that while available overseas (UK) is no where to be found in the US market. Seeing that those copies are Region B, it makes this film still a much heralded movie that takes on a genre stance resembling "Léon: The Professional" (though still in a class of its own). This was actor Eric Stoltz's prize performance as lead Zed beautifully interplayed with co-star Zoe (Julie Delpy). We'd love to see this one finally come to light so it can nestle up against my copy of "The Boondock Saints" (just saying…)
10) Freeway (1996)
Another top contender for the cult film category, still ripe for the taking. Taking an odd twist in the theme of Little Red riding Hood", Freeway was a 90's era film that left an impact on movie viewers. It was one of the earlier Reese Witherspoon films helping to place her on the map of future stars to watch out for. It was Kiefer Sutherland at his best (outside of the Lost Boys realm) doing what we love best from this actor…..being creepy and disturbing. Keifer would later revisit that style of film in 1993's "The Vanishing", however Freeway was simply a great film that I have enjoyed many viewings.
11) Looking for Mr. Goodbar (1977)
an American crime drama film "Looking for Mr. Goodbar", a 70's release features the talents of Diane Keaton and Richard Gere. This was one of those films that came with a message about woman who seek out abusive relationships. Quite controversial for its time, you would think it wouldn't ever have issues going to digital. however, I don't believe proper DVD exists and certainly not a blu ray. I have regarded this as a must see 70's film that seems to only exist on VHS. with 2 top acting talents from that time, it is time this film got some respect!
12) The Beach (2000)
A cult film starring Leonardo DiCaprio? Yes, you bet! This was an unexpected surprise. Directed by often-cult-style film maker Danny Boyle, "The Beach" has great rhythm and visual context. The premise? Richard, a young American seeking adventure in Bangkok ends up on an island. The adventure starts there which evolves into a unique odd twist. Danny Boyle is one of the great cult style filmmakers with several releases on blu ray to his name. However…at the moment, it appears the 2000 film "The Beach" has been forgotten. (however UK versions are still available)
13) Eye of the Beholder (1999)
Wikiepdia calls it a "Canadian-British-Australian mystery thriller film that employs magical realism." That in itself should speak volumes to interested viewers. While this film didn't seem to entirely catch on, it has got plenty of bizarre twists and cinematic appeal. When I first encountered it, it took the second viewing to really appreciate its narrative. It's hard to say if this one will make the blu ray cut???, however it certainly is worthy of getting a facelift. Ashley Judd and Ewan McGregor are great in this one, and a good reason these 2 actor should continue to do these kind of films. Recommended for cult lovers who enjoy non-typical film styles.
14) Something Wicked this way Comes (1983)
A 1983 film categorized as a dark fantasy, "Something Wicked This Way Comes" is a great realization of the Ray Bradbury novel, of same name. A Disney movie no less, this film has its charm, a charm that falls into a genre mash up of sorts. Now a cult movie in itself ,mainly due to it taking its time to finally hit DVD, stands to benefit from the vibrancy of high resolution. Patience is required for this one seeing that no official BR has been reported. "Something Wicked this way Comes" is a fun film that managed to go a lil darker in premise than other Disney releases. Visually dynamic, a great story and buried for far too long, we'd love to see this one get some respect.
15) U Turn (1997)
Ok, this one DID in fact have a blu ray release (but was only limited to 3000 copies). Now, I do "get" that marketing ploys are executed from time to time to bring in extra cash, however this movie, while a really great film, should of been made more available than it is now. An appreciated independent film directed by Oliver Stone that has  great story and character interplay (not to mention Jennifer Lopez on board!), U turn is a cult classic.  With that said, we urge the diminishing of rare limited releases and would like to see this one become available again (without having to pay the hefty limited edition premiums now being asked).