Welcome horror fans to our top recommended list of great horror films that SHOULD be on bluray. We realize that keeping this to 10, was a struggle, however the list still represents 10 films that aren't on high resolution yet!!??. I do welcome readers to comment more below in the hope that distributors read this piece and are ambitious enough to take these on! presented by Horror News
We also realize that have been other great distributors such as "Synapse Films", "Kino Lorber", "Criterion", "Arrow Films"  and so on that have really made an impact with championing BR releases. Wait…..Ok, special kudos to "Vestron" as of late, we love the BR releases that you have jumped on!!
However Shout Factory/Scream Factory clearly is the winner in this category releasing loads of great BR releases that just would have never gotten any love otherwise. I am constantly amazed with the quality and frequency that this company churns out. There are no complaints here….only wishes
So with that said, I also realize that it doesn't hurt to bring some titles to light and remind them about films are still sitting on the sidelines. (It also might infuse a few fans to inquire on their own about these titles)
I HAVE seen a few of them on Ebay that can be acquired per overseas or with that dreaded Region B coding….ugh. However it is not likely that horror fans are all going to run out and purchase UK region specialized bluray machines. no-siree. In fact, we are so passionate, that Google will make a prominent list out of this article and post it to the world, that our reality may soon change
So without further ado, I present our list:
(Keep an additional eye out for a follow up Cult movie BR wish list as well! – coming soon!!!)
01- Mister Frost (1990)
Probably one of the BEST horror films released centering on the devil, that has experienced the worse treatment in distribution over the years. Actor Jeff Goldblum is at his absolute best in this horror gem that not only has never reached bluray, but has been hard to find altogether, period. This would have to go first on my list as it's a "thinking persons" horror film that not only is a great watch but is sure to find consistent repeat viewing's after. Like the other gem "The Unholy" (that finally got a bluray release), this one is way past getting the love it deserves with close to 30 years now between its original release on VHS. Q: Is the devil truly behind the fact that we horror fans will never get to see this film on high-res? – hmmmmm…
We place this classic horror film, on the must see – get it done and get it to BR list!
02- Martyrs (2008)
So anyone who has seen the original by film genius, Pascal Laugier knows that the US remake was just weak across the board. In fact SO weak that I couldn't bear to even have it in my BR collection (I traded it for something worth watching). The original "Martyrs" was not only captivating, but a horror classic straight from the French Extremity greats. Compelling, highly disturbing, eerie, gross, twisted and a film that leaves you jaw dropped….. "Martyrs (2008)" should have been a film that distributors should be jumping on to release to BR. If you have to wait, you have to wait…..so, still see in on DVD, however it's too good of a movie not to get proper high resolution treatment. Martyrs (2008) is a must have indeed!
03 – Cube Movies (1,2,3) Set
Ok, so there is a Cube (Cube 1) release that you can pick up from Amazon. However! Wait….. Cube is not the kind of franchise/series that can have its sole release on BR with its 2 sequels floating around on DVD. It makes for a bad movie collector shelf experience, and we wont stand for it! dammit
In the same vein as [REC] (and thank you for that set!…by the way). The cube trilogy is a trilogy that equates to the sum of its parts. A mind-f*uck of an experience, Cube details much more of its story over the 3 releases ("Cube", "Hypercube" and "Cube Zero") – so with that being said, a Cube Trilogy set is wayyyyyyyyyy overdue!
Shout Factory, not only do we want Cube movies joined on BR, but some great explanations from the creators about the factors, the creation and what the heck the storyline really means (from their perspective in creating it)
(Readers can explore our Cube movies explanation here if you'd like)
Note: image is from the overseas releases, don't get too excited!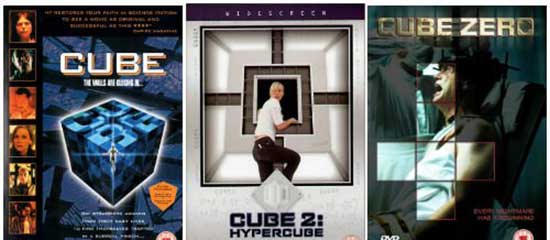 04 – The Hitcher (1986)
What are you kidding me? This classic Rutger Hauer starred film is REALLY not on bluray?? Yes it's true, in another alternate reality things may be different, but in ours…..surely not. but wait, the crappy Sean Bean remake version is?? Go figure
Yes, it is also our reality…or universe's cruel joke, The Hitcher (1986) is sitting quietly on lower res and needs a friend to mature it up to play on large TV screens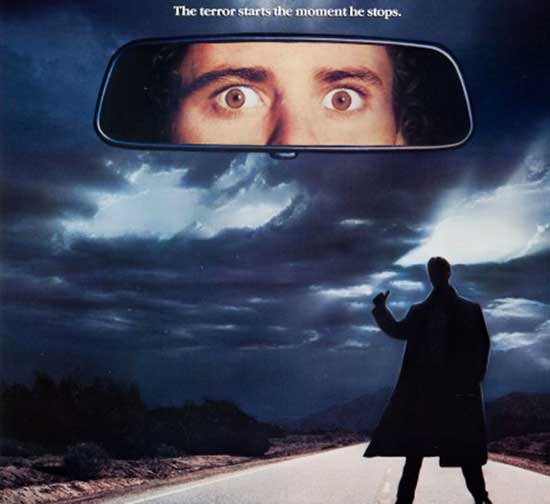 Enuff said here…… Rutger Hauer should surely pay you all a visit to set things straight
05- YellowBrickRoad (2010)
A most excellent film that was easily one of the better releases of 2010. Released under the Bloody Disgusting label, a DVD release was not adequate enough to give this film the respect it deserves. Odd, eerie, and somewhat of a culty-crossover, "Yellowbrickroad" was a gem that sadly will get buried as folks Goodwill their DVD's for better resolution presentations. In fact, "even" an overseas version that will play in Region A, is just nowhere to been seen. Am I alone in saying….WTF, how did the industry NOT high-res this one up??
06- Grave Encounters (2011)
I has puzzled me greatly over the years that its sequel went straight to bluray (the lesser interesting of the 2) while its first film was lost in the shuffle and denied a proper BR release. For those who really like found footage films, this ranks among our top found footage movies to see. An eerie and exceptionally creepy delight, Grave Encounters was praised and then forgotten leaving only overseas knock-offs to purchase and a US BR release no where to be found! A film that should not be ignored…much more impressive than the fall-off of Paranormal Activity films.
(Hint – ok, lets up the game and make it a combo part 1 and 2 release!)
07 – Tetsuo: The Iron Man (1989)
An all important cyber punk-electro-fueled horror cult piece that helped to redefine the whole Asian spectrum of releases. It's weird (really weird) and wonderful using camera techniques and stop motion innovation. It's 2 sequels were less than to be desired to the point of embarrassing, BUT this 1989 piece was game-on!
Really the proper thing to do would be a double release set that includes its follow ups, however we'll take what we can get. It's part punk rock meets Asian mind-scramble AND it's all black and white. It's also the perfect film to lower the volume and hit play in the background while hosting your own trendy hipster party.
08- Exists (2014)
Exists is a really cool Big Foot movie, that is still not on bluray. Yes, they found it suitable to BR it overseas, just not in the US. Now I'm sure your scratching your head going….really, a big foot horror film that rocks? Yes it is (and yet Extraterrestrial (2014) goes to bluray and "Exists" doesn't)
Now call me silly, but there needs to be some adjusting here. If big foot can be made to be scary and succeed…then it deserves to get high res, simple enough. I would love to see this film garner a rezzed- up release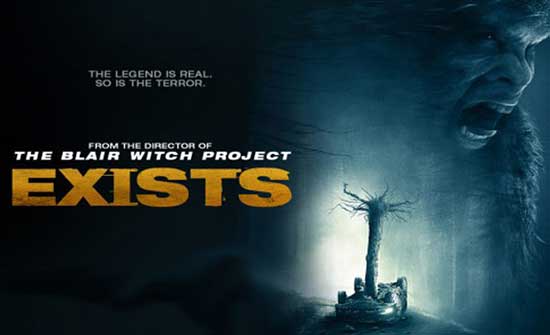 09 – The Keep (1983)
This doesn't mean it's really 9th on the list, it just took me 8 entrees to get to it. "The Keep" is truly an 80's film. An because of that it's got some cool cheese covering it. When titles were slim, there was always "The Keep" to keep us entertained (like the pun?). An odd movie. but way important to us 80's horror fans. We need "The Keep" and we need it now.
10 – Neighbor (2009)
A gnarly femme-fatale torture extravaganza that has America Olivo taking the wheel in vicious display. As part of that whole torture-p*rn group, this one was one of the better ones to see. As a 2009 film, it seemed unlikely that it wouldn't get a bluray release, though you'll have to live with the DVD version at the moment.
(just for the record, I didn't run out of choices, but rather wanted to really see this one get upgraded)
ADDITIONAL SPECIAL MENTIONS:

Triangle (2009): (great film that is OOP on BR, and should receive a proper re-issue)
Absentia (2011): (what do you mean, you haven't seen it? shame on you!!)
The Machine Girl (2008): Hey….you shut your cake hole…cuz "The Machine Girl" rocks (just not on BR, yet)
Monster Man (2003): (Walk on home buddy….Monster Man rocks)
Boo (2005): (what can I say…. I really liked Boo, it was a fun early 21st century style piece and for that year)
Dead Birds (2004): (True horror lovers, know about this one, and want to know what's up?)
Room 6 (2006): (Good times….good times indeed….. BR this 1 soon, please? – it's fun horror and horror often isn't fun…so rez it up!)
Cast a Deadly Spell (1991): (really cool 1991 film that is filled with great Lovecraft inspired bits)
Midnight Offerings (1981): Classic good TV here! 2 witches do battle with a great performance by Melissa Sue Anderson – Good TV movie
The Norliss Tapes (1973): Really scary 70's TV show pilot (not quite feature length or TV show length) – BUT, it needs to be discovered again!
Death Tunnel (2005): now before we receive comments……know that I just really LIKE the style of this film and soundtrack, Booth Brothers are great, but need to start providing blurays, as TV consumers want high resolution. I loved this one! SO felt the need to add it.
Ok that rounds up this piece. Remember, if you really want something, you need to seize that notion and shout it to the world. No wait….. even better, let's use a quote from the great film "Network" to close this horror show
"But first, get up out of your chairs, open the window, stick your head out, and yell, and say it: I'M AS MAD AS HELL, AND I'M NOT GOING TO TAKE THIS ANYMORE!"
Share your voices below!