Throughout the history of horror movies there is one monster that has remained the most real and most frightening of them all. Freddy, Jason, and Michael can't touch the terror that strikes peoples when a shark is near. Jaws taught us to fear the water, and it's tag "You'll never go in the water again" struck a cord with movie goes everywhere. It's been almost 45 years since Jaws hit the theaters and keep people off the beaches, but today's filmmakers are expanding the shark universe and taking them out of the water. In recent times, we've seen sharks invade tornadoes, snowstorms, and now you are not even safe in your own house.
01 – JAWS (1975)
When a young woman is killed by a shark while skinny-dipping near the New England tourist town of Amity Island, police chief Martin Brody (Roy Scheider) wants to close the beaches, but mayor Larry Vaughn (Murray Hamilton) overrules him, fearing that the loss of tourist revenue will cripple the town. Ichthyologist Matt Hooper (Richard Dreyfuss) and grizzled ship captain Quint (Robert Shaw) offer to help Brody capture the killer beast, and the trio engage in an epic battle of man vs. nature.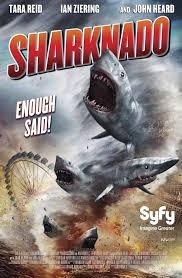 02- SHARKNADO (2013)
Nature's deadliest killer takes to the skies in the ultimate gill-ty pleasure as a group of friends try to save the Santa Monica coast from shark-infested tornadoes.
03 – OPEN WATER (2003)
Daniel (Daniel Travis) and Susan (Blanchard Ryan) embark on a tropical vacation with their scuba-diving certifications in tow. During a group dive, the two separate themselves from the others to dive a little deeper. An incorrect head-count suggests the entire group has returned, so the boat departs. When the pair surfaces, they make out a vessel in the distance, but it does not immediately set in that they have been left behind. With sharks lurking beneath, their survival chances grow smaller.
Open Water available on Amazon
04 – HOUSE SHARK (2017)
Just when you thought it was safe to go home!
When Frank (Trey Harrison) finds his happy home under attack by a dangerous but largely unknown breed of shark, he's enlists the aid of the world's only "House Shark" Expert, Zachary (Michael Merchant), and a grizzled former real estate agent, Abraham (Wes Reid), to embark on a desperate quest to destroy the beast and claim back his life. It's JAWS in a house!
House Shark available on Amazon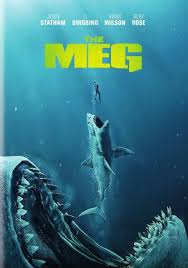 05- THE MEG (2018)
Previously thought to be extinct, a massive creature attacks a deep-sea submersible, leaving it disabled and trapping the crew at the bottom of the Pacific. With time running out, a visionary oceanographer recruits rescue diver Jonas Taylor to save the crew and the sea itself from an unimaginable threat — a 75-foot-long prehistoric shark known as the Megalodon.
06 – DEEP BLUE SEA (1999)
On an island research facility, Dr. Susan McAlester (Saffron Burrows) is harvesting the brain tissue of DNA-altered sharks as a possible cure for Alzheimer's disease. When the facility's backers send an executive (Samuel L. Jackson) to investigate the experiments, a routine procedure goes awry and a shark starts attacking the researchers. Now, with sharks outnumbering their human captors, McAlester and her team must figure out a way to stop them from escaping to the ocean and breeding.
Deep Blue Sea available on Amazon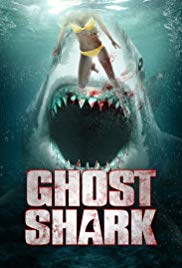 07 – GHOST SHARK (2013)
A coastal town is plagued by a supernatural man-eating shark. A ghost hunter joins forces with a sea captain to uncover the secrets of the area's dark past and find a way to exorcise the spectral predator.
Ghost Shark available on Amazon
08 – 2-HEADED SHARK ATTACK (2012)
A ship carrying a party of students is attacked and sunk by a monstrous mutated shark with two heads. The survivors escape to a deserted atoll, only to find their safe refuge is sinking beneath the waves, and the unnatural predator has followed them.
2 Headed Shark Attack available on Amazon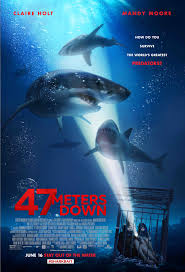 Two sisters vacationing in Mexico are trapped in a shark cage at the bottom of the ocean. With less than an hour of oxygen left and great white sharks circling nearby, they must fight to survive. … Two sisters are exploring the deep blue sea until something goes wrong.
47 Meters Down available on Amazon
10 – THE SHALLOWS (2016)
Still reeling from the loss of her mother, medical student Nancy Adams (Blake Lively) travels to a secluded beach for some much-needed solace. Despite the danger of surfing alone, Nancy decides to soak up the sun and hit the waves. Suddenly, a great white shark attacks, forcing her to swim to a giant rock for safety. Left injured and stranded 200 yards from shore, the frightened young woman must fight for her life as the deadly predator circles her in its feeding ground.