It can easily be said that the 1970's were the golden age of cinema. It saw the birth of various successful film franchises and was a starting point in the careers of many esteemed filmmakers. Directors like Francis For Coppola and Martin Scorsese made themselves known with some of the most memorable films in film history, and at the same time abundance of great actors such as Dustin Hoffman, Al Pacino and Jack Nicholson where making headway in their careers and laying the foundations of becoming the acting legends that they are today.
The 1970's was especially interesting time for the horror genre. The commercial success of films like Rosemary's baby (1968) had paved the way for horror becoming accepted as more than just a trash genre, and that same trend continued in the following decade. Film such as The Exorcist (1973), Jaws (1975) and Alien (1979) certainly helped to cement horror as a serious film genre of real substance.
Meanwhile in Europe, the Italians were going through their own renaissance of horror with directors like Dario Argento, Lucio Fulci and Mario Bava producing some of the best genre films of the decade. In Britain, Hammer, Amicus and Tigon were delivering their own style of scares varying from classic gothic thrills to deliciously atmospheric folk horror.
With all that in mind, it is incredibly difficult to pick only ten films from this wonderous decade. You could easily put together a list of the top 10 British or Italian films alone and even that would be a hard task. However, I have done my best to try to pick the best of the bunch and tried to find representatives of different sub-genres and different countries. There are many deserving films that are sadly not on this list (like the aforementioned The Exorcist for example), but they were never far from my mind while writing this list.
Not only one the best horror films of the 1970's, The Blood on Satan's Claw is quite possibly the best folk horror film ever made. Directed by Piers Haggard and produced by the legendary British production company Tigon, it's a fantastic tale of 17th century satanic panic. It might have its campy moments, but overall Blood on Satan's Claw is genuinely creepy experience. With stellar performances by Linda Hayden as the possessed ringleader of Satan worshiping youngsters and Patrick Wymark as The Judge, together with Dick Bush's fantastic cinematography and Mark Wilkinson's atmospheric musical score, it offers moody, claustrophobic scares with palpable suspense.
Continuing in the same sub-genre, The Wicker Man is another strong contender for the title of best folk horror. An undeniable classic that has won the hearts of horror fans everywhere for four decades. Its unique approach to the themes of Christianity and paganism is one of the key elements to it's allure (I mean, is there anyone out there who truly roots for Edward Woodward?). It's not a horror film that gets you with cheap jumps scares or graphic violence. Instead it unfolds the mystery slowly and steadily, keeping the audience hooked till the very last frame.
Zombie Flesh Eaters, also know as Zombie and Zombi 2, is a classic of the zombie genre by none other than the legendary director Lucio Fulci. It's an outstanding representative of its genre full of great special effects, genuine suspense and of course a supreme musical score by Fabio Frizzi. Of all things, the film is possibly best remembered by the famous underwater fight scene between a shark and a zombie, featuring an actual actor (Ramon Bravo: a shark trainer, filmmaker and an underwater photographer) and a real, live tiger shark! While Zombie Flesh Eaters has many things going for it, that particular scene alone is enough to make it a cut above rest when it comes to zombie films.
What would any 70's horror listing be without Suspiria? While it's not the only noteworthy film by the great Dario Argento, it certainly is one that is pretty impossible to skip over. A dazzling spectacle of violence and beauty, it is without a doubt Argento's most memorable film. It's stunning to look at, but surprisingly brutal at the same time; elements that come together beautifully and help to make it the legend that it is.  It's a supernatural nightmare with a first-rate soundtrack (Goblin, who else?) and some of the greatest visuals of recorded horror history.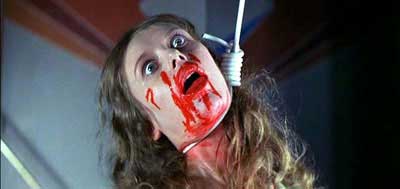 Still continuing with the Italian theme, Bay of Blood comes from the genius mind of Mario Bava.  It's a non-stop murder fest with great variety of kill scenes and not only that, it's all wrapped up in a whodunit-type mystery in the style of Agatha Christie. It's one of Bava's more violent pieces, but also great bit of fun. All the characters are dislikeable in their own special way and seeing them getting killed one by one in numerous different manners is very enjoyable indeed. Many slashers, perhaps most notably Friday the 13th, owe a lot to this film and without its influence the face of slasher cinema would not be the same.
If you want to see 70's psychedelic horror at its finest, you have to look no further than House. Directed by Nobuhiko Obayashi and based on ideas given to him by his pre-teen daughter, it features (among other things) vomiting cat paintings, carnivorous pianos, floating heads and tons of bizarre special effects, making it undoubtedly one the weirdest horror films ever made. It's an off-the-wall thrill ride of things that you could never predict and thoroughly original piece of horror cinema. Best watched with couple of beers and some like minded friends.
The Texas Chainsaw Massacre (1974)
This macabre tale inspired by ghastly crimes of the serial killer Ed Gein, was not only director Tobe Hooper's breakthrough film, but a genre defining piece which still continues to influence and inspire the horror genre today. It's a film that has stood the test of time in a remarkable manner; despite being over 40 years old, still manages to be one of the most shocking, gruesome and intimidating films of all time. Its claustrophobic tension will literally keep you on the edge of your seat and the scenes of brutal violence are sure to make your blood run cold (meat hook in the back, anyone?). A definite must see of 1970's cinema.
When thinking of 1970's horror, the first film that pops to most peoples mind is Jaws. And for a good reason; it was not only a tremendously successful horror film, bringing in audiences in their masses everywhere, but it also started the trend of summer blockbusters and is still considered to be one the greatest films ever made. While the filming process of Jaws was famously riddled with all manner of production issues (including, but not limited to, continuously malfunctioning mechanical shark and unwanted boats sailing into the frame), none of that is apparent in the end result. Jaws is not only scary, but an incredibly well-built film with solid characters and a well-paced storyline. It keeps the tension going all throughout the film and will make you think twice before taking a trip to the beach.
The Legend of Hell House (1973)
Often forgotten little haunted house horror The Legend of Hell House is a truly wonderful representative of its sub-genre. It's a moody supernatural tale with neat little twist in the end. While it's not a continuous parade of jumps scares that many modern films of the same ilk tend to be, it offers steady suspense and ever-increasing madness, that more than make up for it.  With beautifully colourful set design, decent performances all around and its wonderfully gloomy atmosphere, The Legend of Hell House easily surpasses similar films of the same era and is a film worth making a note of.
The film that every teenager everywhere should watch! Based on the Stephen King eponymous book, Carrie brought the supernatural scares into the suburban lives of average teenagers. Brian De Palma made horror history by doing a creditable job in adapting King's literary work into the film format, but also by helping two of his leading ladies (Sissy Spacek and Piper Laurie) earn Academy Award nominations for their respective roles (something quite unheard of for horror films at the time). It's mournfully beautiful depiction of the horrors of being a teenager and its universal themes of acceptance and struggles with one's identity are something that keep on captivating audiences for decades to come.