Greetings my little monsters, this week we'll look at ten films so striking that once you've seen them you won't ever be able to forget them. This list will cover films that range from the visually stunning to the grotesque. So, let's take the great plunge into the darkness together as we look at some of the most visually scarring films of all time.
10- Antichrist (2009)
At the number ten spot is a moving so disturbing that it's difficult to classify with any real accuracy as to its genre. Lars von Trier's controversial masterpiece Antichrist. This film features Willem Dafoe and Charlotte Gainsbourg as a grieving couple trying to save their relationship following the death of their child. The death of their child by the way is a consequence of them having a very graphic sexual encounter and leaving him unattended to crawl out of the window to his death. The film features one of the most graphic and infamously cringeworthy self-mutilation scenes in the history of film and even for 2009 it's brutal.
09- Martyrs (2008)
Sliding into the ninth spot on our list is the 2008 gore-filled palooza that is Martyrs. This film charts the journey of a child abuse survivor named Lucie, who is on a quest for revenge on those who tormented her. She is accompanied by a fellow survivor Anna, as they journey through a house of torment the likes of which, viewers are far from prepared for. This film features a scene in which one character is brutally flayed alive among some of the other grotesque scenes of torture and is a film that will have you cringing in your seat throughout much of your stay.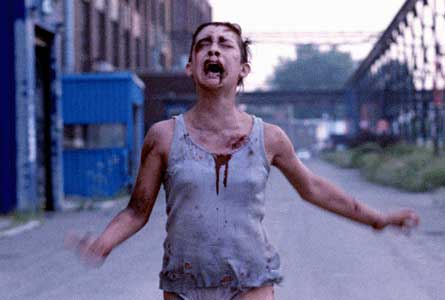 08- Hostel (2005)
Stealing the number eight spot on our list is Eli Roth's Hostel, from 2005. This film follows a group of packers who stumble into a world of torment in Slovakia. Their vacation leads them into the hands of a mysterious organization that captures unsuspecting travelers and puts them at the mercy of the highest bidder. This film had audiences too shocked to look away, but horrified at the depravity that evil men will do.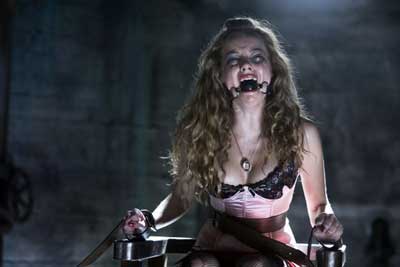 07- A Serbian Film (2010)
In the lucky number seven spot is an incredibly controversial film that is not for the faint of heart by any stretch of the imagination. The 2011 film A Serbian Film, directed by Srdjan Spasojevic, takes us for a ride with the main character. We follow an actor who is tricked into participating in a snuff film and it features plenty of gore and uncomfortable scenes that have this film locking up an NC-17 rating with ease.
06- Re-Animator (1985)
The number six spot is occupied by a cult classic the 1985 Lovecraft inspired, Re-Animator. This film follows a brilliant medical student bent on finding the secret to bring the dead back to life. We're treated to some real body horror in this classic and ultimately, we are even treated to a severed head getting intimate with one of our characters in a creepy morgue. This film features blood, zombies, and some very unsettling scenes involving the undead.
05- The Human Centipede (First Sequence) (2009)
We've reached the halfway point on our list and at the fifth spot we have the 2010 shocker, The Human Centipede (First Sequence). This film stunned audiences with the cold and calculated actions of Dr. Josef Heiter. The audience is treated to untold body horror as our ambitious doctor callously stitches his victims together into a twisted plaything for his own amusement.
04- Suspiria (1977)
At the fourth spot on our list is a movie with cinematography so striking it's been the inspiration for metal bands and filmmakers both in and outside of the horror genre for years. The classic Dario Argento masterpiece Suspiria. We get bugs falling from the ceiling, victims impaled by stained-glass windows, and a witch cult bent on sacrificing young women in a set filled with color. This film not only boasts a stunning array of color-filled shots, it's a bloody thrill-ride that has us on edge rooting for our heroine the entire time.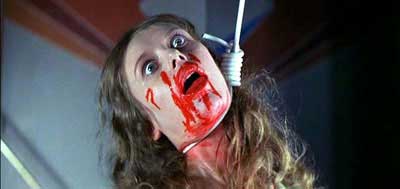 03- The 120 Days of Sodom (1975)
The third spot on this list occupied by a film that is notoriously disturbing for its treatment of children and young people. The 1975 Pier Paolo Pasolini's The 120 Days of Sodom or Saló. This film is based on the work of the depraved Marquis de Sade, and is adapted into a tale featuring four fascists who entertain themselves through strongly encouraging their youthful prisoners into orgies of sexual depravity, grotesque torture and subjecting them to some very stomach-turning dietary options.
02- Let the Right One In (2008)
The second spot on our list is a film directed by Tomas Alfredson in 2008, the stunning vampire tale Let the Right One In. This film charts the relationship of a lonely, young, boy named Oskar, who forms a relationship with a young vampire named Eli. This film touts one of the goriest scenes in recent horror-film memory when the adorable Eli dismembers young Oskar's tormentors and gorges herself on their blood.
01- Cannibal Holocaust (1980)
The final spot on this list of devilish films is a film so notorious that it has been censored in many countries in the world. A film so controversial that it took three years of court battles, to finally free the film up for audiences to view again. The 1980 Ruggero Deodato, Cannibal Holocaust is a film that sent shockwaves through the film industry. A film featuring sexual violence, physical brutality, and animal cruelty this film is one that is not for the faint of heart. Cannibal Holocaust, has cemented itself as a film only for the most depraved and deplorable. This film causes audiences to not only cringe in horror at the brutality demonstrated on screen but projects a realism that nearly convinced a jury that the director had murdered his actors.
I hope you have enjoyed this list of films that once viewed cannot be forgotten. Each of these films is a must see for those daring enough to feed their fear. They provide us with a reminder that once opened some doors cannot be closed.