While reflecting on 2017, I still maintain the most horrifying screen experiences occurred while watching the news. However, there were some sick and brilliantly crafted horror films released this year, and it seems the genre is starting to finally receive the credit it has deserved all along. The films on this list are not necessarily solidified in order of favoritism (except #1) and can fluctuate depending on conversation or just the passionately nerdy mood I'm in at the moment. Some scarred my retinas, some left me looking over my shoulder, some had fantastic social commentary, while others were just straight up entertaining to watch from a technical standpoint or paid homage to timeless classics.  Regardless, it was a great year for horror and I hope it was for you as well, my dear gorehound. 
10- Hounds of Love
Initially, I wasn't going to include this in my top ten because realistic horror isn't my preferred jam, but it's ultimately what makes the genre terrifying for me. I'm pretty desensitized at this point, yet writer/director Ben Young's feature debut managed to disturb the fuck out of me. The fact that this story line is not only plausible but actually happens is horrific to the point where I want to throw up. His use of freeze frames perfectly captures trauma and forces the audience to see the victim's perspective in a heartbreaking manner. A knife on the counter, one hand loose, a  distracted captive, every opportunity possible to escape bubbles up such strong tension that I could barely stand it. The ending also gave me goosebumps, but I won't disclose of what variety.
09- Personal Shopper
Kristen Stewart is captivating in this supernatural thriller. A poignant portrait of loss, director Olivier Assayas (Clouds of Sils Maria, Summer Hours) delivers an intriguing tale about a woman who is searching for a sign from the afterlife once her twin brother has passed away.  This film is a hypnotic slow burn and has one of the best uses of technological communication to the other side within the paranormal paradigm. Exploring the boundaries of death through her skills as a medium, Stewart encounters sinister spirits that taunt and push her to live out her most concealed deviant fantasies while reflecting on what it means for her to be truly alive.
08- 1922
Based on a novella in Stephen King's Full Dark No Stars, director Zak Hilditch (These Final Hours) executes a fantastic adaptation of a man consumed by the guilt of murdering his wife over a plot of their land.  Thomas Jane is practically unrecognizable in his performance and sets the tone of the film eerily well while balancing an emotionally invasive account of his actions that juxtaposes his social isolation.  Molly Parker's haunting precision in her performance will surely induce a cringe-worthy reaction, and as a result, I will never look at rats the same way again.  The robust acting, directing, gore, and screenplay all worked for me.  Unlike other King adaptations that were released this year, Hilditch stayed extremely faithful to the core of the novella (yes, I read it) and translated a story of consequence reminiscent of The Tell-Tale Heart.
07- Tragedy Girls
Usually films about millennials and their obsession over vanity annoy me to no end. However, Tyler MacIntyre's Tragedy Girls is an exception to this norm of mine, and  I wouldn't be surprised if it becomes a cult classic. While Sadie and Mckayla are definitely obsessed with their social media presence, they flip the script on your standard slasher narrative in a highly stylized and comical manner while kill sequences pay homage to such horror flicks as Cannibal Holocaust, Scream, and Friday the 13th. There's friendship, foul play, and "some real Final Destination shit" that's so great, I would post about it on Twitter if I did in fact have an account.  For more, you can check out my full review here.
06- Gerald's Game
As a Constant Reader, I greatly enjoyed Stephen King's thriller Gerald's Game. While many assumed a plot with a woman handcuffed to a bed the entire time couldn't be interesting, let alone adapted on screen, King and director Mike Flanagan (Oculus, Ouiji: Origin of Evil) proved those critics wrong. Flanagan's superb display of internal dialogue used in Hush made me confident he was the man to tackle the challenge, and I wasn't disappointed.  This is a story about a crumbling marriage, kink session gone dangerously wrong, and badass resiliency coupled with self-love. It also contains one of the best gore sequences of the year, hands down.  (pun intended)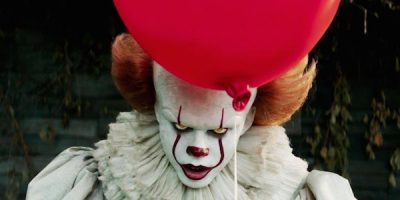 05- IT
I admit I was both apprehensive and excited when the news broke that Andy Muscietti was adapting IT. The book is one of my favorites and the TV mini-series is obviously nostalgic. While part of me wants to hold onto the signature look of Pennywise and the narrative, this adaptation was overall very strong despite not being entirely faithful. Bill Skarsgard blew me out of the barrens with his performance as our beloved creepy clown, and the friendship dynamic of the Losers Club gave me all the feels.
I am straight up smitten kitten with this film, you guys.  Director Osgood "Oz" Perkins (I Am the Pretty Thing That Lives in the House) knows how to create atmosphere and leave a lasting impression. The character subtleties and sharp suspense are reminiscent of Hitchcock, and I honestly didn't want it to end. This is one of those films that isn't heavy on the gore, but it's the suspense and tone that really make you shudder. It's also one of my favorite film scores of the year. The composer is none other than Oz's own brother, Elvis Perkins, and the melodies are just as haunting as their visual counterpart. I suggest all the things with this film. Watch it. Spin the score. Lastly, check out this Birth. Movies. Death. article featuring a Q&A with Oz to learn more about his tragic past and creative influences.
Horror, metal, and Ethan Embry with his shirt off. These three components alone sold me on The Devil's Candy. However, writer/director Sean Byrne (The Loved Ones) delivers a meticulously crafted tale that incorporates satanic elements alongside a murderous antagonist and familial love–a balance that few can execute well. The characters are relatable and engaging in their vulnerability while fighting off a meddlesome madman. This gem shreds your heartstrings while hijacking the audience on a descent into desperation. I've watched it four times now and even visited the house where it was filmed. To say I enjoyed it is an understatement, and I can't wait to see what Sean Byrne is up to next.
02- Mother!
Oh, Darren Aronofsky. I've been a fan of his work and signature style since Pi and even grew to love Clint Mansell as a composer thanks to their ongoing collaborations. Aronofsky is not one to shy away from heavy subject matter and while the reviews for Mother! were polarizing, I thoroughly enjoyed this disturbingly destructive allegory. Filled with his signature closeup and long tracking shots, the narrative follows the story of a woman (Jennifer Lawrence) while she attempts to build her home and salvage her marriage despite unwanted visitors creeping into her domain. Rich in religious symbolism and structure, the interpretation of this film varies, and for me the marketing aspect referencing Rosemary's Baby was not entirely off beat. While I wasn't fully in love with it, Aronofsky gives us a film that can be broken down, dissected, and discussed from various viewpoints, which makes for a successful story in my mind.
01- Get Out
Jordan Peele's directorial debut is nothing short of brilliant. The timing of its release is perfect given our current political state, and it commands attention with sharp, symbolic force. While many films about race stick to a dated and blatantly violent narrative, Peele delivers a modern day angle from the rightfully due perspective of a black male. The tension interwoven with psychological dread, capped delicately with comedy, yields some obscurity in its categorization; but for me, this is a straight up horror film. Its focus is on the kind of sugar-coated, latent racism that exists within social paradigms stabilized with cold-hearted objectification.  Get Out is a pivotal film and is increasingly more impactful with every viewing. Up for a Golden Globe in the comedy genre, I really hope it wins. Watch it and stay woke.
Honorable mentions:  Raw, Killing of a Sacred Deer, Thelma, Super Dark Times, Annabelle: Creation, A Dark Song, Better Watch Out