SYNOPSIS:
Sadie and McKayla, two death-obsessed teenage girls use their online show about real-life murders to send their small mid-western town into a frenzy and solidify their legacy as modern horror legends.
REVIEW:
Director: Tyler MacIntyre
Writers: Tyler, MacIntyre, Chris Lee Hill, Justin Olson
Starring: Brianna Hildebrand, Alexandra Shipp, Josh Hutcherson
Social media has undoubtedly become an omnipresent entity in our lives to the point where people can hardly experience any life event without publicizing it. Starving for likes, followers, and clicks, the obsession with virtual validation can corrupt the best of us. However, in the case of Tyler McIntyre's teen slasher satire, Tragedy Girls, this fixation influences one kick-ass film that pays homage to the horror genre with all the glam and gore your cold heart desires.
Best friends Sadie (Brianna Hildebrand) and McKayla (Alexandra Shipp) decide to take local crimes into their own hands by catching a serial killer on the loose and increase followers for their #Tragedygirls site. Somewhat of a twisted and reverse Nancy Drew, the girls kidnap serial killer Lowell (Kevin Durand) and request that he be their mentor. Focusing on bloodshed instead of college applications, the girls hijack his killing spree and slaughter any love interest or annoying cheerleader that rubs them the wrong way.
The opening scene sets up like many typical slashers with beautiful Sadie making out with your stereotypical jock that gets out of the car to investigate a strange noise. Once he's killed by Lowell, Sadie and McKayla stage a trap and take him to their hideout which is covered like a crime scene investigation.  Refusing to mentor them, the girls set out to slay regardless. Victims include the suave rebel on a motorcycle (Josh Hutcherson) who apparently has a knack for creating romantic death scenes even long after his stint in the Hunger Games franchise. There's also the over-achieving head cheerleader and student council member whose perfection needed to be severed immediately.  Local fire chief and heart throb (Craig Robinson) also meets his demise by the brutal besties in a work-out session gone awry.
Each kill scene is elaborate in a strategic yet youthfully improvised manner. The throwbacks to previous horror films are evident both in dialogue and murder execution.  Nods to Final Destination, Carrie, Scream and even Cannibal Holocaust subtly pop-up throughout the film and pay rightful homage to the genre itself. With an ultimate goal in mind, the girls face challenges with their friendship and test the audience with how truly sociopathic they are by revealing glimmers of empathy and questionable remorse.  At the end of the day, the girls are blood sisters and a deviant duo that viewers are ultimately rooting for.  Their quick wit, beauty, and killer fashion sense contribute to characters that are just straight up entertaining to watch.
From the beginning to end, these girls are not the victims. The slasher tropes are turned on their heads as we see a story of teenagers not fighting for romantic recognition but recognition for murder.  The twist is comically refreshing, especially from this writer's perspective, as the teen films I mostly grew up with involved a bet and a make-over in which the female character is striving for male affection.  Tragedy Girls doesn't give a fuck about any of that. Instead, it's a stylized film combining beauty and blood while reflecting on our society's desperate need for attention through social media.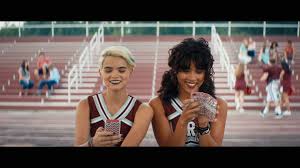 Not quite earning the same cult status of Heathers or Clueless, Sadie and McKayla will no doubt be memorable characters in their own right. Their fierce friendship and deviant bond is one to be appreciated when most other teen flicks like Mean Girls tend to drive women apart through jealousy and superficial social status.  I'm typically not a fan of millennial films and their characters' self-indulgent viewpoints. However, there are so many refreshing aspects to this film including the characters, dialogue, and execution of violence that's juxtaposed with stereotypical teenage antics on screen. While some plot holes appear with the original serial killer and his motive, overall the film satisfies in a sick and satirical way.  So, grab your bestie, a movie ticket, and light up social media for a night out because this is a treat you won't want to miss during Halloween season.
Tragedy Girls hits theaters nationwide October 20, 2017.