2020 was its own horror movie. The coronavirus shut the world down. It wasn't one single city or one single place. It's a "global pandemic." Although, we are still not sure some people would do okay in an apocalypse. People went out and bought all the toilet paper. Stocking up and being prepared is great but, toilet paper? But I digress, the quarantine and "lockdown" started in March.
I was in a store looking for toilet paper (We legit needed paper products.) and one of the workers who was stocking the shelves looked at all flustered and said, "I can't keep up. I stocked this whole aisle ten minutes ago and it's gone.
It's all gone again." He looked like he wanted to cry. I wanted to give him a hug but social distancing. I said to him, "hopefully everything will be okay." I think some of us thought okay, this will go on for a few more weeks and everything will be back to normal. NOPE! It's December now.
I wanted to make this "list" because this year writing for Horrornews.net, I did a lot of Zoom interviews and reviewed films that were excellent. Movies (and MUSIC) have always been a go-to for so many of us. SHUDDER also became a go-to for a lot of people who didn't watch SHUDDER. SHUDDER has some great films right now and series including: Color Out of Space, Revenge, Spiral and more. Drive-in movies also became a place for people to watch movies and social distance. This list is not in any particular order, so here is my Top 10 Horror Movies of 2020. Let me know what movies you watched in 2020 that stood out to you?
"A secluded farm is struck by a strange meteorite which has apocalyptic consequences for the family living there and possibly the world."
Director Richard Stanley directed Color Out of Space, based on the short story "The Color Out of Space" by H.P. Lovecraft. An almost surreal film with a beautiful atmosphere. This movie set the tone in a way for 2020. Nicolas Cage, Joely Richardson, Madeleine Arthur, Tommy Chong and Brendan Meyer starred in this wildly intrinsic film. This family is dealing with everyday life and then this colorful apocalypse happens. 
"A daughter, mother and grandmother are haunted by a manifestation of dementia that consumes their family's home."
If you haven't seen Relic, you should watch the film. Three generations of women come together. It is heartbreaking and tragic. Kay (Emily Mortimer) and her daughter Sam (Bella Heathcote) take care of Edna (Robyn Nevin). Robyn delivers this intense performance and it was beautifully made. Director Natalie Erika James did a good job. This film had a family story with all the things could happen to people and this cast did such an incredible job.
"Holly seems to have it all: two kids, a nice house, a good job as a teacher, and a husband with his career on the way up. But there are troubling signs that all is not right in her world. The insomnia. The medication for the insomnia. The dreams from the medication for the insomnia. The arrival of her estranged sister and a mouse invading her home don't help either. Add the weight of a dark secret, and her already delicate balance collapses, sending her spiraling out of control."
Dean Kapsalis directed this beautiful tragic film. Azura Skye delivers an intense performance. She is going through life and seemingly things are falling apart. The Swerve is another film that touched on mental health. Holly (Azura Skye) is a mom, a wife, daughter, and sister. Yet her husband doesn't truly acknowledge her until it's too late. Dean Kapsalis made a powerful film.  
"A group of old war veterans put their lives on the line to defend a young woman taking shelter in their local VFW post, who's running from a deranged drug dealer and his relentless army of drug addled punks."
Directed by Joe Begos (Bliss), VFW had a good story, it reminds you of some of the films shot in the 70's and maybe a Grindhouse film. It's brutal and wild. Fred (Stephen Lang) is calm, cool and INTENSE. He is collected. Stephen Lang does an incredible job playing this role. The entire cast is a group of legends including: William Sadler, Fred Williamson, David Patrick Kelly, Martin Kove, and George Wendt. They all have different personalities and little things that make them who they are. Boz (Travis Hammer) is the leader of these geeked out "Hypers." A group of drug addicts that are basically rabid. Lizard (Sierra McCormick) takes shelter in Fred's VFW and the VFW bad asses wind up having to deal with Boz. Joe Begos gave us vibrant colors and special effects that are just off the wall but, awesome.  
After Midnight (2019)
"When his girlfriend suddenly disappears, leaving a cryptic note as her only explanation, Hank's comfortable life and his sanity begin to crack. Then, from the woods surrounding his house, something terrible starts trying to break in."
Christian Stella and Jeremy Gardner directed After Midnight. Jeremy Gardner, Brea Grant, Justin Benson, Ashley Song and Henry Zebrowski all deliver great performances in After Midnight. 2020 has not been an easy year at all. Movies may or may not have been some kind of escape for some of us. Jeremy Gardner gave us this beautiful story about Hank and Abby. Jeremy portrayed Hank and Brea Grant portrays Abby. The house he uses in the film also becomes a character of its own in a way.  
"Two women befriend each other, but one becomes obsessed with the other."
Directed by Zach Gayne and written by Precious Chong and Alex Essoe, and Zach Gayne. Homewrecker was the comedy relief we needed for 2020. Linda (Precious Chong) meets Michelle (Alex Essoe) and all sorts of tomfoolery happens. They also have something in common but I won't spoil it. This movie is Sixteen Candles meets The Shining. Alex and Precious do such an incredible job in this film. It is funny, smart, current and has a natural story. These two women deal with things that people may deal with everyday life. Linda wants friends, to be accepted, she wants love. Alex Essoe is always amazing in films. She becomes these characters. If you haven't seen it, go watch it.  
"The lone survivor of an enigmatic spaceship incident hasn't returned back home alone-hiding inside his body is a dangerous creature."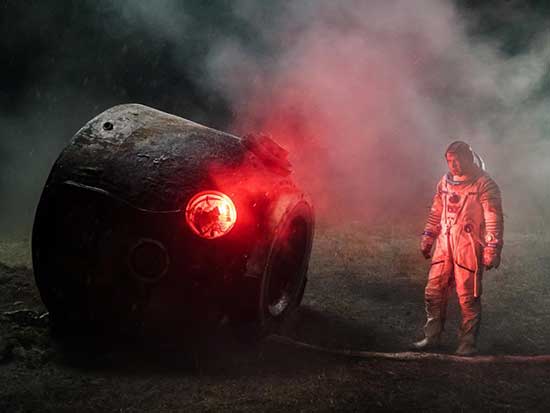 Directed by Egor Abramenko, Sputnik is sci-fi with some mystery and horror thrown in. It's an uncomfortable film in a good way. There are creepy, intense moments. Films like Alien and The Thing may have been a source of inspiration but this film definitely stands on its own. You can watch it on HULU. 
Hunter, a newly pregnant housewife, finds herself increasingly compelled to consume dangerous objects. As her husband and his family tighten their control over her life, she must confront the dark secret behind her new obsession.  
Written and beautifully directed by, Carlo Mirabella-Davis. Hunter (Haley Bennett) and Richie (Austin Stowell) seem like the perfect couple. They appear to have it all. In reality, Hunter's mental health is not good and Richie belittles her and ignores her. He has this vision to have this perfect life. His parents have money. Hunter starts swallowing things. Thumbtacks, small items, anything she can. It may have been her coping mechanism. She overcomes a lot throughout the film. It has a Stepford Wives (1975) feel with the pastels and unhappy happiness of Hunter. Swallow is a film I would recommend.  
Rent-A-Pal (2020)
"Set in 1990, a lonely bachelor named David (Brian Landis Folkins) searches for an escape from the day-to-day drudgery of caring for his aging mother (Kathleen Brady). While seeking a partner through a video dating service, he discovers a strange VHS tape called Rent-A-Pal. Hosted by the charming and charismatic Andy (Wil Wheaton), the tape offers him much-needed company, compassion, and friendship. But Andy's friendship comes at a cost, and David desperately struggles to afford the price of admission."
This film is creepy and it came out in 2020. People became efficient at having zoom meetings and talking to one another over Face Time. Brian Landis Folkins did such a good job in this film. Jon Stevenson wrote and directed the film. Wil Wheaton plays this game show host happy person and it is scary and fascinating at the same time. It makes you question social media.  
"A defiant teenage boy, struggling with his parents' imminent divorce, faces off with a thousand-year-old-witch, who is living beneath the skin of and posing as the woman next door."
 Brett Pierce and Drew T. Pierce wrote and directed The Wretched. This film gave us creepy witches back and wondering around the woods to find the ultimate creepy tree. Drew and Brett did such a great job with different shots and special effects. Some moments you would not expect happen and it gives the film a good twist. It was a fun, creepy movie. Make sure to check out The Wretched.  
A few honorable mentions: Diablo Rojo (PTY), The Perished, The Dare, The Pale Door, The Rental, Death of Me, The Dinner Party, Uncle Peckerhead, Z, Open 24 Hours, The Blood Quantum, A Nun's Curse, The Owners, The Call, Don't Look Back, Spree.