Every year more and more horror films are released, which means many of the disturbing and sickening movies are left behind without much recognition. However, just because they're not constantly mentioned by every film site or on every list doesn't mean they aren't going to disturb you forever.
We've compiled some of the sickest and most disturbing horror films that you might have missed when they were released. Be warned, they are not for the faint hearted…
The UK is home to FrightFest, which is a horror film festival showcasing some of the biggest horror films, but also some of the emerging talent. Steven Sheil is a director from Nottingham who made his debut with his twisted feature film Mum & Dad. When Polish immigrant Lena misses the bus after her shift at Heathrow Airport, her colleague Birdie offers her a lift home if they walk to her home together. Unfortunately for Lena, she's drugged and tied up after entering the home and becomes subject to the torturous and disturbing behaviours of Mum and Dad. This film really expands on the dysfunctional family, with the parents abusing their own children, storing decapitated heads and watching pornography over breakfast. It's a horrific little film which will leave you feeling dirty afterwards. Not to be confused for the 2017 film Mom and Dad.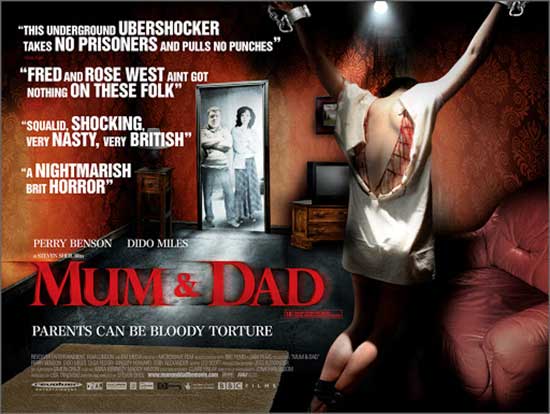 If you're looking for a movie that will test your ability to not feel physically sick, then Thanatomorphose is the one you're looking for. This Canadian body horror movie comes from director Eric Farlardeau and is repulsive in every way possible. Laura is stuck in an abusive relationship and unhappy with her life, when one night after enduring rough sex she finds that her body has started to rot as a result. She becomes confined to her apartment where she gradually starts to decay, leaving skin, body parts and gooey visceral behind her. Thanatomorphose really pushes the boundaries of body horror, but also looks at abusive relationships which intensifies the story and makes this a difficult and disturbing watch.
Another Canadian horror film comes in the form of director Daniel Grou's heartbreaking and gruelling 7 Days. Based on the book Les Sept Jours Du Tailon by Patrick Senécal, this shocking movie portrays how monsters are easily turned into victims, and victims into monsters. After the devastating rape and murder of his young daughter, a doctor kidnaps the perpetrator of the crime and spends seven days torturing him for what he's done. Even though 7 Days isn't the most gory or visually violent extreme movie, it brings in controversial elements of torture, psychological aspects and forces the audience to question their own moral beliefs. If something so horrific happened to your family, would you also turn into a monster yourself to get revenge?
Many extreme films take a more artistic and experimental approach, which is even more achievable for independent movies that are made for a dedicated cult following. Phil Stevens 2015 movie Flowers is a surreal exploration of the decrepit and depraved dwelling that six women find themselves in. The women must discover their past life through the clues found, and accept their fate which has sadly already been sealed for them. Flowers demands patience from the viewer and an appreciation for the art of vile with a heavy focus on the aesthetics of the house itself and the disgusting visceral that the women must fight their way through. A piece of art in its own right and a fan favourite amongst the extreme horror community.
Long Pigs (2007)
The mockumentary or found footage style has always been popular when it comes to extreme films because not only does it allow independent filmmakers a cheap and effective way to make a film, but it can often make the subject matter feel more realistic. Long Pigs comes from director Nathan Hymes, and is classified as a comedy horror, although some of the scenes that are shown in this make it feel as far away from humour as possible. Two documentary filmmakers want to document a serial killer cannibal as he selects his victims, butchers them and kills them. Long Pigs is a tough one to find, but for those who love gore this one is worth the pay off, and features some truly nasty scenes including a body being completely hacked apart.
Where The Dead Go To Die (2012)
Are you looking for a movie that will completely destroy your soul? Then you may have just found it with Jimmy ScreamerClauz's 2012 film Where The Dead Go To Die. Taking full advantage of being able to exploit the use of animation and take the controversial to places that it's never gone before, Where The Dead Go To Die is an animated anthology film that depicts some of the most messed-up scenes ever committed to film. Even though the graphics are a little questionable, that doesn't stop this one from making you wish you were blind. A segment called Tainted Milk might perhaps be the most disturbing and features a young boy who slaughters his parents after a demon dog taunts him, and then convinces him to do unspeakable acts to the dead bodies. This is seriously what nightmares are made of.
You'll notice that with many extreme films comes certain scenes that are ingrained in the viewer's mind for a very long time, and allow for them to constantly be tormented by thoughts alone. 100 Tears comes from director Marcus Koch, and is a film that is only suitable for the most hardened gore whores out there. Mark and Jennifer are two journalists searching for a serial killer, and unfortunately for them they get a little too close to comfort. The serial killer in question masks himself using a terrifying clown disguise and happily hacks apart those who encounter him. There's a particular scene involving the dismemberment of a young woman that still to this day gives me the shivers just thinking about… Even though classified as a black comedy, this is a film that will leave some viewers crying rather than laughing.
Also known by its Belgian title, Vase de Noces, it is an experimental exploitation film from Thierry Zeno from 1974. It is often said to be a globally banned film for some of the depictions that it shows, but because of how obscure and underground it is, the only place it is banned in is Australia. The film depicts a man, played by Dominique Garny who lives alone on a rural farm in Belgian who exhibits strange behaviours, but his most bizarre is perhaps his obsession with one of the sows that lives in the farm. In an act that defines the movie's title he rapes the sow, and she later gives birth to piglets. The piglets prefer the attention of their mother, and therefore the man kills them and the story goes from there. Also known as The Pig Fucking Film, this one has been labelled as obscene for its depiction of real animal killings and coprophagia.
Sometimes the most disturbing slices of cinema are short films rather than feature length films, and this comes true with Douglas Beck's 1997 short extreme horror Cutting Moments. One American family is harbouring a dark secret; Patrick is sexually attracted to his young son, and it is implied acting on those impulses. His wife Sarah just wants him to notice her, and therefore in an attempt to catch his attention begins to mutilate her own body with a pair of scissors. Cutting Moments is a real shocking and gory piece of cinema that often gets overlooked by some of the more well-known feature films. Beck later went on to re-release this in 2004 as part of his Family Portraits: A Trilogy of America film, which features three horrific portrayals of family life.
The last film on our list is the rarest of them all, one that unfortunately you might not be able to get a hold off… at least for now. The aptly titled Pig was released in 2010 by Adam Mason, and has since become a film that only a few people have managed to see. It was screened through online streaming by Bloody Disgusting back in 2010, and then it was shown only twice more at SXWL festival, with Mason apparently stating that he was not proud of the film he had created and did not want people to see it because of how sickening and demeaning it was. A few bootleg copies were distributed but since then it has become a rare film to find. It follows one man who keeps captives locked up in cages in the desert, and commits violent acts against them all day every day. Pig is an exceptionally disturbing film that makes you feel dirty from watching it, and rumour has it that it might get released sometime in the future.