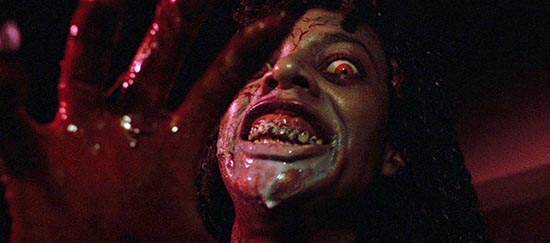 A few months ago, I hypothesized that 2016 was the best year for horror. And while 2017 is shaping up to be one for the record books, the key to finding the best year for horror is to look to the past. We have to go way back — to 1985. You read it here first, folks – 1985 is the best year for horror.
And no, it's not because it was the year I was born (though I'm sure that didn't help). 1985 was the pinnacle of 80s horror in film, tv, and literature. From vampires and zombies to werewolves and "new coke," 1985 truly demonstrated the potential for a new brand of horror.
Here are some reasons why 1985 was the best year for horror:
Film
Day of the Dead – In the third installment of legendary filmmaker George A. Romero's Dead saga, the undead have all but consumed  the world. The film is set in an underground government installation, where scientists are studying the undead, searching for a cure, and if there are any remnants of their live selves. While Night of the Living Dead and Dawn of the Dead have both been certified horror classics, Day of the Dead never quite got the credit or attention it deserves.
Return of the Living Dead – This film series was the spawn of dispute between filmmaker John A. Russo and George Romero. The two co-wrote the original Night of the Living Dead. The two had a falling out over how to hand a sequel to the film. The two reached a settlement wherein Romero's sequels would be known as the Dead series, and Russo's would be the Living Dead. Following this decision, Russo wrote a horror novel, Return of the Living Dead, which he then adapted into a film script. A fun note – the zombies in this film series are distinct in that they crave brains specifically, and not overall human flesh.
Fright Night – Before vampires became the focus of adolescent fantasies of teenage girls, there was an attempt to make them in 1980s fashion. Fright Night tells the tale of a teen who discovers his new neighbor is a blood-sucking Vampire. The flick plays by all the rules of what vampires can and cannot do, which makes it that much better. Fright Night was one of the better teen comedy horrors of the era. Not only is it a great horror movie, the movie subtly pokes fun at the genre too.
Re-Animator – Will those crazy scientists ever learn not to mess around with the natural order of life and death? Loosely based on an H. P. Lovecraft episodic novella, Re-Animator is another fun, campy horror film about a medical student who becomes involved in bizarre experiments centering around the re-animation of dead tissue when a new student arrives on campus. The film is visually striking with its gore, makeup, and practical effects, and even though the budget was low, still managed to push the envelope and deliver something new.
Demons – This Italian horror flick about a group of people who are invited to a special screening of a horror film in a snazzy, renovated theater. Unfortunately, their evening of fun frights turns into a night of utter terror when audience members turn into demons and attack the other patrons, turning them into demons. Let's just say it doesn't end well for everyone trapped in the theater. As if good kills, possession, lots of blood, and a great setting weren't enough, Demons also has an epic soundtrack consisting of nothing but metal and rock music. The film was followed up by seven sequels (most of which are in-name only).
Honorable Mention
Lifeforce, A Nightmare on Elm Street 2, Once Bitten
TV

The Midnight Hour – This off-the-walls made-for-TV movie was a clear attempt to capitalize on the success of the long-form music video Thriller. In a small Massachusetts town, a group of teenagers steal an authentic costume from a museum for a Halloween party. This awakens a centuries old witch and a small horde of zombies, leading to some fun song-and-dance numbers. It's a silly plot, and it's not all that scary or funny, but it is an amusing movie to watch with friends on Halloween, and certainly deserves its cult status.
Amazing Stories – The short-lived, but truly cherished sci-fi/fantasy/horror anthology series developed by Steven Spielberg. Though it only lasted two seasons, it was nominated for an impressive 12 Emmy Awards, and won five. The roster of stars in front of the camera are remarkable, including Mark Hamill, John Lithgow, Christopher Lloyd, and many more. Meanwhile, writers and directors on the show included Martin Scorsese, Clint Eastwood, Robert Zemeckis, and of course, Steven Spielberg.
Books
Skeleton Crew – The second collection of short stories by horror icon Stephen King. It contained over 20 short stories, some of which were adapted to film and television. This includes The Raft, which was adapted into a segment of George Romero's anthology film Creepshow 2; Gramma was adapted into an episode of The Twilight Zone, and currently in pre-production as a feature film. Most notably, it also contained The Mist, which was adapted into a film in 2007, directed by Frank Darabont.
The Vampire Lestat – The second novel in Anne Rice's Vampire Chronicles, and a sequel to Interview with the Vampire. The story follows the 200-year-long life of Lestat de Lioncourt, from his humble beginnings, to being transformed by the Dark Gift into a vampire by the elder Magnus. This is the only novel of Rice's Vampire Chronicles that hasn't been adapted. However, in November 2016 the film and television rights reverted to Rice from Universal Studios, who began developing the Vampire Chronicles into a television series.
Books of Blood – Published between 1984-1985, there were six volumes of Clive Barker's Books of Blood, each containing four or five tales of horror. The first volume launched Barker into the public's eye, making him a certified master of horror. Some of the stories were adapted for film and tv, most notably the short story 'The Forbidden,' which was filmed in 1992 under the title 'Candyman.'
Was 1985 the best year for horror? Did we miss anything? What do you think was the best year for horror? Let us know in the comments.