Back again for more I see! Well don't stop with 10 as there are 10 more hot sexy posters to gawk at. This "Top 20 Sexiest Horror Movie Posters list" is always open to more suggestions, so feel free to comment on a few we may have missed below. If we get enough, we'll up the anty with another 10 (or so). Maybe this list will inspire a few more that recognize the need to throw some hot shots your way for a new marketing campaign
Missed "Top 20 Hottest Sexiest Horror Movie Posters – Part 1"?
11- Burlesque Massacre (2011)
With a tag line – "Dance. Strip. Die" you don't have to use to much imagination as to what it's about. The film may be one of those "off the radar" movies, however it's still got one sexy gal spread to pull ya in.
12- Piranha 3DD (2012)
Now when this franchise started, it "was" focused on the piranhas. Then something happened…the marketing realized that young adults were coming not only for the fish but for the hot bods on screen. I love the frankness of this visual marketing campaign..which are "breasts", "hot butts"…and oh ya, there are some killer fish in their too.
13- Lesbian Vampire Killers (2009)
The actual name of this movie was shortened down to "Vampire Killers" which really took the fun right out of it. So you have to ask, is a movie called "Vampire Killers" formerly known as "Lesbian Vampire Killers" that much less racy? How do you know they are vampires from this poster? Oh, ya now I see it..that little streak of blood….hmmmm.
14- Resident Evil (franchise)
I know and you know that they could have even taken Milla's posters a bit further in the sex appeal arena, however just seeing her looking ready for action in those tight "Resident Evil" garbs is sexy enough. I wanted to include a few variations used in the franchise.
15- Sucker Punch (2011)
A film that clearly was marketed in favor of its hot ladies. Emily Browning was of course the feature talent playing the role of "BabyDoll". I don't think there is much to say here….the posters are just damn hot
16- Tamara (2005)
I think the synopsis says it all here: "Tamara, an unattractive girl, who is picked on by her peers returns after her death as a sexy seductress to exact revenge". Jenna Dewan-Tatum looking pretty hot for an axe murderer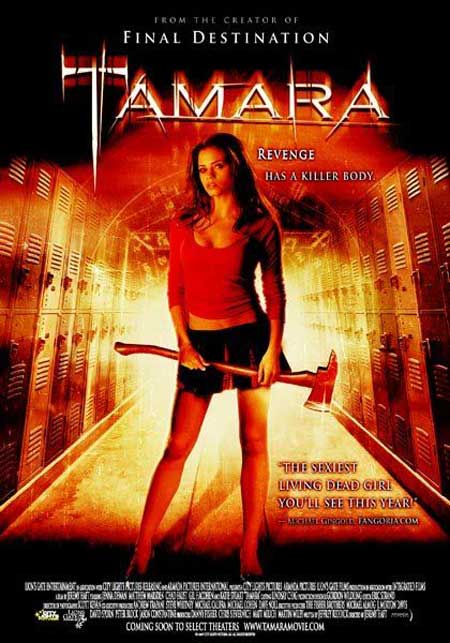 17- Tokyo Gore Police (2008)
Yep another one of those hot Asian cover girl posters. Taking a lead from "The Machine Girl" we got Eihi Shiina playing the role of Ruka with just enough sex appeal to forget that this is also one damn gory ass flick.
18- Strippers vs Werewolves  (2012)
This one is a given with the "strippers" aspect added in. We are actually getting to the last of the list which takes a focus on strippers and horror. So sexy is actually a must to get buyers reeled in.
19- Zombie Strippers (2008)
Not to be confused with "Strippers vs zombies" (or something like that). The cover could have gone even racier, however it chose to focus on the lovely Jenna Jameson, go figure ;)
20- Stripperland (2011)
And rounding off the list, we got to give sexy props to Stripperland, which kind of follows the same angle as #11.
There ya go – Feel free to comment on more below!
Top 20 Hottest Sexiest Horror Movie Posters – Part 2