So you might recall an advert or 2? Certainly a few of these bodacious eye popping 1-sheets have made you stop once or twice to see what new film products the marketing folks were throwing at you. A few have stuck out as favorites that were clearly using sex appeal to sell its viewers on the lovely inclusions these films offered. A good example is "The Unborn" ad which features actress Odette Annable standing in her underwear. "Planet Terror" was an iconic poster that clearly announced "Check out Rose McGowan looking hotter than ever. "Piranha 3DD" had learned that a few breast close-ups would be enough to pull in young viewer audiences. And then there is "Jennifer's Body" which could have easily been renamed "Megan Fox's Body". But we weren't clueless to that fact, in fact at the time…well it was a good enough reason to throw down a few bucks. "SuckerPunch" was another that used its lovely ladies to pull in lots of drooling men who wanted to see hot ladies, monsters and science fiction rolled up in one. Some are more specific to focusing on the key talent's lovely assets while others are sexy posters disguised under a horror umbrella.
01- Planet Terror (2007)
Such a great advertising campaign. One hot lady with a machine gun for a leg! The movie opens up on Rose doing a retro pole dance that sets the mood nicely for blood and chaos. I've included a few of the variations, which are all very worthy of this list.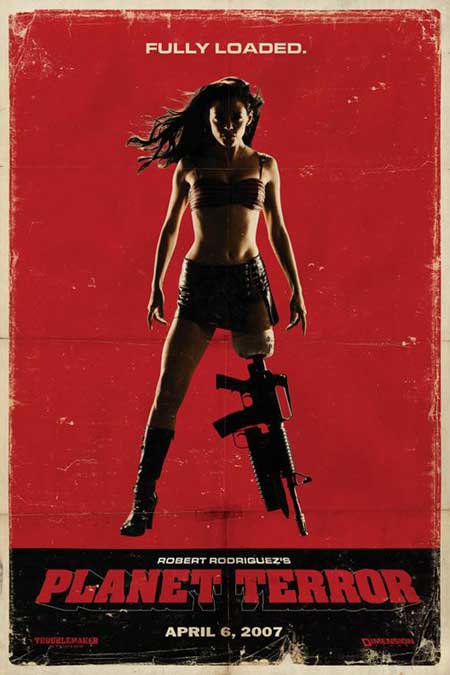 02- The Unborn (2009)
Of course there were other posters to this campaign, but this was the most seen and even with the horror element in the background is clearly announcing that the lead actress has a great butt worth admission.
03- Jennifer's Body (2009)
This film has one goal in mind…to feature and exploit their key actress Megan Fox. The posters really don't spend much time capitalizing on the demon aspects do they?
04- Hostel II (2007)
Yow! Did we really care that the naked lady is carrying a decapitated head? Such an odd advert for this film that I'm guessing "wasn't" the one that was being posted at the local theatres.
05- The Machine Girl (2008)
This would not be the first that used hot Asian ladies on its cover. In fact, the school girl uniform gives it a special "perverts-only" kind of appeal. Though for those who are astute to Asian Horror, pretty much "every" film showcases school girls in some capacity (many who are must older than high school age)
06- The Human Centipede II (2011)
One of the most disturbing films ever lures us right in with a crotch shot and a centipede. OK… maybe the centipede is getting in the way a bit. Clever 1-sheet indeed that has no fear of offending its viewers (well the film should solve that question, come to think of it).
07- Underworld (2003) (franchise)
Now really these posters don't have to be sexual to be sexy. We got Kate wearing tight leather and ready to kick ass. I've also included some others from the franchise which also cater to their main actress's good looks.
08- I Spit on your Grave (2010)
I love this poster! It's really a angry aggression empowerment horror film that despite our cover model looking abused, is pretty damn sexy. Kind o reminds me a little of the "Unborn" shot.
09- All the Boys Love Mandy Lane (2006)
If you were to read more into this poster it might be titled "All the Boys Love Amber Heard". Yep it's got monsters on the poster, but most wouldn't notice that off the bat. Now would she be walking "that" sexy with a pack of flesh eaters behind her? I don't think so, however it's still good and eye-catching.
10- Sin City (2005)
I know…It's not exactly horror, more of an action-crime-thriller. However it's got just enough bloodshed to be perfect for inclusion. Do we need to see Alba and Murphy looking hot and alluring? Yes, in fact we do……plus it's a damn good film to boot!
Also see – Top 20 Hottest Sexiest Horror Movie Posters – Part 2
Top 20 Hottest Sexiest Horror Movie Posters – Part 1