What's this? Your anticipating Valentines Day…and you want to load up on Valentines Day themed horror films? We are guessing that this list only gets really looked at 1 time a year, but hey…..you never know when you might be quizzed on coming up with titles for the event? We've scoured the masses and pulled up a "real" small hand full of Valentines Day movies that actually have something to do with Valentines day. Now of course, the easy ones were the standard 3….. "Valentine's Day", "Valentine's Day 3D (remake)" and "Valentine"…so once you get past those, it slims out pretty thin. We've got a small list that you can get your fill. Ok, maybe not as heart warming as the classic 3, but these ones also are "somewhat" centered around the event. If you think of one or 2 we missed we'd sure love to hear from ya…
01- My Bloody Valentine (1981)
Simply an 80's slasher classic. For me, when this arrived in 1981, it was an article in "Fangoria" showing those gruesome images of a lady bloodied up and stuck in a dryer, that did it for me. That may seem like no big deal, but for us back then, seeing these images was pretty new especially for us younger magazine browsers. The film isn't spectacular but it does cement the idea of horror films at the time and how they were approached.
02- My Bloody Valentine 3D (2009)
A pretty cool remake in itself. I actually really enjoyed this one despite the backlash on remake films. The 3D was quite remarkable in this case. If I have to choose between all these to whip out on VD, this would be my first pick.
"Tom returns to his hometown on the tenth anniversary of the Valentine's night massacre that claimed the lives of 22 people. Instead of a homecoming, however, Tom finds himself suspected of committing the murders, and it seems like his old flame is the only one will believes he's innocent. "
03- Valentine (2001)
I barely remember anything memorable on this one besides Denise Richards being in it. A forgettable slasher that mirrors 100 other horror films.
"Four Friends start to receive morbid valentine day cards. Someone out there is stalking them….someone they all spurned when they were younger. And Valentines Day 2001 is the Day she/he gets their revenge."
04- Lovers Lane (1999)
A man who killed 13 years before goes out on the loose to kill his victims' children.
Actually never seen it, though it is a VD horror film and that deserves a place (I suppose) check back next year when we have a review on it (hopefully)…that is if I can track it down ;)
05- My Boyfriend's Back (1993)
Kind of sounds like "Idle Hands" meets "Ferris Bueller". I'm sure this one is just sitting there on every horror fans shelf, waiting for the VD moment….
Johnny is a teenager like everyone else. He's in love with a beautiful girl named Missy, but he can't tell it to her. One day the shop where Missy works gets robbed and Johnny is killed trying to help. But Johnny doesn't want to stay dead, so he returns to his life like nothing ever happened. After a while he discovers that his body is disintegrating and he must feed with human flesh if he wants to survive. Looks like he is a real zombie.
06- Pontypool (2009)
Not really the first film that comes to mind when thinking of VD. The connection here is that the who she-bang starts on VD and then kind of does what its going to do. Check out the synopsis below
Valentine's Day is off to a bizarre start for a radio shock-jock when he runs into a crazed woman on his way to work — and that's only the beginning. Soon, scores of other people in the small Ontario…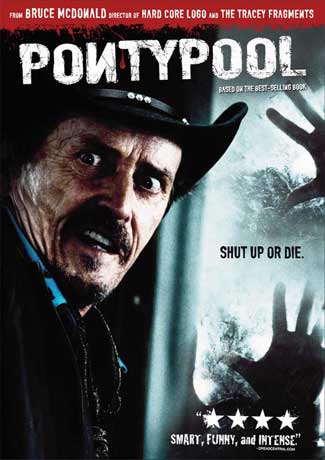 07- Picnic at Hanging Rock (1975)
One of those culty films that gets mentioned every now and then. It's VD and what better to spend it than an excursion with your school teacher
"To celebrate Valentine's Day, teachers at an austere Australian boarding school take a group of students on an outing to the mysterious Hanging Rock. Soon after their arrival, the headmistress and three girls go exploring and mysteriously disappear. One week later, a sole survivor returns to school — with hardly any memory of the incident. Peter Weir's haunting tragedy alludes to several explanations but offers no clear-cut answers"
08- Hospital Massacre (1982)
Don't you hate when you get snubbed don VD? Well this psycho really took it all to heart and goes on a murdering spree. Never humiliate on VD, that's the message here!! Or that person might someday go ape sh*t and start slashing up patients at the local hospitals…… or something like that…
"A young nurse is stalked by a maniac out to avenge a long-ago Valentine's Day humiliation"
Um, no relation whatsoever ever to VD, besides romance and dead corpses oh my…. one quick way to ruin your romantic get together….invite her over to watch "Nekromantik"
There ya go, a few treats for your sweets. Speaking of……. catch the Olsen's sweet younger sister in this new horror release titled "Silent House" starring Elizabeth Olsen.  In theaters March 9.  Watch the trailer here: www.facebook.com/SilentHouse and mark it on the calendar!
Top Valentines Day Themed Horror Films