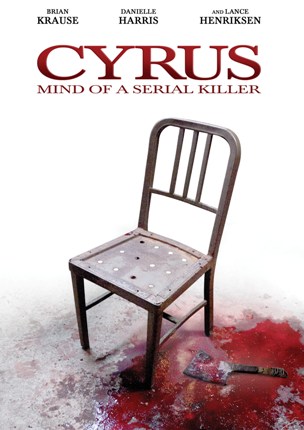 Based on true events, and banned in six countries, the award-winning festival favorite, Cyrus: Mind of a Serial Killer hits retail outlets on DVD June 14th, from Anchor Bay Entertainment. Inspired by the lives and killings of such infamous serial killers as Fritz Haarmann, Henry Lee Lucas, and H.H. Holmes, SRP is $26.98, and pre-book is May 18.
Written and directed by Mark Vadik, Cyrus stars Danielle Harris (Halloween 4 & 5, Rob Zombie's Halloween 1 & 2, Hatchet 2) as Maria, host of a lurid tabloid show called "Last Steps." With her cameraman Tom in tow, Maria investigates a series of unexplained disappearances in a small Midwestern county.
The story leads them to the isolated town of Arkham Heights, where they find themselves interviewing Emmett (Lance Henriksen, Near Dark, The Terminator, Aliens), who possesses an all-too intimate knowledge of the details of "The County Line Cannibal" – Cyrus (Brian Krause, "Charmed," Growth, Sleepwalkers). As Emmett interweaves the macabre life tale of Cyrus with the story of the killer's last three victims, Maria comes closer and closer to the greatest story of her life – or what's left of it.
Filled with reenacted documentary footage of actual forensic experts, serial killers and police authorities, Cyrus: Mind of a Serial Killer also boasts a stellar genre supporting cast, including Doug Jones (the Hellboy films), Rae Dawn Chong (Commando, Quest For Fire), Tiffany Shepis (Tromeo & Juliet, Chainsaw Cheerleaders), and Patricia Belcher (Jeepers Creepers).
The film has been part of the official selections at the 2010 Dark Carnival Film Festival, Shriekfest 2010, Cryptcon 2010, the Gorezone International Film Festival and the Arizona Underground Film Festival, with Vadik winning Best Director honors at the 2010 Chicago Horror Film Festival and the 2010 Eerie Horror Film Festival, as well as winning Best Feature Film Award at the 2010 Atlanta Horror Film Festival.