[youtube]http://www.youtube.com/watch?v=eBLzIYLvL5U[/youtube]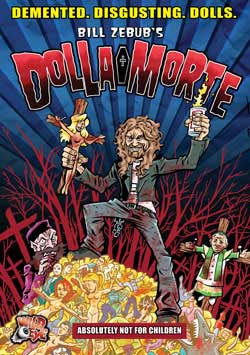 Long out-of-print, politically incorrect all-doll feature makes Robot Chicken look like tofu.
Directed by Bill Zebub
Wild Eye Releasing and MVD Entertainment Group are proud to announce the slightly anticipated re-release of Bill Zebub's (Zombie Christ, Breaking Her Will) long-out-of-print offensive opus, DOLLA MORTE on DVD worldwide October 19th.
A Masterpiece of Lo-Fi Madness and Satanic Silliness that is so disgusting and so demented it had to be filmed with dolls. DOLLA MORTE has been out of print and sought after by fans of the infamous Bill Zebub since being pulled from release in 2006 for undisclosed reasons.
As expected, nothing or no one is sacred in this special re-release of Bill Zebub's experiment in delirious doll destruction. In the tradition of Robot Chicken and Team America, Bill Zebub's DOLLA MORTE slaughters sacred cows using all beloved toys from childhood, conjuring up a hilarious and sickening spoof of religion, politics, pop culture and war that pulls no politically incorrect punches and leaves no sickening stone unturned.
Plus, it features all of the sex, violence and irreverence fans have come to expect from Bill Zebub, only this time with retail-quality dolls and other assorted toys at his disposal.
DOLLA MORTE pits the President of the United States against Dracula in a battle to suck all the blood out of humanity, kill the pope, and crucify as many beautiful women as possible, all on orders from Adolph Hitler and his army of killer robots!
"Too much sodomy, and not enough scathing social commentary." – Film Threat
"Being offended by anything in this movie would be like being offended when a special-ed kid calls you 'funny looking.'" – CHUD.com
Wild Eye DVD EXTRAS:
• Trailers
• Stop, Pause, Rewind, Fast Forward movie options
• Four-color box art with shrink-wrap included
• Standard hardshell case to preserve your DVD
• Interactive barcode on every box
Wild Eye's 1980s style VHS Trailer: www.youtube.com/watch?v=eBLzIYLvL5U