By limiting this list to 10, I realize that I had to leave out some hot women in the cut. No worries as I'm planning a follow up when we have enough choices to fill an addendum article. It's no surprise that the role of Cat Woman found itself in more than a few entries on this list. All these woman make super heroes a finer genre to experience. Whether it's TV or film, we simply love our sexy super hero women. Will Wonder Women ever get the respect she deserves? We shall see. For now we still have Carter to refer back to…and that's ok. In the spirit of fun and sexiness I present the "Top 10 Hottest Sexiest Super Hero/Villian Females". I did try to be thorough, but as always…. I appreciate any missed selections that you feel need to be on here. Just an FYI, I "did" choose Rebecca Romijn over Jennifer Lawrence as Mystique.
With hero films arriving in droves, I'm sure this list will get some new entries down the road. onward!
(not in ranking order)
01- Jennifer Garner as Elektra Natchios 
Jennifer Garner played this role with style, beauty, and purpose. The franchise may have not taken off for whatever reason. Maybe it's due to general consumers not being as familiar with the Daredevil connection as some of us comic book fans. Never the less, I still enjoy watching this film as a super hero movie. Garner looks stunning and keeps to her moves like a natural (all those years of "Alias" TV show paid off). Elektra was bad-ass (despite what the critics thought) with Jennifer really knowing how to make female martial arts appear sexy on camera.
02- Jessica Alba as The Invisible Woman /Sue Storm
Fantastic Four's "Invisible Woman" is an iconic role that never really got the respect it deserved. That is, until Jessica Alba was announced as the selected actress to take on this famous Marvel character. I suppose most of us would agree…….we just like seeing Alba in "any" hero role (for that matter).  However, Jessica sporting blond hair and wearing a tight Fantastic Four costume uniform was…well.. ……inspiring as it was sexy.
I loved both Fantastic Four movies, simple enough. Alba was a highlight indeed and the best "Invisible Woman" to date.
03- Scarlett Johansson as Black Widow/Natasha Romanova
Well……Scarlett Johansson makes any role stunning. Though as the former Russian spy "Black Widow" (Natasha Romanova), Johansson has earned an additional spot in fan boys hearts. Could I see a spin-off? sure thing! I think Johansson has her hands full these days with all sorts of movie gigs to see that any time soon. Scarlett's portrayal as Black Widow puts the sexy back in sexiness! Surely a pertinent member of "the Avengers"
04- Lynda Carter as Wonder Woman/Diana Prince
Over every actress and model on this list, Lynda Carter remains my favorite. When she debuted as "Wonder Woman" back in 1975, it was..shall we say…amazing. Lynda Carter became an overnight superstar owning the role of Wonder woman in a way that still to date has never been topped. Most of us tuned in just to catch her in those fantastic Wonder Women panties (or whatever they were called). The fact that the series stayed on for 4 years proves that it was a show we loved to love. None come close to Carter…..she is a true iconic actress.
05- Malin Akerman as Silk Spectre/Laurie Juspeczyk
Whether the movie made total sense to you or not, we all took notice of hottie actres Malin Akerman who played ther role of Silk Spectre, daughter of Sally Jupiter (the first silk Spectre). Malin added a much needed feamle sex appeal to this movie that(who were tired of seeing Doctor Manhattan's blue dingus flopping around).
06- Halle Berry as Catwoman/Selina Kyle
Ya, I know…..the film was quite silly at times. Regardless, this movie was an obvious showcase for Halle Berry to strut her "catlike ways" in front of the camera. Berry doesn't need the tight cat getup to win our hearts, BUT it sure was a bonus for fan boys. The franchise here never took off and on some levels was a let down for comic fans. Who cares….Halle Berry takes to the catwalk like no other. Film…love it or hate it…….. we love to watch Halle purrr…… check out this still below…and tell me I'm wrong!
07 – Rebecca Romijn-Stamos as Mystique/Raven Darkhölme
How many fan boys hit freeze frame on Rebecca Romijn-Stamos playing Mystique to see how naked she really was under those pointy blue skinned appliances? Rebecca may have been replaced by a younger actress (Jennifer Lawrence) though that still doesn't take one ounce away from the beauty she presented to this unique dynamic role. Whatever happens with the franchise most of us would agree that Rebecca Romijn-Stamos IS Mystique
08 – Julie Newmar as Cat Woman/Selina Kyle
Our first love despite being presented on one of the cheesiest Batman shows ever created. Julie Newmar brought so much sex appeal to this role that I'm sure the networks were on the fence about how much of her they should show. On one hand we got leotard deadpan Adam West playing Batman and on the other one of the hottest actresses ever to wear a skin-tight suit on the other….Boy it must of been good to be the Bat-man back then!
09- Anne Hathaway as Catwoman/Selina Kyle
Not sure if Catwoman should be on this list so many times? Take a look at this shot and live with it Anne Hathaway rocked this role so perfectly that it demands re-appearance. Hathaway's future as Catwoman is unknown, though we have at least 1 film to rewind. Another great fit! Word is, Anne Hathaway took to a strict Vegan diet before donning her sleek black leather outfit…vegetables win again.
10- Zoe Saldana as Gamora (Guardians of the Galaxy)
C'mon all it's Zoe Saldana. Green skin or not, this lady rocks. Seeing her as the tough as nails Gamora..well, it makes the film all that more attractive to us fan boys. Gamora is a tough as nails addition to  the rogue ensemble self named "Guardians of the Galaxy". An instant likeable character, we plan on seeing Zoe kick ass in the sequels to come.
SPECIAL MENTIONS:
Poison Ivy (Uma Thurman)
The movie was cheesy as all hell, with Uma's role adding to that layer. All feelings aside on the film itself, Uma still rocked those green spandex like a pro. it's too bad this role was wasted on a campy version of Poison Ivy as Uma could have really brought some lethal A-game to the table
Famke Janssen as Dr. Jean Grey/Phoenix
Famke Janssen is one of the hottest actresses in show business. Though it was apparent that her sex appeal was designed to keep things on the low end rather than exploit. Still a beauty that demands attention, we look forward to more appearances of Janssen in the super hero arena.
Anna Paquin as Marie / Rogue
I though her breakout hotness was left to the True Blood side of things, though let's give a props to this stunning little lady of the X-men universe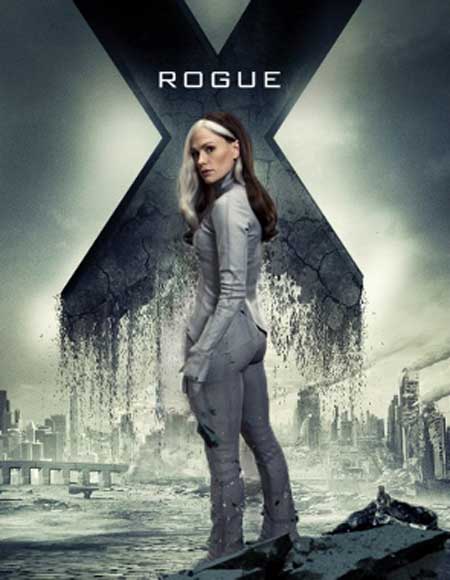 Michelle Pfeiffer as Cat Woman/Selina Kyle
Sorry, my least favorite Catwoman…….Michelle looked great parading her claws, though I'm going to have to give the role itself to the other contenders in the Batman universe
Krysten Ritter as Marvel's Jessica Jones
Elizabeth Olsen as Wanda Maximoff / Scarlet Witch 
Katie Cassidy as Laurel Lance / Black Canary
Caity Lotz as Sara Lance / Canary
_________________________________________________________
Upcoming Contenders:
Selections from movies yet to be released (at time of this article)
Gal Gadot as Wonder Woman/ Diana Prince
Margot Robbie as Harley Quinn (Dr. Harleen Frances Quinzel, M.D.)