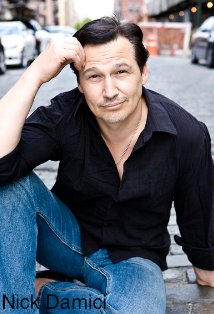 Dark Skies Films announced this morning that they have cast the lead in Adrian Garcia Bogliano's LATE PHASE. STAKE LANDS Nick Damici joins the fray. The press release is as follows:
MPI's Dark Sky Films, the preeminent independent producer-distributor of high-quality genre films, today announced in Berlin that actor Nick Damici (Stake Land, Premium Rush, We Are What We Are) is set to star in the upcoming LATE PHASES, directed by Adrian Garcia Bogliano (Here Comes The Devil, Penumbra).
MPI's Dark Sky, who is co-producing LATE PHASES with Zak Zeman's Site B Productions, has also announced that they will bring on Glass Eye Pix. Previous Dark Sky and Glass Eye collaborations include successful genre films such as The House of the Devil, Stake Land, The Innkeepers and others. Zak Zeman comes in fresh off the heels of his Sundance success with S-VHS. Brent Kunkle will produce for Glass Eye Pix after his success with last year's The Comedy.
Shooting is set to start this spring.
MPI Executive Vice President Greg Newman said, "Nick Damici was a key factor in the success of Stake Land and he'll bring that same unforgettable presence to this new film."
Zak Zeman said, "Nick Damici fits perfectly into this role. Combining forces with MPI and Glass Eye will bring LATE PHASES to a whole new level."
Said Glass Eye's Larry Fessenden: ""We're excited to be working with MPI Dark Sky again, with a great script and Damici in the lead. I have admired Zak Zeman's recent work and look forward to joining forces to bring Bogliano's vision to the screen."
LATE PHASES will tell the story of Ambrose McKinley, who moves into a community where the residents have been dying in increasing numbers – oddly, all have supposedly been the victims of dog attacks. But after barely surviving his own attack on his first night there, Ambrose discovers that the assailants are much more than canines.