SYNOPSIS:
Austria – 1770. A time of superstition and religious persecution. Count Cumberland and his evil henchmen torture and kill innocent citizens accusing them of witchcraft. This original uncut version has lost none of its shocking impact.
On the outset we are introduced to a cruel and public display of a witch being burned alive. Followed by an introduction of how the film is based upon three real historical Witch trial accounts. Count Christian von Meruh (Udo Kier) arrives at a small rural village with his fellow merry men and discovers that some uncalled for punishment is being conducted by the wicked Local witch finder official. He steps up heroically to defend one tavern girl who he feels sympathy for. They prepare for the arrival of his Lord, Christian teacher Count Cumberland, who shows some talent of his own for being a corrupt and misgiving leader. With him now in charge of seeing over all the Indictment and confessions. Udo Kier begins to doubt his teacher and rebels. Contains lots of screaming and grisly torture scenes. Plus a disturbing look at a chinese water torture punishment.
REVIEW:
In the days of old, it wasn't uncommon to torture and kill those accused of Witchcraft and black magic. It represented a primitive time in our evolution of history when the misunderstood were simply erased rather than dealt with or examined. It also was an era where many were wrongfully accused and lives suffered due to the ignorance of the times. Mark of the Devil is one of those gems filmed back in the 70's that really hits the nail on the head. While definitely not for the weak of heart, it is a solid work of filmmaking that touches home on the controversy more than any film I've seen past or present. The main character Reggie Nalder is brilliant in his role as the evil "Albino" who's "actual" scarred face adds to his cold and ruthless performance. Nalder was also known for his performance as the head vampire in the original "Salem's Lot"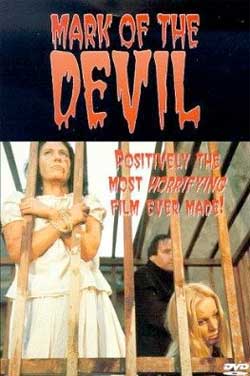 Also at his best is a much younger Udo Keir, playing a protege of the films renowned witch-hunter Lord Cumberland. Udo went on to star in several horror classics in recent years. The film original released as "Witch-finder General" and later "Hexen" was most remembered for its marketing slogan "Positively the most horrifying film ever made" and "Rated V for Violence". This was also backed up with the marketing gimmick of handing out sick bags to movie goers as they entered the theaters.
The film itself is harrowing at its best dealing with the issues of witch finding and the political nature of the inquisition of that time. The intro title card that appears at the start of the film pretty much says it all:
"In Europe between the 15th and 19th centuries, it is estimated that nearly eight million people were convicted of heresy and executed by fanatical witch-hunters in order to save their souls. Their death on the scaffold or the funeral pyre was for them the release from agonizing torture, which often lasted for months. This motion picture shows three cases taken from authentic documents from the time when witch-hunting had reached its peak and can only give a slight idea of the cruelties of one of the blackest pages in the history of man."
Filmed in Australia and directed by Michael Armstrong, it presents some of the most disturbing images I've seen recent years. I would attribute that due to the the realistic and violent nature of the tortures and executions that invade the screen. Even with torture films being generated faster than the studios can keep up with, MOD stands as one of the true pioneers of the exploitation movement and violence that came out of early cinema.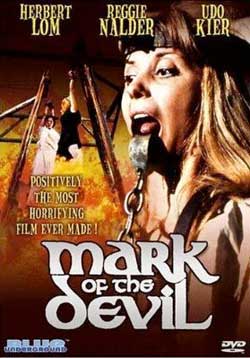 Due to the historical nature of the movie, it delivers more believable than modern fanfare by easily putting one in the frame of mind of those who may of suffered the same fate back in the day. It's most controversial scene involving the cutting off of ones tongue is presented with such precise practical effect work that you could easily confuse reality with cinema magic. This scene was also seen in the brutal advertisement poster that was used to promote the film. It was said that the prisoners were tortured so brutally that death was considered a welcome relief. Though besides the violent interpretations you really get the feeling that evil and those who were so easily & wrongfully accused were the real terror of this film.
Shortly after, a sequel was filmed in 1972 called "The Mark of the Devil 2" it was released on video but never made its way to DVD. It still makes it's way though bootleg circuits.
MOD may be cringing to watch, but is truly a masterpiece.
SPECIAL EDITION CONTENTS:
High Definition Blu-ray (1080p) and Standard Definition DVD presentation of the feature, transferred from original film elements – available uncut in the UK for the first time!
Optional English and German audio
Optional English subtitles for the deaf and hard of hearing
Newly translated English subtitles for the German audio
Audio commentary by Michael Armstrong, moderated by Calum Waddell
Mark of the Times – exclusive feature-length documentary from High Rising Productions on the emergence of the 'new wave' of British horror directors that surfaced during the sixties and seventies, featuring contributions from Michael Armstrong, Norman J. Warren (Terror), David McGillivray (Frightmare), Professor Peter Hutchings (author of Hammer and Beyond) and famed film critic Kim Newman
Hallmark of the Devil – author and critic Michael Gingold looks back at Hallmark Releasing, the controversial and confrontational distributor that introduced Mark of the Devil to American cinemas
Interviews with composer Michael Holm and actors Udo Kier, Herbert Fux, Gaby Fuchs, Ingeborg Schöner and Herbert Lom
Mark of the Devil: Now and Then – a look at the film's locations and how they appear today
Outtakes
Gallery
Reversible Sleeve featuring original and newly commissioned artwork by Graham Humphreys
Illustrated collector's booklet featuring new writing on the film by Adrian Smith and Anthony Nield, plus an interview with Reggie Nalder by David Del Valle, all illustrated with original stills and artwork
Mark of the Devil Bluray is now available thru Arrow Films or MVD