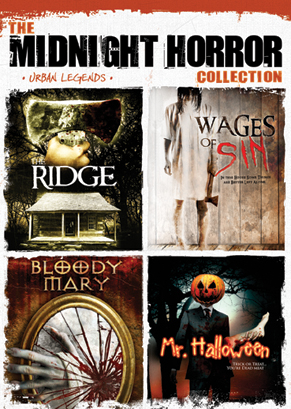 From the Midnight Horror Collective comes a new title featuring the much noted quad set. Urban Legends is one tidy little collection of horror. All 4 titles were previous Hollywood video shelfers, that I've run across in the past. You tend to wonder where all these films end…well look no further. I enjoy  the heck out these mainly because I can do a sitdown with a collective and not have to dig thru piles of of movies.
Amazon lists this at $10, while Walmart offers at $5. Take your pick, even $10 is a pretty good price for harder to find titles.
Info on the pack:
MR. HALLOWEEN
Life in the small town of Sauquoit is safe…until a handful of youth go missing. The kids blame a local legend—a recluse nicknamed Mr. Halloween. But when the police fail to listen to their claims, a group of teens decide to take matters into their own hands.
THE RIDGE When a group of young adults head off to a vacation home in the mountains, they think they will be spending their time in solitude. To their surprise, they are joined by a legendary murderer known as The Ridge Runner.
BLOODY MARY
When a group of psychiatric hospital nurses invoke the spirit of Bloody Mary—a supposed urban myth—the slaughter begins. The legend is real, her vengeance is fatal, and to free her, all you have to do is say her name.
WAGES OF SIN
When a beautiful college graduate inherits an abandoned house in the countryside, she and her friends go there for a weekend getaway, only to discover that the evil presence of a twisted preacher still lingers there—and it doesn't want them to leave.