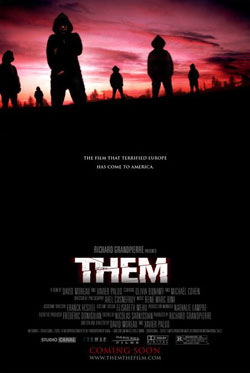 SYNOPSIS:
Late one night, Lucas (Michaël Cohen) and Clémentine (Olivia Bonamy) encounter strange events in their remote country home. It starts with prank calls and strange noises, but when the power is cut off and their car disappears, the terrified couple is trapped by the unseen force. Is it simply kids from the school where Clémentine teaches, or could it have something to do with a mother and daughter who mysteriously vanished the day before?
REVIEW:
I had watched this film when it first came out and thought it was fantastic. So to review it, I re-watched to re-a-quaint myself. "Them" is one of those films that I believe even though it was promoted adequately somehow still flies below the radar because it doesn't have expensive TV ads connected to it to back it up. It's a shame, but none-the-less that's what these review sections are for.
So if that doesn't get you get excited – go rent "Them"!
Now on to the review:
Them begins with a very harrowing car getting attacked experience, which was not too unlike the attack scene from "Cursed". This sets the tone of the film that someone or something is out to get folks. To say the leas, it was shot very accurately to induce as much suspense as possible.
This of course is the mystery of "Them". Much like the enigmatic attackers in "The Strangers" we have a group of hooded individuals who are on the warpath. Accompanied by a strange clicking sound, you can anticipate the attacks before they happen. Remember that brooding sound from "Jaws"? the clicking really adds to the build ups of the scenes. We are never given a reason or revealed too much about these strangers, but they seem bent on terrorizing folks. In this case a young couple located in a remote country home.
All the on the edge of your seat tricks are pulled out for a pretty captivating experience. Them blends alot of classic thriller scares that we don't see too often anymore. Did I mention it's foreign film? The subtitles are expected and doesn't take one long to overlook. Maybe this is sign to American productions, that we are failing at on the horror front by focusing on dollars rather than fear inducing content? Lately the scariest productions haven't been in English, in my opinion, but imported from foreign countries.
Anyway's as you can guess, the terrorizing continues to escalate in Them making this a worthy viewing of quality content. As far as I could tell, little FX were used with the director relying more on traditional camera scares and build ups.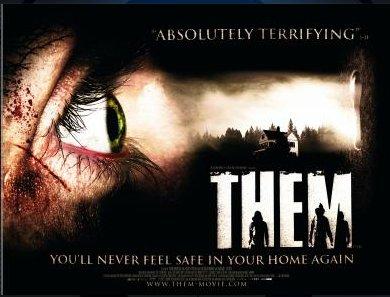 The Actors Cohen and Bonamy do a terrific job at making this believable!
Now, I wont spoil things for you but "Them" has a nice trick ending that feels like something you'd expect from M. Night Shyamalan. I didn't get the reports on how Dark Sky acquired this film, but not only do I recommend it as a rental but as a "recommended" purchase for those late nights with a fixin for some horror suspense.
I don't believe in giving stars, but if I did this one would get a full batch of 5.