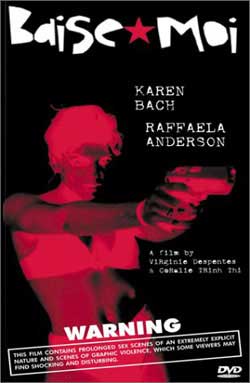 SYNOPSIS:
Not for the faint-hearted. Baise-Moi, literally translated as 'F*ck Me', defies categories – it features p*rnographic sex scenes & violent shootings, but it won't fit anyone's definition of an erotic thriller. After separately committing murders, two French women (Karen Lancaume & Raffaëla Anderson) join together in a spree of crime & sex.
Because both have endured abuse at the hands of men, the movie seems to start as a self-righteous parable – but the women's actions quickly degenerate into amoral, near random killings, with women shot as casually as men. One reviewer described Baise-Moi as 'Thelma & Louise with actual penetration,' but it's actually Thelma & Louise without Hollywood sentiment.
By refusing to condemn or justify the protagonists' actions, & by depicting both sex & violence with unglamorous realism, Baise-Moi forces the viewer to respond in the most contradictory & basic ways. You may find the lead characters surprisingly sympathetic. Jarring, unsettling, & well worth watching.
REVIEW:
I'm always amazed when you stick in a horror exploitation film that carries a decent story, has plenty of hardcore violence scenes and even manages to throw in some down and dirty p*rn. Think of this maybe as the "Thelma and Louise" meets "Natural Born Killers" meets …..um p*rn. But don't let the p*rn aspect scare you away. It's intermittent into the plot as the girls find free time between killings to indulge in some hardcore sex. At first the women are clear victims. They start off in separate stories which in one instance is a street smart cold minded tough girl who gets raped on more than one occasion. Even after the fact she seems to shrug it off and even manage to run of the raper by not showing any emotion.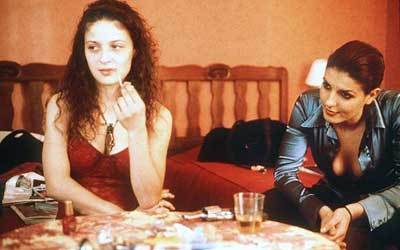 Then we have the part time prostitute who seems to enjoy the act and not give it much thought. In any case they both are on the run as they try and break away form the chaos in their lives. In the course they encounter a chance meeting where they hook up for a long ride out of town. It doesn't take too long for the 2 to engage in acts of crime ending in boats of murder. As this transpires they seems to enjoy the freedom and especially the easily obtained cash… go figure. What once was an act of survival becomes an all out war and power trip against men who try and take advantage of women.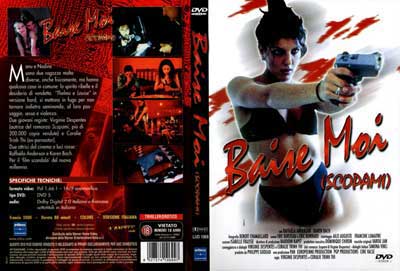 They even seem to instigate a few encounters. Finally a gun purchase and the girls are off on a murder spree. The papers report and yet they feel like they are beyond capture. As the days wind down into more murders, robberies and abusing whoever they choose, they begin to realize that their days are numbered. The violence makes for some pretty hardcore scenes in this French film. Emotional reactions are held fast in a cold and executing manner that may surprise even viewers. One of the more brutal scenes has the girls ordering a gay man to his knees and shooting his brain out with a pistol stuck in his ass. Ya, you don't see that everyday. The film lacks professional production flair but is still a strong independent release. In any case te film is directed by Virginie Despentes and seems to be a women's perspective attack towards men.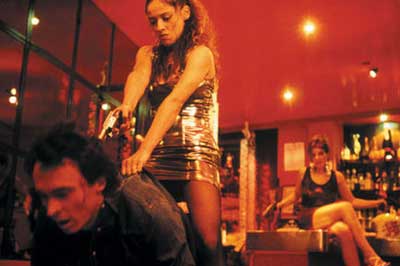 Whether for fiction or a purging of guilty pleasures, the point is made. Baise moi which is listed in IMDB as "Rape me" has found its way onto "most disturbing" lists for its realism and violence. It may not be quality cinema though its powerful none the less. In earlier scenes we feel for the victims as they are being raped. That notion changes as they seem to do more damage than they were ever done. Snap crackle, pop….. its a female bloodfest. Not bad, and still worth checking out. The movie stars Karen Lancaume as Nadine and Raffaëla Anderson as Manu. This also is there only film appearance which may be enough, I would guess. If you don't care for the violence, these women also perform plenty of real sex and double teaming romps.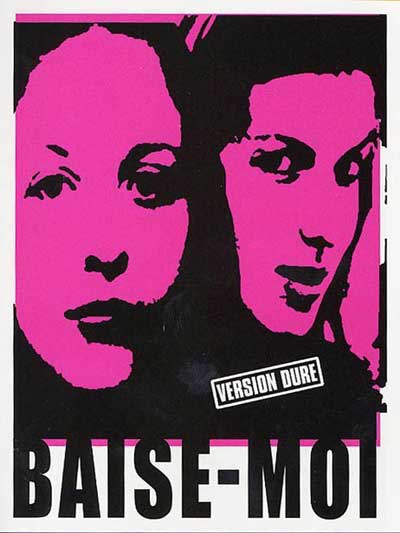 Here is some interesting trivia from IMDB:

This film is banned in Australia. It was initially released to a select audience but the Commonwealth government, by use of police force, closed down the screenings.
Link this trivia
In Canada the movie went before the Ontario review board and was originally banned because it was too p*rnographic. The film was then resubmitted to the review board under a p*rnographic license but it was refused because there was too much violence. But the film had received the right to be shown at the Toronto film festival and was available in the provinces of British-Columbia and Québec. Finally on 8 March 2001 the review board gave the movie an 18A license.
The film Nadine is watching while with her "client" is I Stand Alone (1998).
This sexually-explicit film not only stars two adult film stars, but is also co-directed by one, Coralie.