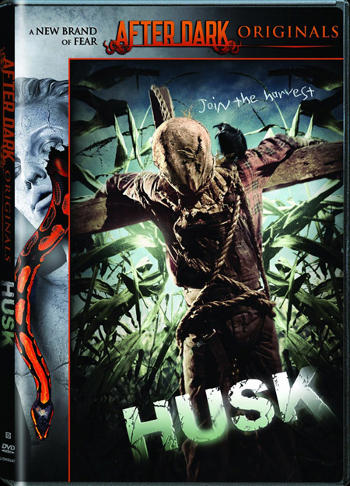 The premiere round of AFTER DARK ORIGINALS have come and gone and now it's time for the DVD releases.  Got all the info on the first two that will hit home video.  HUSK and PROWL will kick off the releases.
Here's your info:
LIONSGATE will once again handle the distribution details.  The discs will hit on March 29th.
First up, HUSK:
When a murder of crows smash into the windshield causing their car to crash, a group of young friends, inside, are forced to abandon the vehicle. Stranded beside a desolate cornfield, they see a light on in a window and decide to go in search of help. They head into the fields but instead of finding sanctuary they discover something evil and unnatural lurking in the corn.
The disc will feature a cast/crew commentary and a making of feature.
An here's the details on PROWL:
Amber dreams of escaping her small town and persuades her friends to accompany her apartment-hunting in the big city. When their transportation breaks down, Amber and friends gratefully accept a ride in the back of a semi. But when the driver refuses to stop and they discover the cargo is cartons of blood, they panic. Soon, panic turns to terror when the truck disgorges into a dark, abandoned warehouse where blood-thirsty creatures learn to hunt human prey, which the friends realize is what they have now become.
As with above a cast/crew commentary and behind the scenes feature.
I'm liking the artwork, I really am.  Keep it here and I'll have the details on the rest of the film soon.