After Dark Film Festival Part Two:
Mini Reviews from the Toronto After Dark Film Festival:
"Idiots & Angels" (2008)
An animated fable from writer/animator Bill Plympton. A delightfully dark, funny and touching look at selfish ass hole who suddenly grows angel wings that force him to act against his will. The film is without dialogue but will draw you in quickly with its powerful images and characters. A sarcastic movie that isn't afraid to be romantic and poetic as well. 4 and a half out of 5 stars.
Mirageman (2007)
Writer/Director Ernesto Diaz Espinoza brings us "Mirageman" a comedy/drama/action film from Chile. The film makes fun of the superhero gene while being a welcome addition to it. Marko Zaror is amazing while fighting and while acting the part of Maco, a would be superhero. The movie gives us the closest to a realistic superhero movie that we will ever get: our hero rides the bus, loses his pants after changing in his superhero outfit, and finds he can beat up the bad guys but a jump from a story onto his feet, takes the wind right out of him. I hope everyone gets a chance to see this film. 5 out of 5 stars.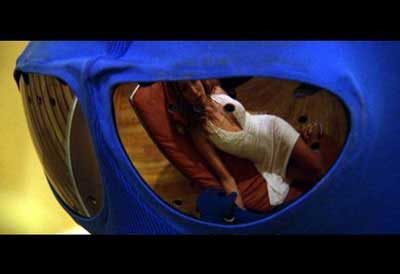 Repo! The Genetic Opera (2008)
Take one part "Blade Runner", One part "Sin City" and one part "Sweeney Todd" and add a pinch of "The Body Snatcher" and you would have "Repo! The Genetic Opera". An amazing cult film which stars Tony Head as the kindly father by day and nasty repo surgeon by night. The visuals, pace, gore and acting are just breathtaking. In a film where Paris Hilton doesn't suck, you know you are on to something. Will need to do a fuller review on this in the near future. 6 out of 5 stars. Write Lion Gate Films and tell them you want this on the big screen in your town. This movie should be seen as large as it can with lots of popcorn.