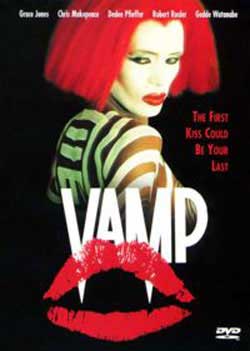 SYNOPSIS:
A couple of college students take a trip to a sleazy strip joint to acquire the services of one of the dancers. It doesn't take long for a night of pleasure to turn into a night of vampire bloodlust.
REVIEW:
Death by Stiletto Heel… and that's only the beginning of it. This wacky 80's romp feels like a combination of From Dusk Til Dawn and After Hours. I recently exhumed this horror-comedy from the grave and sunk my teeth into it. If I hadn't lost my thumbs in that chainsaw accident, I'd give it two big thumbs up. Chris Makepeace (Meatballs, My bodyguard) and Robert Rusler (Weird Science, Nightmare of Elm Street 2) play Keith & A.J., two frat house pledges on a mission to get a stripper for the big party on campus. The third wheel on this trip is none other than Long Duk Dong himself, Gedde Watanabe (Sixteen Candles, Gung Ho)!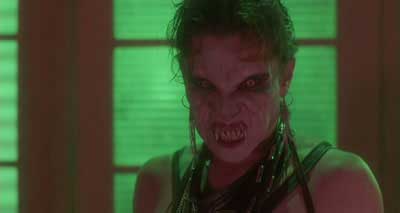 The GUTS of the movie take place in a most interesting strip club called "The After Dark Club" where Vampires run the joint. I think they could have picked a better crop of strippers here… don't expect the same quality of talent as Zombie Strippers.But, you do run into some interesting characters… the doorman eats c**kroaches and a sewer dweller eats rats. You probably don't want to go into this film hungry, or do you? Oh, did I mention there's an Albino Street Gang!? This movie is trippy and it's a cool nostalgic trip back to the mid-80's, especially with some of the wild fashions. Grace Jones plays Katrina, a freaky HORROR VAMP and she offers up a bloodsucking performance both on stage and back stage where she shows her true face to A.J. (Rusler).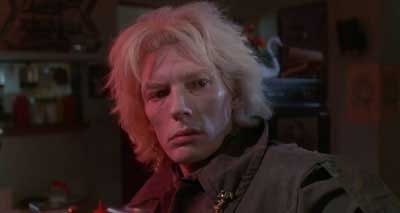 His days will never be the same. Kudos to the FX team that transformed Grace Jones into a Vampire, because they did a scary great job and in turn, created the most memorable scene of the movie. Now, with craziness all around them, it's up to Keith (Makepeace) and befriended stripper, Amaretto (Dedee Pfeiffer – Michelle Pfeiffer's little sister) to save the day and stop the Vampires. It's a lot better than I remember it being. So, join me with a Brady Cocktail (no, better leave the whole bottle) and burn this mother out!
Vamp (1986)