Adain- Hi Janel!
Hi Adain, how are you?
Adain- I'm good. How are you?
I'm good. Thank you. I really loved Wrong Turn. I was rooting for Darius and Jen (Charlotte Vega). I was doing a little bit of yelling at my laptop. (Laughing) I tried to yell, stay on the path, Darius, stay on the path. I understand though.
(Laughing)
Adain- Thank you Janel. Everybody has been shouting that at me.
I was so fascinated with Darius because he wants to stay with this group. It was almost if he found what he was looking for. How did you get involved, and why did you decide to take on all the craziness?
Adain- I spoke with the director Mike P. Nelson before I read the script. It made a lot of sense to me, and the ending only seemed natural. When Darius is in bed, and he gives this speech about this utopian society that he strives for. I think The Foundation offered a lot of those things for him. I think The Foundation gave him something that he was looking for.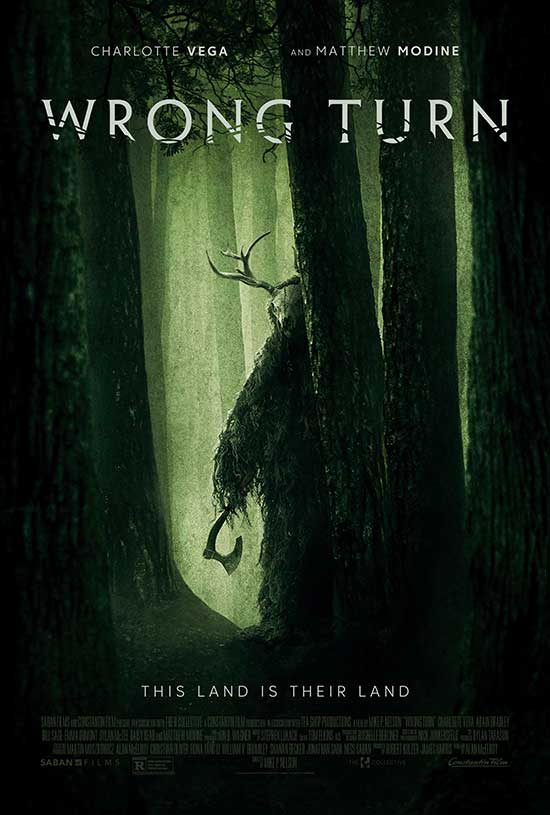 I got that feeling and I don't want to give away spoilers, but you did an excellent job. There was a great twist.
Adain- Thank you very much, I appreciate that. I think that was a good decision for Darius. Alan did such a good job writing the script. The one thing, I do want to say about Darius is that he's not an angry guy. He has a relationship, he's very successful. There is just something missing, and that's what the Foundation gave him.
I agree. What was it like for you working with the director, Mike P. Nelson and this incredible cast?
Adain- It was really cool. I came on super-late to the project, less than a week before we went in to principal photography. It was quite a whirlwind for me. The first time I met most of these people was at the table read. I didn't know what to expect because they had all been attached to the project for a while. Everybody was so great. I got to spend a lot of time with these people. I spent a lot of time with Charlotte Vega, most of my scenes were with her. We got to know each other really well. The first time I spoke to Mike, I just trusted him. I knew that the movie was going to be something great.
I think this movie stands on its own. What do you want to say to the fans that will be watching Wrong Turn (2021)?
Adain- Thank you. I think it is a strong stand-alone product. But, look at the end of the day, it says, Wrong Turn on it, so you will have the fans from the original that might expect a certain type of Wrong Turn movie. Alan B. McElroy, that wrote the script. You have to trust him, it's not what you may expect, but it's a really good reimagining of tale that is a product of it's time. There are still those moments that will make you wince, scream, and even shout at your laptop. Its also going to make you think. This is a solid movie. I think there is something in there for everyone. I'm not the biggest horror fan because I'm such a scaredy cat. I will jump at anything and everything. I watched the movie and enjoyed it. I think this one will stand the test of time.
It is such a fun movie. Would you consider doing more horror films, or are you working on different projects? (Or another Wrong Turn. I know, I know. I had to throw it in. I had to ask.)
Adain- I am very fortunate to be working right now. I would consider doing more horror films. I would consider doing more of these (Wrong Turn films) if that's what the fans wanted. It's a bit like music now with these genres, like we used to have indie and rock. Now we have indie-rock. That's what the movie genres are doing, they are blending.
I love that. I think it is cool to see all the different aspects. It means a lot to me as a horror fan.
Adain- There has been a shift and some people that need to be credited.
Did you face any challenges while shooting? Some of these scenes are wild and those traps are so strategic.
Adain- Its difficult because it's an environment that's uncontrolled. The craziest thing that happened to me was, I accidently hit my knee on a rock formation while filming, and completely shattered my left knee. So, for ninety percent of the film, I was on crutches so when you see me talking, it's a close-up shot because I have crutches. I had a wonderful stunt man named Will. So, any time you see me running or walking, it's probably Will. That was pretty wild.
Oh my gosh! You still kicked ass. That sucks though. You can't even tell at all. You are a trooper.
Adain- I took a couple days off and then I was back to work. Will (Adain's stunt man) is such a talented performer. I'd limp along with him and he would ask how I would do it? It felt like my performance even though it was Will. I'm a physical guy, I like to do all these things. Maybe if we do another one, I can do some of my own stunts.
I hope so! I'm glad you are doing good. You guys did such a great job. It was so much fun to talk to you. Thank you.
Adain- Thank you so much.
WRONG TURN stars the ensemble cast of Charlotte Vega (The Lodgers), Adain Bradley ("Riverdale"), Bill Sage (American Psycho), Emma Dumont ("The Gifted"), Dylan McTee ("Rosewell, New Mexico") and Matthew Modine ("Stranger Things"). The film is directed by Mike P. Nelson (The Domestics) and written by Alan B. McElroy (Wrong Turn).
SYNOPSIS: Backwoods terror and never-jangling suspense meet when Jen (Charlotte Vega) and a group of friends set out to hike the Appalachian Trail. Despite warnings to stick to the trail, the hikers stray off course—and cross into land inhabited by The Foundation, a hidden community of mountain dwellers who use deadly means to protect their way of life. Suddenly under siege, Jen and her friends seem headed to the point of no return— unless Jen's father (Golden Globe® nominee Matthew Modine) can reach them in time. 
WRONG TURN is available: On Demand, Digital, Blu-ray and DVD