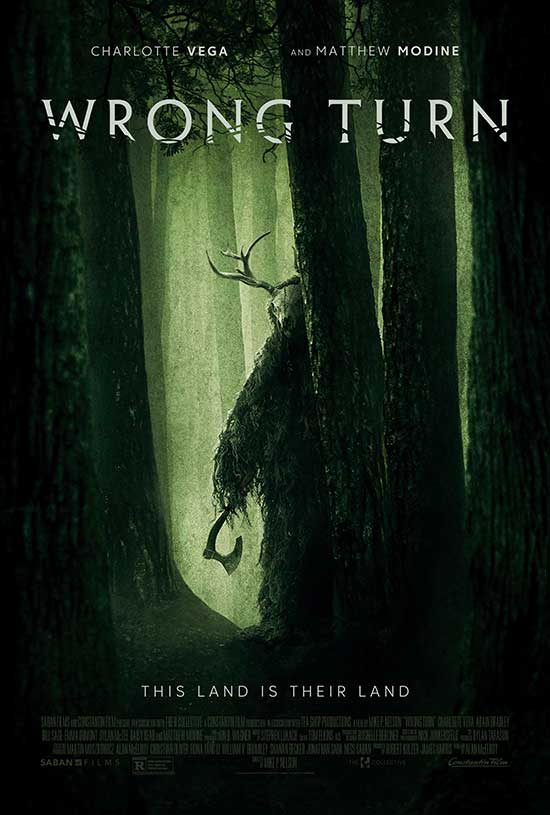 WRONG TURN 
A reimagining which places the story in a contemporary setting with a diverse cast 
Saban Films will release the horror film On Demand, Digital, Blu-ray and DVD on February 23, 2021.
WRONG TURN stars the ensemble cast of Charlotte Vega (The Lodgers), Adain Bradley ("Riverdale"), Bill Sage (American Psycho), Emma Dumont ("The Gifted"), Dylan McTee ("Rosewell, New Mexico") and Matthew Modine ("Stranger Things"). The film is directed by Mike P. Nelson (The Domestics) and written by Alan B. McElroy (Wrong Turn).
SYNOPSIS: Backwoods terror and never-jangling suspense meet when Jen (Charlotte Vega) and a group of friends set out to hike the Appalachian Trail. Despite warnings to stick to the trail, the hikers stray off course—and cross into land inhabited by The Foundation, a hidden community of mountain dwellers who use deadly means to protect their way of life. Suddenly under siege, Jen and her friends seem headed to the point of no return— unless Jen's father (Golden Globe® nominee Matthew Modine) can reach them in time.
DIRECTOR'S STATEMENT
We wanted to make a movie that reflects the state of the mind of the world today. I think as people we are all capable of being the most extreme versions of ourselves so when those extremes collide one person's dream can become another person's nightmare.
We're telling the story of Jen and her group of friends that are all at critical junctions in their young lives – relationships, careers, looming adulthood are all things at stake for them. For them trekking the Appalachian trail is supposed to give them this clarity for what they should do with their lives….or at least they thought.
When we meet Venable and members of The Foundation, it's important to me that they are not your typical bad guys. They're not the backwoods hicks. They're not the white supremacists. This is a community of people who are very intelligent and very proud of their way of life. They will do whatever it takes to defend it.
Jen in particular is a character that I think will resonate long after the credits roll — wonderfully flawed, determined character that will do whatever it takes to survive.
But most importantly we wanted to make a movie that surprises audiences. They think the movie is going one way and we take them down a completely other turn. This is a movie where the audience will think they know who these characters are and we'll completely flip that prejudice on its head. These characters keep surprising us which makes the movie so special