MICHAEL GROSS AND JAMIE KENNEDY RETURN
IN A WILD AND LETHAL ALL-NEW MOVIE IN THE
CULT CLASSIC HORROR COMEDY FRANCHISE
TREMORS 6
NOW IN PRODUCTION IN CAPE TOWN
FROM UNIVERSAL 1440 ENTERTAINMENT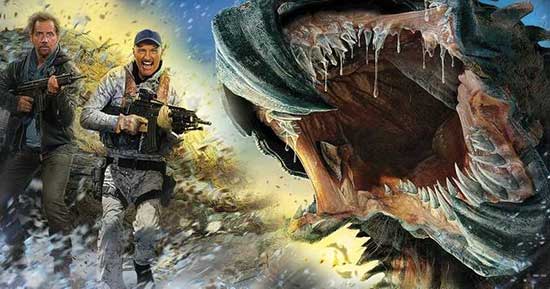 Intrepid creature hunter Burt Gummer and his son Travis find themselves in a remote hotbed of giant man-eating worms in the newest action-packed entry in the wildly popular Tremors franchise. Currently in production in Cape Town, South Africa, this outrageous horror comedy finds the pair at a remote research station where they come under attack by what Burt fears could be weaponized Graboids. Tremors 6 will be released on Blu-rayTM, DVD and Digital HD in 2018 from Universal 1440 Entertainment, a production entity of Universal Pictures Home Entertainment.
"This is going to be the craziest, most over-the-top movie in the Tremors saga to date," said Glenn Ross, general manager and executive vice president, Universal 1440 Entertainment. "It takes the franchise's signature combination of suspense, action and humor to new explosive heights."
Michael Gross ("Family Ties," Tremors franchise) and Jamie Kennedy ("The Cleveland Show," Scream franchise) return as Burt Gummer and Travis Welker, joined by franchise newcomers Tanya van Graan (Death Race: Inferno, Zulu), Rob van Vuuren (Mandela: Long Walk to Freedom) and Greg Kriek (Momentum).
Tremors 6 is directed by Don Michael Paul (Sniper: Legacy, Tremors 5: Bloodlines) from a script by John Whelpley (Tremors 5: Bloodlines, "Dallas"). The film is produced by Mike Elliot (Kindergarten Cop 2, Halloween II). The director of photography is Hein de Vos (District 9, Dominion).
SYNOPSIS
Burt Gummer (Michael Gross) and his son Travis Welker (Jamie Kennedy) find themselves up to their ears in Graboids and Ass-Blasters when they head to Canada to investigate a series of deadly giant-worm attacks. Arriving at a remote research facility in the artic tundra, Burt begins to suspect that Graboids are secretly being weaponized, but before he can prove his theory, he is sidelined by Graboid venom. With just 48 hours to live, the only hope is to create an antidote from fresh venom — but to do that, someone will have to figure out how to milk a Graboid!
#Tremors