Don't be fooled. 2018 has been a fantastic year for horror despite what any naysayers may try to tell you. The horror genre gained significant recognition with Get Out's four Academy Award nominations and secured the Oscar win for Best Original Screenplay. Fangoria was resurrected with a quarterly magazine distribution and audiences were gifted a remake of Suspiria and continuation of Halloween. Women have also slayed the screen both on camera and off by presenting stylish, sharp, and savage stories performed by actresses at the top of their game. Directors Lynne Ramsay (You Were Never Really Here), Aislinn Clarke (The Devil's Doorway), and Rungano Nyoni (I Am Not A Witch) captured the horrors of reality with dramatic stories of crime, trauma, and the dangers of cultural and religious persecution towards women. Physical disabilities have been given creative recognition in such films as A Quiet Place, Hereditary, and Bird Box while LGBTQ storylines emerged within the slasher genre with What Keeps You Alive. Horror continues to utilize the terrors of reality and flawed human experience to create allegorical films that both entertain and unnerve. Below are my favorite horror films of the year for reasons spanning creative storylines, allegory, technical execution, performance, and overall haunting entertainment.
10. Thoroughbreds
"I've gotten so good at watching and imitating other people's emotions that I sort of tricked myself into believing I have them, but I don't." Displaying a composed sense of stoicism, Amanda (Olivia Cooke) explains to her estranged friend Lily (Anya Taylor-Joy) how her flat affect has allowed her to mirror the expressions society expects. In a world where women are deemed too dramatic and emotional or demanded to smile like a displayed doll, writer/director Cory Finley flips the script by delivering a subversive film about two upper-class teen girls who conspire to strategically plot a murder. Cooke and Taylor-Joy deliver intoxicatingly cavalier performances decorated with black comedy and cruelty. Thoroughbreds is shot with beautiful symmetrical framing that compliments its animalistic yet mechanical score from composer Erik Friedlander. Finley's directorial debut possesses elements that Hitchcock fans will enjoy, and the character foil containing a psychopathic sisterhood between Lily and Amanda will warm anyone's cold, dead heart.
9. Unsane
Gaslighting can be an under-represented device in a film's narrative, or at least used in a very subtle sense to the point where many people still don't even know what the term means. However, director Steven Soderbergh emphasizes its menacing threat full-force in the story of Sawyer (Claire Foy), a young woman who flees her home to avoid further harassment and danger from her stalker. She accidentally admits herself into a psychiatric ward and later falls under the care of her abuser, who falsified his identity to become her nurse. Soderbergh does a fantastic job highlighting the many ways in which women are not believed and the endless questioning they must endure when disclosing their traumas. Shot entirely on an iPhone 7 Plus, the shaky and grainy images perfectly capture the frantic chaos of Sawyer's experience while she fights for her freedom and her sanity. In an age where documentation is pivotal to support allegations of assault, the use of an iPhone is extremely fitting for this timely and distressing film.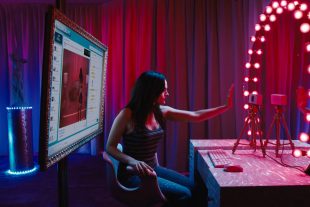 8. Cam
While sex workers in horror tend to be secondary, disposable roles only to perpetuate a storyline or body count, Cam pushes the envelope and displays a female cam girl to be the protagonist. The film follows Alice (Madeline Brewer) who performs as "Lola", a sex worker striving to make the top 50 on the adult website she utilizes to perform for her "johns". Reality spirals out of control once she realizes her account has been hacked by a doppelgänger. The lack of help from the police, exposing her alternate persona and line of work to her family, along with facing the daily perpetual dangers that accompany being a female in general, Alice must strategically fight to reclaim both her identity and her chosen profession. Writer Isa Mazzei (a former cam girl herself) captures the dangerous tone of online sexwork and feminine experience through a stylish  sex-positive story about identity, sexuality, and the quest for self-preservation.
7. Mandy
A blood-soaked love ballad that blooms into an epic tale of revenge, director Panos Cosmatos' latest is one hell of a phantasmagoric journey. Red (Nicolas Cage) hunts down a deranged religious cult after they burn his lover alive right in front of his eyes. While Cage is notorious for his atypical behavior and campy acting style, he delivers an impressingly moving performance as Red. One bathroom scene in particular captures the rage, comedy, and despair that is surgically inserted into the heart of this film. Jóhann Jóhannsson's versatile score strikes the tone of love lost, a drug-induced fever dream at the hands of religious zealots, and inventive fight scenes with a band of bicyclists who look straight out of a Clive Barker film. Cosmatos paints an ethereal, kaleidoscopic dreamscape of pain and beauty accompanied by my personal favorite mascot of 2018, the cheddar goblin.
6. Upgrade
After becoming paralyzed, Grey (Logan Marshall-Green) has a technological device called STEM implanted into his spinal cord allowing his limbs to regain functionality. A stay-at-home mechanic with an affinity for muscle cars, Grey's apprehension with technological advancements and the corporations that create them are completely justified. Writer/director Leigh Whannell's narrative explores the amazing curative and destructive implications that come with technological advancements in the near future, while hosting a plethora of spectacular fight sequences that will arouse plenty of gasps, cheers, and grimaces.
5. Revenge
Writer/director Coralie Fargeat pierces the male gaze with her gloriously gruesome and stylish rape-revenge film. A powerful directorial debut, it is clear that Fargeat is talented as hell. We join Jen (Matilda Lutz) while she is on a romantic getaway with her wealthy, albeit married, boyfriend when two of his sleazy friends crash their party. After a night of dancing and innocent flirtation, the toxic masculinity kicks in, and Jen is raped because the two douchebags are upset that women like her are never attracted to men like them. In an effort to cover it up, Jen is pushed over a cliff and left for dead. However, she survives and slowly gets her revenge on the three men, one-by-one. Filled with slick tracking shots, bright pops of color thanks to cinematographer Robrecht Heyvaert, and pure hell-bent rage and resilience, Revenge delivers in its savagery. Like the oblivious and entitled men in the film, one never fully expects to experience such a wicked feminine execution both in front of and behind the camera's lens. But it's about damn time.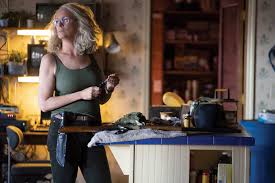 4. Halloween
Forty years after John Carpenter's original, epitomic scream queen Jamie Lee Curtis reprises her iconic role as Laurie Strode in David Gordon Green's Halloween. No longer a naive victim, Laurie has been training endlessly to prepare for her inevitable encounter with Michael Myers. Secured within her compound, protected by booby traps and a plentiful cache of weapons, she continues to struggle with PTSD, while the generational trauma has trickled down to her daughter and granddaughter, as well. Nick Castle returns as The Shape, and even John Carpenter is on board as a composer, executive producer, and creative consultant. While there are more comedic elements than its 1978 predecessor courtesy of Danny McBride, ample allusions to the franchise still exist with familiar tracking shots reminiscent of Halloween II and the Shamrock trick-or-treater masks from Halloween III. Curtis' strength is amplified through Laurie's character, and she delivers a powerful, fierce performance that rivals her stealthy counterpart.

3. Suspiria
"When you dance the dance of another, you make yourself in the image of its creator." While Madame Blanc (Tilda Swinton) expresses this notion with her new dance at the esteemed academy in Berlin, director Luca Guadagnino presents a rebirth of his own and pays homage to the film's original creator, Dario Argento. Guadagnino adheres to the basic plot, focusing more on the dance aspects in the coven, and utilizing a bleak color palette worthy of the political turmoil of '70s Germany, while driving a sinister sisterhood through Susie's deeper and more complex storyline. Thom Yorke's score is one of the best of the year and invokes a sense of internal yearning, while Dakota Johnson shines as a blossoming Susie Bannion. Utilizing dance as magic and the human form as a weapon of witchcraft, choreographer Damien Jalet creates sharp, beautiful, and deadly movements fitting for the spellbinding sorceresses that captivate the screen.
2. Annihilation
Writer/director Alex Garland (Ex Machina) explores depression, guilt, and addiction in a story that transcends worlds with his horror/sci-fi film based on the novel Annihilation by Jeff VanderMeer. Nina (Natalie Portman), a cellular biologist and ex-soldier embarks on a top-secret mission following in the footsteps of her husband who returned home abnormally ill. "The Shimmer" is an electromagnetic iridescent dome, continuously expanding while plant and animal life merge on a cellular level, thus questioning the cosmic interference and deadly consequences of its presence. Annihilation primarily features an all-female cast with women playing the roles of a biologist, psychologist, physicist, paramedic, and anthropologist–a strong but emotionally damaged group who sacrifice themselves for science and redemption. Filled with stunning practical effects and thematically-layered scientific and philosophical notions on what it means to be human within our universe, Annihilation is intellectually and visually one of the most well-crafted films of the year.
1. Hereditary
Inherited trauma and grief are the foundational horrors in this supernatural powerhouse by freshman writer/director Ari Aster. Inspired by such films as Don't Look Now, Ugetsu, and The Shining, Aster explores the corrosive effects of grief on the estranged Graham family after they experience familial loss. Themes of residency including anaphylaxis, unwanted pregnancy, sleepwalking, and schizophrenia amalgamate into a dense narrative that makes one question whether the characters possess control over their actions or if they are being influenced by an outside force. The amount of detail and foreshadowing that Aster plants into the film is significant, while the disturbing imagery and atmosphere thanks to cinematographer Pawel Pogorzelksi is reminiscent of the foreboding work from photographer Gregory Crewdson. Toni Collette stars as Annie, the family matriarch, and delivers the most gut-wrenching, powerful performance in the genre this year. Simply put, Hereditary is a masterpiece.
Honorary mentions: A Quiet Place, Terrified, Apostle, What Keeps You Alive