When discussing countries that produce the best horror films, the most common ones to pop up are USA, Italy and Japan as they have, of course, released thousands of amazing horror films, but if there is any country that is criminally overlooked for the vast selection of its beautiful offerings, it is France. French horror films are undeniably darker than the majority of films and are often very unconventional. Compiled in this list are films that not only showcase the sheer talent of France's directors, actors, producers, etc. but also that will be remembered as some of the most disturbing films made.
First on the list is Irreversible, which may confuse you as to its placement. Irreversible is not strictly a horror film as you would expect, rather a psychological thriller exploit which explores the darkness alluding rape and with the varying camera angles, flashing images and reverse chronology, Irreversible will keep you on your feet for the duration of the film. During the first few scenes, sounds that are at a frequency too low for human hearing are played in order to create an actual feeling of sickness within the viewer, which has allegedly made many people vomit from watching the film. Vincent Cassel at his finest, a must-watch for those wishing to watch a more psychologically based film.
One of the oldest films on this list, Les Diaboliques follows the story of the wife and mistress of a cruelly minded headmaster and the pair conspire to murder him. Once the murder is carried out, the corpse of the headmaster disappears and strange occurrences begin. Les Diaboliques is a classic horror/crime drama and sets the standard for films of its ilk. A must-watch for fans of crime-related horror films with a twist.
One of the most well-known films from this list, Haute Tension is about a lady by the name of Alexia who travels with her friend Marie to spend a few days with her family in their country farm, though in true horror film tradition, things do not go to plan. Alexia's night is about to take a sudden turn for the worse (much worse) in this tense hour and a half.
Them is probably the most underrated film from this list (only taking in $4,025 in USA in its opening weekend, spanning across 3 cinemas). A classic stalker house invasion in the dark film, Them is about a couple who live in a remote real estate who notice strange noises and see weird lights outside of their house and attempt to fetch help (even with a disconnected phone line) in what becomes a night of terror and dread.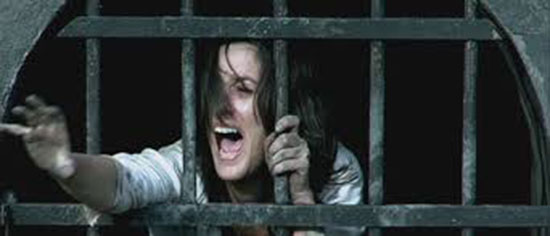 The Haunted Castle (1897)

Even though this is technically an English film, it was based upon the story The Haunted Hotel by renowned French illusionist Georges Méliès and it was impossible to leave The Haunted Castle from this list as it was the first ever horror film to be made (in 1897). Though it only lasts for 3 minutes, The Haunted Castle uses special effects that would bewilder any cinephile, especially considering its age, and it tells the story of a castle that is visited by many ghosts and spirits.
The first of three odd French cannibal horrors on this list, In My Skin is a tale of woe and body dysmorphia as a woman grows worryingly and increasingly fascinated with her body after she suffers a horrific disfiguring accident. Gradually, she finds that she is delving into the realm of self mutilation and cannibalism and struggles to hide it from her friends. For those who like body horror, this gloomy horror drama is for you.
Certainly not a film that you want to even entertain showing to a pregnant woman, Inside tells the story of a woman who, four months after the tragic loss of her husband, begins to be tormented in her home by a creepy and strange woman who wants her unborn baby. To say that this film is not for the faint of heart is an understatement as it is commonly considered the goriest French film ever made and constantly makes it into top 10s for the most disturbing films made. Only for extreme horror junkies.
The second cannibal film from this list, Frontiers is a tense experience of political extremism, tragedy and revenge. A young gang of thieves are forced to flee Paris after a political election's aftermath turns violent and unknowingly, they arrive at an inn on a farm ran by Neo-Nazis with a distaste for Muslims, the head of which has sinister plans for the one female of the group, Yasmine. In this bleak thriller, nothing is left to the imagination.
Raw (2016)

The final cannibal film of the list, Raw is also the most recent entry. A young vegetarian is forced to undergo a strange carnivorous hazing in order for her to be initiated at her vet school, which triggers a strange desire for her to eat meat which leads to disastrous consequences in this grim and bizarre spiral into the abyss of cannibalism. Raw will surely lead to a rejuvenation of body horror films, as this is a modern masterpiece.
Perhaps the most disturbing film to ever greet cinemagoers, Martyrs is a despairing and nihilistic film devoid of any hope or happiness. The film is centred around a young woman's revenge quest about those who kidnapped and tortured her as a child, which sparks a path into the most depraved and unwelcoming darkness. With one of the most shocking endings in horror history, Martyrs is bleak at best and recommended for those wishing to watch a film that will truly change them.