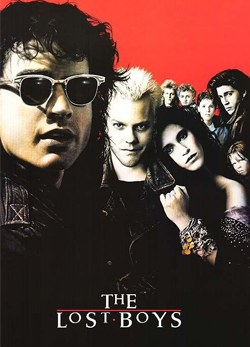 SYNOPSIS:

Two brothers and their mother move to Santa Carla with their grandfather. But what they don't know is that Santa Carla is infested with vampires.
STARRING
Directed By:  Joel Schumacher
Starring:
Jason Patric
Corey Haim
Dianne Wiest
Jami Gertz
Kiefer Sutherland
REVIEW:
The Lost Boys has an incredibly loyal fanbase and stakes its claim being edgy and unique. One of the best scenes in the movie comes from Corey Haim [Sam] singing in the bathroom with his comb. On the other side of the door however is his dog, Nanook who is protecting him from his vampire brother, Michael [Jason Patric].
I really love the campiness of this flick but also the music. God the music is amazing. You'll never look at a shirtless guy covered in sweat playing a sax the same way again.
A big stand out in this movie is obviously Kiefer Sutherland as David but also Jami Gertz as Star the half-vampire. The whole thing with her is that Michael was supposed to be her first kill in order to make her a full vampire and they fall in love! While we don't exactly know her full story, we can assume she was a runaway teenager in her living days who was fond of gypsy looking clothes. She is portrayed as David's girlfriend but ultimately falls for Michael as we know.
Then there's the epic Frog Brothers played by Corey Feldman [Edgar] and Jamison Newlander. They are two local teens who work in a comic book store as a cover and are vampire hunters by night. It is Edgar who tells Sam to thoroughly investigate the kind of group Michael is hanging out with. The three of them have some hilarious comic timing and the jokes are sort of 80's but can definitely be identified with anyone in this generation as well.

Special effects were done pretty darn good too. There is one scene in particular when there is a small group of punks dancing around a campfire. David and his boys feed on them and you can get a pretty graphic shot of a guy getting his scalp bitten into in a big bloody mess. If you want some creepy nightmares, this is the movie for it.
Don't expect to hate David and all of them though, it's incredibly moving at the very end. I won't give it away but there's something you may or may not have seen coming through the flick.
Lucy's ultimate downfall is not believing her two boys about the vampires. Obviously she thinks it's the comic books and in so Sam is trying to sabotage her dating life [her husband is no longer around].
The characters were serious when they had to be, intriguing all the time and hilarious when they needed to bring some lightness to the film. One scene is during a baby's Christening and they collect holy water from the church. Awkward. Can you believe Edgar becomes a priest by the third sequel? Handy!
With the passionate cast, the chilling carnival scene and the epic music, you're going to have one hell of a time!
Five out of five tombstones. Forever a favorite.