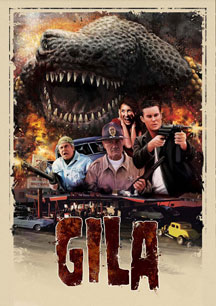 Jim Wynorski's Monster Movie Masterpiece on DVD April 22nd
"Rock 'n roll is here to stay" despite the best efforts of a giant gila monster in Polyscope's sci-fi comedy movie Gila! scheduled for release on DVD this April 22nd.
Based loosely on the 1959 sci-fi classic Giant Gila Monster, the revived Gila! features a ferocious, rampaging giant gila monster, classy hot rods, vintage 50's rock 'n roll music, cute co-eds, fist fights, drag racing and an all-star cast who rally to defend their small town.
"A perfect 'date night' drive-in movie," says producer Bill Dever. "Family fun with music, action, a very scary monster and a terrific cast. Inspirational sci-fi horror."
It's not all the monster's fault since his giant size and voracious appetite come from accidental toxic chemical contact, and beneath the action, Gila! carries a few contemporary political, social and environmental messages.
Directed by Jim Wynoski, the movie follows a small-town Sheriff and a young hot-rod mechanic as they suddenly face the giant gila monster's surprise attacks – first on farm animals, hapless humans, a passing freight train and then a small Indiana town busily preparing for the big Christmas rock 'n roll dance.
"It's funny, scary, camp and relevant," says Dever, "featuring some of the best music of the 1950's and some cool cars." The antique hot rods and classics were provided by a midwest car club.
Gila! stars veteran television actor Terrence Knox (Tour of Duty, St. Elsewhere) as the Sheriff. The handsome Chase is played by Brian Gross (Red Tails) who races, then rallies with restless hot-rodder Jesse Janzen as Waco Bob and seductress Carla, played with a passionate zing by Christina DeRosa as they fight the Giant Gila Monster.
The Gila Monster is no longer the federally protected and endangered southwest desert critter thoughtlessly nudged through balsa wood walls in the original movie. Clever EFX and a dangerous man-made chemical spill morph the gila into a monster and cave crickets into chickens. Tracked down and annoyed by the Sheriff's nitro explosion that supposedly sealed the cave the monster breaks through by morning and wreaks havoc.
Town drunk and civil libertarian Compton, played brilliantly by Rich Komenich, saves the day with a bottle of whisky in one hand and the Second Amendment in the other. His secret stash of machine guns and nitroglycerin – stockpiled to fight Russians or Martians or atomic monsters – has everyone home just in time for Christmas.
Gerald Pauwels plays the classic rich, blowhard Mayor who is forced to face the realities of city leadership as he, the Sheriff, the hot-rodders and town drunk pull together to fight the monster. Actor Don Sullivan who plays hero Chase in the original movie returns as the Scientist.
Gila spit, as we all learned in junior high science and Sullivan reminds us, is bad, but in Gila! giant gila goo dissolves human flesh in wonderful B-movie fashion.