There are many doctors of horror, and even more patients. There are Count Horrors here and Sir Horrors there, but I am untitled. I am, dare I say, Unexplained. You can simply call me to by one name. I am Joyhorror. This is Unexplained Confidential. And… You are about a die. Well, maybe not this very sitting but continue to read on and let Horrornews absorb into your eye balls and the effects will be inevitable. Dementia. Deterioration. Death. There you have the true 3D of Horror, so please heed our warnings and continue reading HN. The content will reach through your computer screen and rip your face off and enter your brain. This is a good thing.
Summer's end is creeping and I think it's time to officially start a countdown to Halloween. It's only two months away you know. Halloween stores will be opening in just another week or two. What are you going to be this Halloween? It's never too soon to start creating that perfect costume. I'm a fan of transforming myself into a zombie, but maybe you are a wicked witch at heart. I swear, Halloween, is seriously my absolute favorite holiday of the year. It's just not dressing up in scare gear but it's making your entire living space into a haunted house. There's something for every level of the genre fan. Casper the friendly ghost for the babies. Full blown demonic possession for the adult hardcore trick or treater. You can't lose.
Brrraaains! Here's some advice for the Zombie in you. I just want to put this out there to help people who are working on costumes. I found that toilet paper works really great. What I did, is applied un-used toilet paper to my face and coated it with latex. This will give the appearance of disfigurement. It really does give a professional effect from just an ever day household product. Obviously, the more TP that you use then the more latex you'll have to use. Don't be afraid to create layers. The toilet paper/latex combo will quickly start to look like loose hanging skin.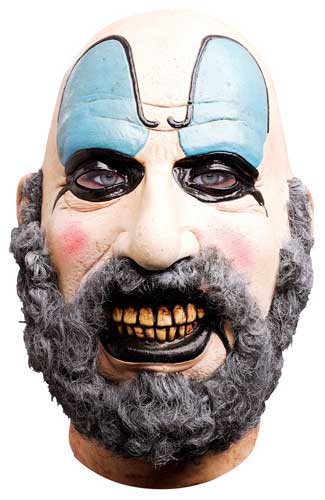 Cool, I know. Now, things to avoid. Drunken friends who think it's funny to rip the latex off your face at the end of the night. Damn, pumpkin beer! What is your favorite costume? I'm not just typing that question for my health. It would be really cool to hear from you guys. I mean, I know some people dress up in non-horror attire too , like Elvis Presley and Santa Claus, but let's talk monsters and ghouls. I'm not going to make any type of official list, but I have to put Frankenstein as my odds on favorite. However, a really decked out Evil Clown just can't be beat (google Pogo the Clown). I think that's why I like House of 1,000 Corpses as much as I do. Captain Spalding rocks! Yeah, he does.
While face paint, toilet paper, and latex are more fun, you can't discount the traditional Halloween mask. There is something about slipping on a Michael Myers mask or an Evil Unicorn mask that puts you into character. The mask is like a switch and once you pull the mask over your face, your Halloween personality is switched on. There is something about a mask that just fully hides your true identity and lets you be whoever you want to be. Your alter ego or your inner demon. For one night of the year, you get to be whatever is struggling to get out of you. It's a release. I remember one Halloween when I was in grade school, I got in a fist fight with a friend right at the door porch of someone's house that we just got candy from. The kid punched me and my mask spun completely around so I couldn't see anything. I remember swinging blindly at whatever was in front of me. I'm pretty certain I hit him a few times. It's been a long time since I went the way of the mask. Usually, I opt to create whatever I am from ground up. I just might have to return to my routes and purchase a new Halloween mask this year. Where's my pig mask?
For my exclusive interview with Marie Jones and her new book "Deja Vu" click here!