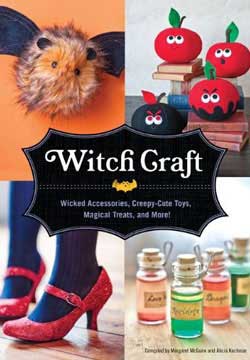 WITCH CRAFT: WICKED ACCESSORIES, CREEPY-CUTE TOYS, MAGICAL TREATS, & MORE!
(HARD COVER)
Compiled by Margaret McGuire & Alicia Kachmar
Published by Quirk Classics
Publication Date: 2010
Format: Color – 96 pages
Price: $14.95
"Double, double, toil and trouble! The instructions in Witch Craft will help you conjure up 25 totally wicked treasures – everything from vampire bite necklaces to graveyard cupcakes. You'll also find tips and tricks for transforming found objects and everyday items into wonderfully witchy treats."
So says the description on the back cover of Witch Craft: Wicked Accessories, Creepy-Cute Toys, Magical Treats, and More! Upon opening up the book and taking a peak for myself, I could not agree more! Halloween is a great time for spooky arts and crafts. Whether it's with your family, or with that special someone, jack-o-lanterns, cornstalks and creepy lawn decorations serve as the perfectly frightening backdrop for this fall activity. That being said, Witch Craft provides some unique ideas to ensure that you will have a wicked good time making everything from "magical treats" to "creepy-cute toys"; the crafts presented within this book are great for anything from costume crafting to creating food and decorations for your spooktacular Halloween party. This definitely is not the super scary novel that you are used to reading about on HorrorNews.net; rather it is a fun Halloween crafts book that the entire family can take part in.
Upon reading through Witch Craft, I couldn't help but become a little nostalgic of middle school. I was immediately reminded of the week preceding Halloween, in which we traditionally would make whimsical decorations from common classroom materials such as construction paper and pipe cleaners.  Granted, the crafts contained within Witch Craft will require a higher level of skill from Halloween enthusiasts, they are sure to please just the same. What is great about this book is that it takes arts and crafts that are normally meant for children and repurposes them for adults; the crafts are all challenging projects that result in products with a much more polished look.
There are 19 different witch crafters featured, each with their own personal style and magical craft that help comprise the book. The witch crafters hail from all around the world, from British Columbia, to Japan, to Southern California. You can find crafts for everything from horrific headbands, to marshmallow skeletons, to spider and witch earrings, to spooky glass jars that hold eyeballs, to even terrifying tutus. My personal favorites were Kate Oates' knitted spider and spiderweb hat and Sandy Meeks' vampire bite choker. Also, I cannot lie, I loved all the little bat graphics throughout the book that said "EEEK!" – too silly!
You can check out the Quirk Book Irreference website to learn more about the book, as well as find links to downloadable print outs of patterns and special video tutorials from some of the featured crafters in the book. You can also read bios on the featured witch crafters and follow the links to their personal websites and shops for more information. Each crafter has their very own magical story to tell. Check out the Quirk Books official Witch Craft site here: irreference.com/witch-craft/.