Halloween is quickly approaching! It's time to break out some candy and watch a few movies to get you inspired. Here's a definitive list of movies to celebrate your 31 days of Halloween, or 13 days or to celebrate all year long!
Of course there's
John Carpenter's Halloween and Rob Zombie's Halloween (2007):
Synopsis:
The film is set in a generic Midwestern town called Haddonfield, Illinois. On Halloween, six year old Michael Myers murders his older sister. Fifteen years later, he escapes from a Mental Institution, he returns home, and stalks teenager Laurie Strode and her friends. Michael's psychiatrist Dr. Sam Loomis suspects Michael's intentions, and follows him to Haddonfield to try to prevent this from happening. Halloween has multiple sequals and has been re-imaged by Rob Zombie.
Rob Zombie's Halloween shows us how Micheal Myers became the infamous Micheal Myers. We follow him through his childhood until he escapes from the mental institution and from then on we see what transpires on that fateful Halloween night. Skip his version of Halloween 2 though, I found that to just be offensive to the franchise.
Trick-r-Treat
Synopsis:
Trick 'r Treat is a 2008 horror film. It was written and directed by Michael Dougherty and based on his short film Season's Greetings.
This film is a collection of four Halloween-related scary stories. One thing that ties the stories together is the presence of Sam, a mysterious pint-sized trick-or-treater with a burlap pumpkin mask, who makes an appearance in all the stories, as a 'friendly-reminder' to those who break the Halloween traditions.I have reviewed this film and it's worthy to becoming a Halloween movie tradition.
Each story is unique and comes full circle at the end. It is reminiscent to the next film.
Creepshow

Synopsis:
Creepshow is a 1982 American horror-comedy film that brings us several different stories that are subtly connected. Directed by George A. Romero and written by Stephen King. The films brings us 5 different stories and between these stories are different animated sequences.
Creepshow is a homage to E.C. horror comic books of the 1950's such as, Tales from the Crypt, The vault of Horror and The Haunt of Fear. Creepshow was a cult succes that for a short time it inspired it's own comic book series, a few sequels and a short-lived television series.
Audition
Synopsis:
Audition is a 1999 Japanese Horror Film directed by Takahasi Miike. A widower takes an offer to screen girls at a special audition, arranged for him by a friend to find him a new wife. The one he fancies is not who she appears to be after all…Audition has managed to land a cult following because of it's graphic content (making Saw look like Gilligan's Island) and can be looked at as commentary about stereotypes, power and identity.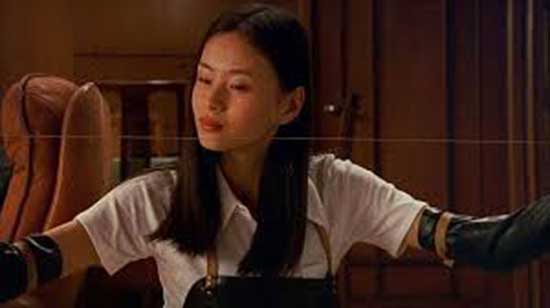 This movie is the first movie one MUST see if you are looking to dabble into the Asian horror genre!
Saw
Synopsis:
Saw is a 2004 American-Australian Horror Film directed by James Wan. The film's story revolves around two men who awaken kidnapped and chained in a dilapidated industrial bathroom. They are given instructions via a microcassette recorder to eat through the walls as that is the only "rule" of their "game". Meanwhile, police detectives investigate and attempt to apprehend the mastermind behind the "game." Saw is praised for it's (now characteristic) out-of-nowhere twists and gives a look into what it means to live, have morals and be a good person. It's twisted and has given birth to an unfortunate string of sequels
This is the Saw that started this annual torture fest on Halloween. Skip all Saw's in the franchise after this expect for maybe Saw II. They are only a shell of what they used to be.
Night of the living Dead and Dawn of the Dead (2004)
Synopsis:
"They're coming to get you Barbara!" Night of the Living Dead is a 1968 American independent black and white zombie film directed by George A. Romero. The film follows Ben, Barbra, and five others, who are trapped in a farmhouse in Pennsylvania and attempt to survive the night while the house is being attacked by mysteriously reanimated creatures, otherwise known as zombies.
Since the release, critics and film historians have seen Night of the Living Dead as a subversive film that critiques 1960s American society, international Cold War politics and domestic racism. So it's not just your average zombie movie! It is also one of the first zombie movies.
Dawn of the Dead is the sequel to Romero's Night of the Living Dead directed by Zack Snyder. The 2004 remake is an excellent representation of the original, much darker and gives the zombies a more grisly appearance, also having them run instead of being slow and lumbering. The remake and original both depict a handful of human survivors living in a shopping mall surrounded by swarms of zombies, but the details differ significantly.
House of 1000 Corpses
Synopsis:
House of 1000 Corpses is a 2003 American exploitation horror film directed by Rob Zombie and this is his directorial debut. Two teenage couples traveling across the backwoods of Texas searching for urban legends, the infamous Dr. Satan, end up as prisoners of a bizarre and sadistic backwater family of serial killers on Halloween night. Rob Zombie knows how to make a movie that will shock you. Packed with cult horror icons and everyone's favorite clown, Captain Spaulding, House of 1000 Corpses is a blast to watch. This has lead to a proficient cult following and a sequel, The Devil's Rejects.
Hopefully this list will leave you craving for more and be a welcome addition to your Halloween collection. What are your favorite movies to watch to get into the Halloween spirit?