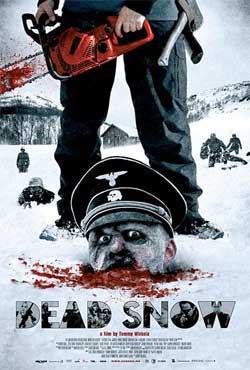 SYNOPSIS:

A ski vacation turns horrific for a group of teenagers, as they find themselves confronted by an unimaginable menace: Nazi zombies.
REVIEW:
Dead Snow is one hellava Nazi Zombie psycho Ride!!
As we open on a chase in progress and the "Dance of the sugar plum fairies" (in the background) we are graced with a new release fresh out of Norway directed by Tommy Wirkola. Before you read any further, I absolutely dig this film with its bloody exploits and heightened graphic nature (due to its bloody backdrops against blankets of snow).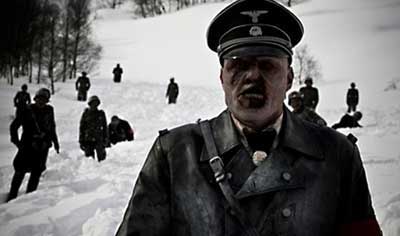 But lets dig further shall we? Like most films it begins with a voyage. The setting is 4 guys, Martin, Erland, Vegard, and Roy who are accompanied by the able female cast of Sara, Liv & Chris. Their 4th party of one Hanna, is off somewhere in the mountains on her own accords. As expected the group has arrived on vacation (Easter vacation) in the region of Oksfjord to enjoy themselves at a mountain cabin getaway. Games, drinking, snow boards, snow machines and a friendly game of twister are all part of the fun and relaxation adventure getaway planned in the seclusion of snow filled landscapes and miles of white.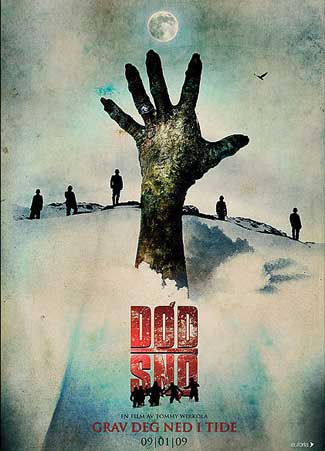 So if you follow most film setups, you know there will be a couple of things coming. One, the fun will be interrupted by some kind of forewarning and 2 plenty of killing is about to unfold. Well conveniently a traveling snow hermit (we'll just call him for now) appears at the doorstep to grab a cup of coffee. As he unwinds he unleashes the bad news. This portion is necessary to prep the audience for the evil creatures that lurk in the dark.
As legend has it…. back in WW2 an evil colonel Herzog and his troop of nazi platoons took to the mountains to escape from civilian backlash. The Germans and Russia were at war, so folks were on edge. He called his troop Einsatz and were the most evil of Nazi regime. They of course disappeared in the mountains and are rumored to haunt the area if awakened. Well nothing like awakening the dead than a cabin full of partygoers, eh! This begins the reckoning. They also happen to come across an old box of gold which stirs up the nazis even more.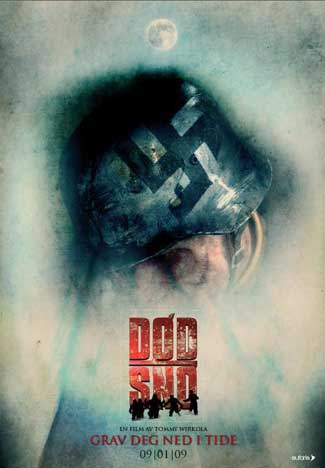 The premise is nothing complex but execution is the key to delivery. Scenes of nazi lurkers begin quickly, brutal and mysterious. We begin with low lit zombie creatures that are nothing short of bad ass though also organized and unrelenting. In fact one of the teen movie buffs makes the joke… Don't get bitten! "Oh stop that nonsense" – his friend answers back. A cleverly dialog choice to tie in the nostalgic zombie myths.
At this point you almost want to starting comparing notes and tension to Friday the 13th tactics. Luckily it ramps up to much more. Highly entertaining it is somewhat derivative but still it can sit with the best of them. The thought of Nazi zombies always presents a creepy scenario in my book. In this case there is a slight early nod to the old school film "Shock waves". The camera work is excellent, and vivid.
If you want a formula, we have the basis of arrival, ignorance, discovery, tension, reality, survival and resolve. Even with those aspects it is done with great style and pizzazz.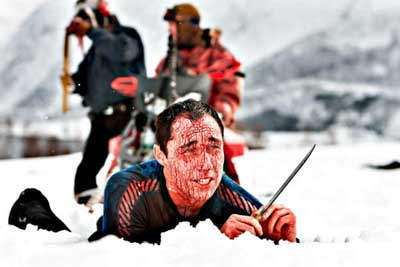 There are a few scenes that are obviously influenced from the Sam Raimi style of film making but that's not a problem for me. We are given a really effective group pf villains who slash, cut, eat, bite, torture, kill – you name it. A personal bonus shot for me was the 5 nazis ripping there kill into pieces.
And even though there is plenty of carnage, there is a base of humor woven into the frame work. You'll find yourself laughing at absurdly gory scenes and the reactions of the remaining survivors. The humor only adds to a great horror piece making it that much more enjoyable in a horrific kind of way. I'd watch this again several times as the thrill ride was a true gem!
Dead Snow (aka Død snø ) (2009)