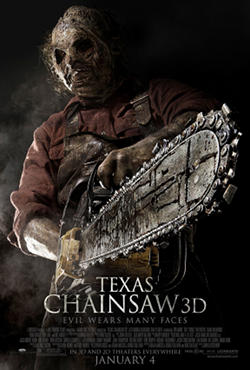 Did you check out TEXAS CHAINSAW when it was in the theaters? I didn't, kind of came and went pretty quickly in my neck of the woods but fear not, it's heading to home video already!!
Got all the details for you tonight. From the press release:
The pulse-pounding horror film, Texas Chainsaw,arrives on 3D/2D Blu-ray Disc (plus Digital Copy and Ultraviolet), DVD (plus Digital Copy and Ultraviolet), Video on Demand and Pay-Per-View on May 14from Lionsgate Home Entertainment. Texas Chainsaw will also be available for Digital Download on April 30, three weeks prior to the Blu-ray, DVD and Video on Demand release. The film stars Alexandra Daddario (Percy Jackson and the Olympians: The Lightning Thief), Dan Yeager (Metal Heads), Tremaine 'Trey Songz' Neverson (GRAMMY® nominated R&B International superstar), Tania Raymonde (TV's "Malcolm in the Middle," TV's "Lost"), Shaun Sipos (The Grudge 2, Final Destination 2), Keram Malicki-Sanchez (American History X), James MacDonald (Phone Booth), Thom Barry (TV's "Cold Case"), Paul Rae (True Grit) and Richard Riehle (Office Space). Also featuring special appearances from four beloved cast members from previous installments of the franchise: Gunnar Hansen (the original Leatherface), Marilyn Burns, John Dugan and Bill Moseley, Texas Chainsaw carries on the legacy of the shocking film, The Texas Chain Saw Massacre, 39 years later.
Texas Chainsaw continues the legendary story of the homicidal Sawyer family, picking up where Tobe Hooper's 1974 horror classic left off. In Newt, Texas, people have been going missing without a trace for decades. Years later and hundreds of miles away from the original massacre, a young girl, Heather (Daddario), discovers that she has inherited a sprawling Texas estate from an unknown grandmother. To claim her estate, Heather goes on a road trip with her friends to Newt, but learns that wealth comes at a price when she discovers the horror that waits in the cellar of her new mansion.
The Blu-ray and DVD features extensive bonus materials including audio commentaries, a look back at the history of the Texas Chainsaw series, exclusive interviews with the film's director, producer and writers plus multiple behind-the-scenes featurettes. Texas Chainsaw will be available on Blu-ray Disc and DVD for the suggested retail price of $39.99 and $29.95, respectively.
BLU-RAY/DVD SPECIAL FEATURES*
Audio commentary with producer Carl Mazzocone and filmmaker Tobe Hooper
Special "Chainsaw Alumni" audio commentary with stars Bill Moseley, Gunnar Hansen, Marilyn Burns and John Dugan
"Texas Chainsaw Legacy" featurette – A look back at the history and 40 year legacy of the Texas Chainsaw Massacre series with filmmaker Tobe Hooper
"Resurrecting The Saw" featurette – A look at the development of Texas Chainsaw with Director John Luessenhop, Producer Carl Mazzocone and Writers Adam Marcus, Debra Sullivan, Kirsten Elms and Stephen Susco
"The Old Homestead" featurette – A detailed look at the re-creation of the shooting location from the original Texas Chainsaw Massacre with Production Designer William A. Elliott and cast members (and Chainsaw series alumni) Bill Moseley, Gunnar Hansen, Marilyn Burns and John Dugan
"Casting Terror" featurette – Interviews with the cast including Alexandra Daddario, Trey Songz, Tania Reynolds, Keram Malicki-Sanchez, Kyle Eastwood, Sean Sipos and others
"Leatherface 2013" featurette – An interview with Leatherface actor Dan Yeager on his interpretation of this legendary role, along with a look at the creation of Leatherface's costume, mask and signature chainsaw
"Lights, Camera, Mayhem" featurette – A look at the film's 3D photography with Director of Photography Anastas Michos along with a look at the creation of several sequences from the film
"It's in the Meat" featurette – An detailed look at the film's grisly special make-up effects with Make-Up Effects Supervisor Robert Kurtzman, and Make-Up Artists Alex Diaz and Mike McCarty
On-Set Short Subjects: Five Minute Massacres
Burning Down The House
Trapped in the Van
Carnival Time
Leatherface In Action
Hot Times In Louisiana
Bloody Good Times