EMCE TOYS, the brand that revived the classic MEGO style 1/9 scale "retro cloth" action figures of the 1970s, is partnering with the MONSTERPALOOZA convention to create limited edition handcrafted MEGO-scale exclusives for the April 2012 event in Burbank.
To honor legendary Universal makeup maestro JACK PIERCE, EMCE is creating a very small number of 8" tall figures of Pierce, complete with barber's tunic and likeness-accurate head sculpt. An even smaller number of MEGO-scale replicas of Pierce's famous makeup chair will be created as well.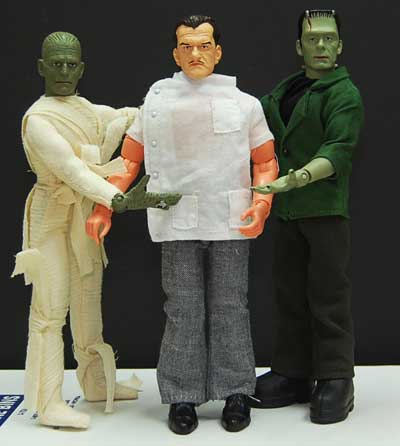 Pierce's head was sculpted by MIKE HILL, world renowned portrait sculptor and artist whose career runs the gamut from privately commissioned work to Hollywood blockbusters. MONSTERPALOOZA fans know Hill from his hyper-realistic statue of Boris Karloff being made up in Jack Pierce's chair (on display at the 2009 show).
The chair is a replica of the brand of barber chair that Pierce used throughout his career, digitally recreated by EMCE designer CAROLYN SEYSTER, with hand-sculpted fittings by makeup artist, sculptor and garage-kit veteran SHANE McGOWIN. Heads and chair replicas will all be cast, assembled and painted by hand in the US at the EMCE workshop in Long Island, New York.
"With six, going on eight Mego-scale Universal Monsters we've designed for Diamond Select Toys, this is the perfect unique addition to any collectors' Mego Monsters display," said JOE SENA, president of Fourth Castle Micromedia, the parent company of EMCE Toys. Diamond Select Toys has released four EMCE-designed MEGO monsters: Frankenstein, The Wolfman, The Mummy and Dracula. Two more, the Bride of Frankenstein and the Creature from the Black Lagoon, were recently unveiled at the New York Toy Fair. Prototypes of the Bride and the Creature will be on display at Monsterpalooza as well.
"Some people are unaware that one man not only created the look of the iconic Universal Monsters but also painstakingly applied the make-ups in transforming actor into creature," said ELIOT BRODSKY, Monsterpalooza President. Makeup master Jack Pierce's work has passed the test of time going on to inspire future generations of makeup artists. As a Monsterpalooza exclusive, created by EMCE TOYS, we are excited to have this wonderful collectible of Jack Pierce and his makeup chair available for young and old to enjoy."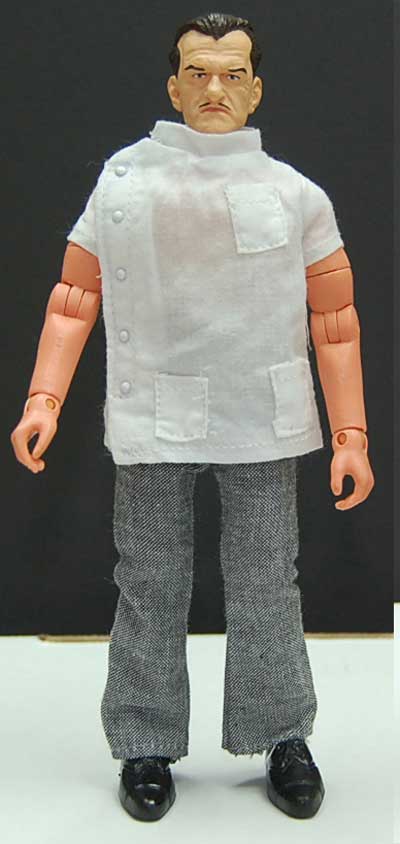 The Pierce figure is limited to 50 pieces and the replica of the chair is limited to 25 pieces. Photos of the progress on both items can be viewed on the EMCE Toys Facebook page (www.facebook.com/emcetoys) and also on the pre-order pages on EMCE's sister company FearWerx – The Scary Mall (www.fearwerx.com/monsterpalooza). The Pierce figure is available for $74.99 and the chair replica is available for preorder at $199.99. Both items can be preordered now and can either be picked up at the Monsterpalloza event in Burbank April 13-15 or shipped directly from the EMCE warehouse.