Makeup Takes Its 29th Turn at the Academy Awards
In the recent round of talk show appearances by actors from the new version of Alice in Wonderland, many of the performers discussed their lengthy stints "getting into costume." This is both a travesty and at the same time not surprising. While costumes have been heralded by cinema onlookers for decades, makeup has only recently been given the respect is has long deserved, both by the Motion Picture Academy of Arts and Sciences, and by people who work in movie making alike.
Historically, makeup has only been treated as a marginalized side craft in movie making. Honorary awards were given sporadically to exceptional makeups in films including The Mummy, created by Jack Pierce in 1932, The Seven Faces of Dr. Lao, created by William Tuttle in 1964, and Planet of the Apes, created by John Chambers in 1968. Unthinkably, an official Oscar for makeup did not exist until 1982 when the first award was given for Rick Baker's stunning work in 1981's An American Werewolf in London. And, in the years since, nearly every year, voters have awarded a movie of worth, with various incarnations of recipients, from one person, to two people, to three people, back to two, and currently including two or three, depending on the film.
This year, three wildly divergent films were noted by the Academy with an Oscar nomination, drawn from a large field of potential candidates. And, in what has become tradition of late, the Academy presents these three films at the Makeup Artists and Hairstylists Symposium – as those two crafts are often intertwined and whose craftspeople belong to the same union, Local 706.
At the March 6 event, elegantly hosted by Leonard Engelman at the Academy's Samuel Goldwyn Theater, the outstanding nuances of this craft presented makeup as a truly artistic endeavor as intricate as cinematography, editing, music, or any one of a number of particular jobs within the overall field of motion picture creation.
First up was Il Divo, an Italian production featuring character and age makeups, one specialty of makeup artists throughout the decades going back to the earliest films. In fact, age makeup mastery is often one of the most awarded types of skills for makeup artists, especially in the Academy Awards, including last year's The Curious Case of Benjamin Button (Greg Cannom), Amadeus (Dick Smith), and a host of films whose work was not awarded due to the lack of an official Oscar category (an example of a glaring omission would be Bob Schiffer's beautiful work in Birdman of Alcatraz).
In Il Divo, the age makeups were apparently created with the use of old age stipple in favor of prosthetic appliances, both of which are popular techniques for aging a character. From Italy, Vittorio Sodano (makeup effects) and Aldo Signoretti (hairstylist) were responsible for Il Divo, with Signoretti commenting to the symposium audience how a lengthy testing period was necessary to properly age the actors in progressive stages.
As evidenced by Il Divo's photo display, many of these age makeups were striking in their appearance and transformation of the youthful actors into believable middle and old-age characters.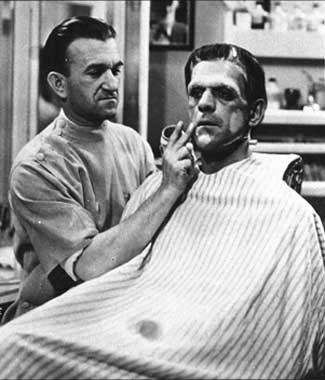 Next was Star Trek, director JJ Abrams' energetic re-imagining of the 44-year-old science-fiction franchise as a wholly new feature film. Featuring a range of makeup work, including Vulcans and Romulans created by Joel Harlow, aliens designed and created by Barney Burman, and an entire principal cast supervised by makeup department head Mindy Hall, Star Trek – the eventual Oscar winner – required the talents of all three of the recipients to realize the enormous project.
Hall, who has previously department headed other non-science-fiction projects, spoke of the need to approach each character as an individual makeup, whether or not he or she was realized with prosthetics. Additionally, Hall detailed the time-consuming process of creating eyebrows for her Vulcans by shaving the actors' actual eyebrows and painstakingly hand-laying new Vulcan eyebrows one hair at a time.
She often collaborated on Vulcans with Harlow, who later added that he created the Romulan characters with large prosthetic headpieces that covered the actors' foreheads and cheeks which had to be carefully painted and often applied without the benefit of previously lifecasting his actors.
Harlow also created and applied ears for his Vulcan and Romulan characters, breathing new life into the designs originally conceived for the 1960s TV show. A third-generation legacy, Burman, whose grandfather, Ellis, Sr., uncle, Sonny, father, Tom, and brother Rob, all trained in creating prosthetics, was tasked with numerous alien manifestations.
Working with a large crew in his Los Angeles-area lab, he took lifecasts of actors, sculpted alien makeups, made molds of the clay sculptures, and fabricated appliances in silicone, one of several materials that prosthetic artists utilize, including foam latex, gelatin, and others. Certainly, Star Trek was a complex, massive, and classic project for which to create makeup characters, but it is due to the combined abilities of Hall, Harlow, Burman and their extensive crews which brought the film its richly deserved Oscar.
Unfortunately, the representatives of the third film, The Young Victoria, were stuck in a travel delay and did not partake in the onstage presentations or interviews about their work in the period film.
Yet, they finally arrived in the post-event reception and spoke about the lengthy process of changing contemporary actors into those from the early 19th century. Makeup and hair designer Jenny Shircore mentioned the hours needed to do so with Emily Blunt as the title character while hairstylist Jon Henry Gordon noted that he has been specializing in period hair work since an uncredited turn on 1997's Titanic.
With extensive insight into this most hands-on of crafts in cinema, the symposium merely contained one major flaw: it only takes place once a year, whereas regularly-held seminars about this crucial aspect of the business would illuminate the machinations of the work for not only fans and enthusiasts of movies but also for the denizens of people who work inside the business as well.
The Art of Makeup Comes Alive