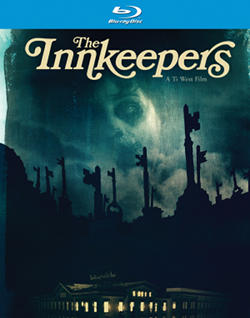 Everyone seems to love it and those of us who haven't yet gotten to view will not have that remedied. It has been announced that the latest from director Ti West is heading to Blu-ray and DVD on April 24th. It's about time!
Its been on VOD for like two months or something.
It looks like will have been worth the wait though.
THE INNKEEPERS is a classic haunted hotel tale:
After over one hundred years of service, The Yankee Pedlar Inn is shutting its doors for good. The last remaining employees – Claire (Sara Paxton) and Luke (Pat Healy) – are determined to uncover proof of what many believe to be one of New England's most haunted hotels. As the Inn's final days draw near, odd guests check in as the pair of minimum wage "ghost hunters" begin to experience strange and alarming events that may ultimately cause them to be mere footnotes in the hotel's long unexplained history.
As far as special features on the disc, here's what you'll get:
Commentary with Writer/Director/Editor Ti West, Producers Peter Phok & Larry Fessenden, and 2nd Unit Director/Sound Designer Graham Reznick
Commentary with Writer/Director/Editor Ti West and Stars Sara Paxton & Pat Healy
The Innkeepers: Behind the Scenes featurette
All in all, a nice little package. Remember the date, April 24th.