Ok, horror fans, it's that time again to round up this Fall's selections in the horror / fantastical arena. There are a few familiar returns with a few new faces as well. Of course, the ones that ARE returning are personal favs of mine, so no harm there. From this list of returning champions we have "True Blood", "Supernatural", "The Walking Dead", and "Fringe". We did lose a few from last year, which includes "V", "The Event" and "Lost". "Sanctuary, which seems to exist on its own timeline and schedule I believe has been renewed for a season 4, but fell away from its original premise in season 3. Due to it falling into the "I don't care" category, it didn't make the list.
A few on this list actually haven't premiered yet, so we are including them on a "looks pretty cool" factor. When we return with another report, we'll see if they end up living up to par. Check here, if you'd like to take a look back at last years "Horror-themed Thriller TV series"
Ones that didn't make it? "The Gates", "Happy Town", "The Cape", "Medium", "V", "The Event", "Lost" 
1- The Walking Dead (Season 2 – AMC)
This is an award winning series, that simply HAD to return. Better actually than most stand alone zombie films, it features a rich cast, characters and premise. A must see, that I believe will be around for quite some time. Great FX by Nicotero and team help add to its film like presence. Premise announced "it was announced that the second season will feature Grimes' group of survivors leaving Atlanta for the countryside, including the Greene family farm, a setting in the comic book series."
2- Supernatural (Season 7 – CW)
Ok, no one thought this would make it past the finale Season 5, and yet here we are with a Season 7. Let me step back…Fans were told that the show would be canceled in season 5, but fan fare prompted an extension of the Winchester lineage. This season we have to deal with Cass, who has now become "God"? Should be an all out war in heaven and hell. Exciting times. We're glad to see the team returning. It feels like another X-files legacy may have set into this series. I'd love to see this last until Season 9 as well.
3- Fringe (Season 4 – Fox)
Fringe is a damn good TV series. In fact due to it being good, I figured the network would have killed it (because that seems to be what happens to good TV shows) The last season (3) was pretty convoluted at times with 2 of this person, 2 of that person….. but its all coming to ahead. A war between dimensions. Remember when Spock possessed Olivia? Ya, that was weird. Still, this series takes on areas that we only touched on other series. I'm hoping it has a long life as well.
4- True Blood (Season 4 – HBO)
True Blood has become a favorite for its quirky swamp-land style of an alternate dimension catering to vampires, werewolves and witches. It succeeds because it's so well written and acted, that we accept its craziness. Let's not forgot its loaded with sex, nudity and racy items. It may be restricted to HBO, but its a show that we adore. Good times……can you say "Sookie" 5 times fast?
5- American Horror Story (Season 1 – FX)
I'm calling this one the most anticipated. It's good to see that there's at least 1 new show that doesn't have to rely on vampires in its premise. A family moves into an old mansion and discovers it's haunted. Seeing that the TV audiences are so attracted to haunting shows, this fictional one makes alot of sense. I look at it as a chance for TV to be scary again. Let's hope that the writers feel the same way, as with the "paranormal activity " wave, viewers loved being scared.
6- Being Human (Season 2 – Syfy)
Ok, stop me if you heard this one…. A vampire, werewolf and ghost walk into a bar.. All joking aside, season 1 of this was pretty decent. It's got humor, motive, premise and seems to exist in its own reality ignoring the fact that several other shows have done the same. It has been announced with a Season 2 which takes its lead from its British counterpart. Definitely worth a look if you are slow to the crawl on this one. A top front runner as well for the SYFY channel.
7- Death Valley (Season 1 – MTV)
This one's a hit and it lives on MTV. A familiar theme (vampires, zombies, werewolves) that is presented in a half hour hilarious way. I love the humor and accepted way of life this series assumes. A half hour seems way too short, but I'm loving what I see. Think "Reno 911" meets "True Blood". Ok, well maybe that's a stretch. In any case it's good to see MTV stepping up to the horror plate with a solid series for the genre.
8. Terra Nova (Season 1 – Fox)
This one might be closer to reality than you think. It seems present earth is a mess. We blew it, so in pops the element of time travel and a team who goes back to fix a few things. (it also happens to be year 2149) Guess what? yep they end up in dinosaur times. I think we all have a soft spot for dinosaurs. A dinosaurs driven TV series sounds good to me…..unleash the Raptors!!!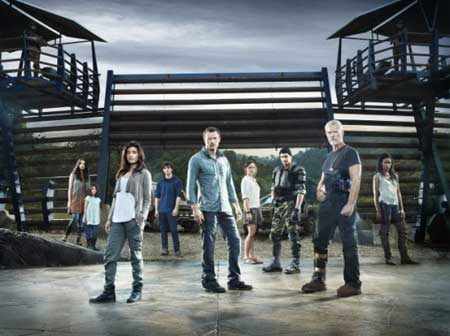 9- Grimm (Season 1 – NBC)
Called a cop drama that incorporates Grim fairytales. I'm guessing some pretty weird wacky stuff to unveil on this new series. It's mystery and crime blended with fiction and fantasy. A detective learns he is a direct descendant form the Brothers Grimm, cool eh? Yep, he has a partner but his last name isn't Winchester. The 2 end up fighting supernatural creatures and protect the world from Grimm storybook characters. It sounds good enough for my agenda….bring on the freaks!
10- The Secret Circle (Season 1 – CW)
Still too early to decide how well this is going to play out, "The Secret Circle" is centered around a town of witches and one 16 year old Cassie. She moves to New Salem after her mother's death and finds out that she is a witch and descendant from other witches. I'm thinking "The Craft" extended over a season on this one. We already sense the lighter and dark witches….I smell a confrontation coming on REAL soon. A promising new series from CW.
Special Mentions:
Dexter (Showtime)
Haven (SYFY)
Todd and the Book of Evil (Fearnet)
Warehouse 13 (Syfy)
Top 10 Horror-themed Thriller TV series of 2011