SYNOPSIS:

"The Six Degrees of Helter Skelter" walks in the footsteps of the Manson Family, visiting over 40 locations related to the infamous Tate/LaBianca murders, and tying together the dozens of odd connections between Charles Manson and the Hollywood elite. Entertainingly led by famous Hollywood historian Scott Michaels (E!'s 20 Most Horrifying Hollywood Murders, Dearly Departed: Vol. 1, FindADeath.com), this epic documentary employs never-before-seen autopsy reports (analyzed with the help of the Los Angeles Department of the Coroner), dozens of rare photographs, original Manson Family music recordings, and modern-day visits to the locations where the action went down, in the most complete retelling of the Manson Murders ever put on film.
 REVIEW:
If your picking this up your probably wondering from the cover if this is a film, a documentary or some other Manson-style project. Six Degrees is more of a passion exploration written by Michael Dorsey. It is indeed a documentary but is approached from an extreme fan and collector perspective who has taken a huge interest in celebrity deaths. We are introduced to his rather unique collection of artifacts from torn down buildings and acquired goods, though it's his fascination with the Manson legacy that this project focuses on.
Now I've seen my share of documentaries on Manson. They all kind of flow in similar way with clips, recordings and images. This one is rather unique in that it details all the accounts and locations of Manson, his clan, and where they rest now. Pretty much, Scott Michaels has done his research to the point of knowing where every location, every restaurant, every hippie commune and associated residence is residing now. They are of course much different today than the 60's but many still exist with new residents inhabiting them.
The famed Spahn Ranch is long gone due to a past fire outbreak. Scott persists and even pulls a few objects left over per way of a metal detection. Famous photograph locations are recreated or located. Famous locations are revisited with the current residents sometimes offering to speak on camera letting them film within.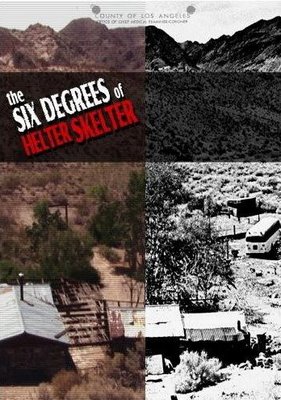 It's a rather unique study that feels eerie in the same breath. This is especially true when we see the famed Tate location, house of Roman Polanski still standing and then flashed to the death images from that same tragic day. We learn of NIN acquiring the house for recording session and taking the "pig" door with him…..morbid, eh?
We get a more gruesome overview in the police and autopsy reports that detail where each stab and impact wound was found per victim. If that's not enough, they re-enact the setting and road on the anniversary of Tate's death and how it would have looked years back to the Manson family murderers. Manson is looked at not only for his evil deeds but the person he was at the time and his struggle with trying to enter the music world. From hippy to hippy to rock star, it all collided in a different era that celebrated life from a abstract point of view. The drugs, the sex, the non committal ways …even the easily misled who would believe the words form a future madman.
I highly enjoyed this look at the controversial events from our past. Manson and company surely were on a path than changed history motivating the locking of doors and the fall of hippies. I think even Manson historians will learn a thing or 2 in this highly interesting collective of jam packed footage. I suggest if you've seen all the other ones, then you'll want to spend some recommended time with this one especially.
The film "Six Degrees of Helter Skelter"  is now available in a 3 for 1 set by Echo Bridge
The Six Degrees of Helter Skelter (2009)