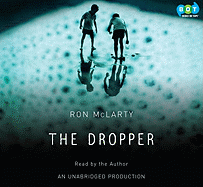 Today Cemetery Dance Publications is pleased to announce THE DROPPER by Ron McLarty, a brand new novel we'll be publishing in March 2012 as an exclusive trade hardcover edition, backed by a large advertising and marketing campaign.
Stephen King calls the book "a story where beauty and brutality mingle in a yarn I just couldn't put down. This book is filled with rich pleasures and textures I highly recommend it."
Ron McLarty is a veteran actor, accomplished playwright, prolific audiobook narrator, and acclaimed novelist. As a television actor, he has over 100 appearances to his credit including the recurring role of Judge Wright on Law & Order. His most recent appearances include Rescue Me, Sex & The City, The Practice, Judging Amy, and Law & Order: SVU. McLarty is also noted for  his body of work as one of the country's leading audiobook narrators having recorded more than 100 titles.
In 2002, Stephen King listened to the audiobook of McLarty's novel The Memory of Running and wrote an entire column in Entertainment Weekly about the book, calling it "the best book you can't read." The Memory of Running was later published in the USA and fourteen other countries around the world.
*** PUBLICATION INFORMATION:
TITLE: The Dropper
AUTHOR: Ron McLarty
FORMAT: Trade Hardcover Edition
PAGE COUNT: 350
ISBN: 978-1-58767-275-0
RETAIL: $25
PUB DATE: March 6, 2012