So far you've seen films and have played games with the undead, now you can feed your head with some good old fashioned zombie literature! Lets get started:
Marvel Zombies (2005-Present)
Synopsis: A comic book meta-series, Marvel Zombies introduces us to our favorite heroes in a unique way. The series features zombified versions of Marvel Universe superheroes. Marvel Zombies started out as a limited series by Robert Kirkman and Sean Phillips. The were also at the helm of Marvel Zombies: Dead Days and created Marvel Zombies 2. A cross-over with Army of Darkness occurred. Marvel Zombies vs. The Army of Darkness was written by John Layman with art by Fabiano Neves, Fernando Blanco and Sean Phillips. Marvel Zombies 3 and Marvel Zombies 4 were created by Fred Van Lente and Kev Walker. Van Lente then stayed on to write the first and last issues of Marvel Zombies Return, a series of five one-shots looking at different aspects of the outbreak. Marvel Zombies 5 was introduced and picks up where 4 left off.
A new series recently launched called, Marvel Zombies Supreme. This latest effort takes the infection to the Squadron Supreme and also introduces us to a new creative team at the helm.
The ultimate origin of the infection is unknown. A paradoxical loop is responsible for the existence of the infection in Marvel Zombies and Marvel Zombies Return. Regardless, the most frequent version is the virus seen in the first several Marvel Zombies series. The contagion spreads via a bite from the infected. The infected appears to be dead, or at least decaying, but retains their intelligence, personality and special abilities. Once satisfied, the zombies' personalities re-emerge, and the more humane and moral individuals often feel great guilt at this point, though others seem to embrace the infection, and seek to spread the infection to other universes.
There seems to be a cure, although extreme, if the infected is isolated from the food supply within a few weeks the craving for flesh disappears and they can function almost normally within society.
Who doesn't want to see zombie Wolverine?
The Walking Dead (2003-Present)
Synopsis: The plot centers mainly on Rick Grimes, a small-town police officer from Kentucky, his family, and a number of other survivors who have banded together in order to survive after the world is overrun with zombies. As the series progresses, the characters become more developed, and their personalities shift under the stress of a zombie apocalypse, most notably Rick's.
The Walking Dead started out as a monthly black and white comic published by Image Comics beginning in 2003. The Walking Dead is created by Robert Kirkman and artist Tony Moore, who was later replaced by Charlie Adlard from issue #7 onward. Tony Moore continued to do covers through issue #24 though. Currently there are 85 issues and 13 volumes, which are comprised of 6 issues each. There is also a hardcover edition available, they consist of 12 issues and include two story arcs from the series. There are also limited editions and signed copies of The Walking Dead.
The Walking Dead has also been adapted to the small screen. Airing on AMC, The Walking Dead was the breakout hit of the season in October 2010. Six episodes were aired all to critical, and fan, acclaim. Season 2 is underway and should be debuting on AMC this October. To learn more about the series check out my Spotlight piece: horrornews.net/21726/spotlight-the-walking-dead-tv-series/
World War Z (2006)
Synopsis: World War Z: An Oral History of the Zombie War follows  a collection of individual accounts of the zombie apocalypse. The stories trace the infection to it's origin and looks into the changes that occur within religion, geo-political events, and the environment during the aftermath of the Zombie War.
Max Brooks was inspired by The Good War, which is an oral history of World War II by Studs Terkel, and by George A. Romero's famous zombie films.World War Z has been praised for it's social commentary and varied international voices within the novel. World War Z explores survivalism, the government's ineptitude, corporate corruption, fear and uncertainty, and human short-sightedness. World War Z has been so successful that it is already in production to become a film starring Brad Pitt.
World War Z follows another Max Brooks book:
The Zombie Survival Guide (2003)
Synopsis: The Zombie Survival Guide is A survival manual containing crucial steps for surviving a potential zombie attack. Within the guide are detailed plans for the average person to follow. The guide also documents zombie attacks that have occurred within history.
The book is dived into six different chapters, a list of fictional attacks that have occurred throughout history, and an appendix. It is a best seller.
Pride and Prejudice and Zombies (2009)
Synopsis: Pride and Prejudice in a way you've never read it before, now….with zombies! A mashup of Pride and Prejudice now set within the backdrop of an ensuing zombie apocalypse. The story follows Elizabeth Bennet in an alternate universe of Regency-era England where zombies roam the English countryside. Elizabeth Bennet and her sisters are great zombie slayers yet they have real-world concerns like marrying a husband and producing offspring. Deciding otherwise was considered "unladylike."
A 2009 parody-novel by Seth Grahame-Smith, Pride and Prejudice and Zombies was published by quirk books after the editor of the company compiled a list of "popular fan-boy characters such as ninjas, pirates, zombies, and monkeys" with a list of public pop culture domain book titles. Currently the book is circling around Hollywood as a possible film adaptation idea. Pride and Prejudice and Zombies was so unique that it has been adapted into a graphic novel and several other versions and inspired a prequel:
Pride and Prejudice and Zombies: Dawn of The Dreadfuls (2010)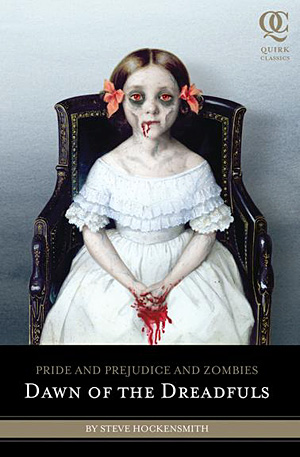 Synopsis: Dawn of The Dreadfuls focuses on the early life and training of Elizabeth Bennet, the heroine and protagonist of Pride and Prejudice and Zombies, as she strives to become a great zombie hunter. Readers will also get a glimpse at her early romantic trials and tribulations.
Pride and Prejudice and Zombies: Dawn of The Dreadfuls is written by Steve Hockensmith. Taking cues from Max Brooks, Dawn of The Dreadfuls follows the same parody of a classic novel feel. A must-have for fans of Pride and Prejudice and Zombies.
Patient Zero (2009)
Synopsis: The first in a series about Joe Ledger, Patient Zero follows Ledger as he heads the Department of Military Sciences. His first mission is to stop a terrorist organization from releasing a deadly virus that turns humans into flesh-eating monsters, or zombies.
Johnathan Maberry tries to combine the elements of World War Z and James Rollins's Sigma Force Series to create Patient Zero. Maberry is a multiple winner of the Bram-Stoker Award. A more obscure find, Patient Zero has been called, "…the ultimate page-turner, a novel that hooks you with its opening sentences—"When you have to kill the same terrorist twice in one week, then there's either something wrong with your skills or something wrong with your world. And there's nothing wrong with my skills."—is thoroughly fun to read, immensely entertaining, and is just impossible to put down. I loved every moment I spent with it and highly recommend this blockbuster-in-the-making to anyone looking for an awesome time…" -Robert Thompson
So there you have it! Zombie lovers rejoice!! Not only can you watch them and play with them, but there's enough zombie literature to satisfy your imagination. Sometimes your imagination can create worse scenarios than any movie or television show. Have I forgotten to mention any of your favorites? Please sound off in the comments section. I am always open to suggestions and recommendations. Always remember, sometimes it's not the zombies you should be afraid of, it's your humanity.
Sources: Marvel.com, Wikipedia (Marvel Zombies,Pride and Prejudice and Zombies, World War Z, The Zombie Survival Guide….) , Fantasy Book Critic (fantasybookcritic.blogspot.com/2009/03/patient-zero-by-jonathan-maberry.html) Robert Thompson, Fantastic Fiction