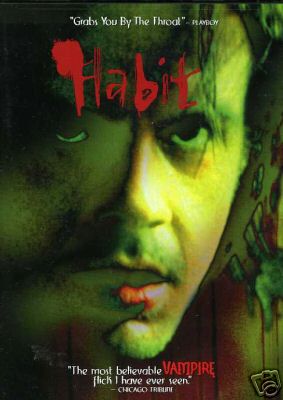 SYNOPSIS:
In this stark vampire film, the near-alcoholic Sam (Larry Fessenden) meets the hauntingly beautiful Anna (Meredith Snaider) at a Greenwich Village, N.Y., costume party — and then she promptly disappears. Sam becomes obsessed with the woman, abandoning his friends when they need him the most — most notably his pal Larry (Jesse Hartman), who had a fling with a similarly mysterious girl and now appears sickly and pale.
REVIEW:
"Actually, I'm committing suicide on the installment plan ."
–Sam
I love vampires; I make no bones about it. Since I saw my first vampire movie I was hooked on the blood suckers. I read "Dracula" at age 13 and loved it (and why can't someone do a min-series from the book and do it right). I have appeared in two no budget vampire films. So if I didn't tell you before I will now, I love vampires. Now, this does not mean I love all vampire movies, some of them, pun intended suck. And no budget film makers are drawn to the vampire scene, so almost every different trick or treat has been done with the vampire. There is not a lot new under the sun, I mean moon.
Having written all this, I have to say that 'Habit" is an amazing movie that should have lit up the movie world. People should know this film well and sadly it is an almost forgotten charm, a movie that was over looked for too long. It even has the hook of being taken as either a vampire film or a psychological drama about an alcoholic breaking down into madness, take your pick, the movie will still hold up.
Habit" does not seem to be the low low budget film that it is, it has style and art to its look. The acting is good, with the director/writer/lead Larry Fessenden turning in a great performance of the alcoholic hero who heading towards hell. The film has a lot of sex in it as the vampire has appetite for both blood and physical connections. I really enjoyed that we never needed to explain what a vampire was, and how to kill them, everyone just knew what they were. The hero knew that garlic and crosses would work he didn't need Van Helsing to come in and explain it all. I am not sure if this is the first film equating alcohol use and vampirism, but it does a great job of making both into addictions which can kill.
The film is well directed by Larry Fessenden and has skillful cinematography (by Frank G. DeMarco) and editing. The script was written by Larry Fessenden who gives the movie a slow build up, growing the tension with every scene and then he switches gears so you are never totally sure how sane our lead is and what type of a movie this is.
First of all what worked for me:
* The chemistry between the leads is strong. They look like they are making love when they do on scene.
* The camera work is very arty and fits the movie, the city looks rich and dark and maybe a little different than we normally see it.
* The ending which just makes sense. There can be no happy ending here.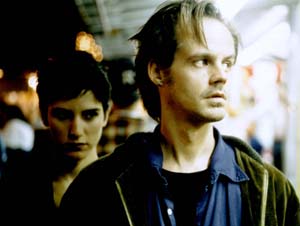 What doesn't work for me:
*Why does it always mean if the hero/heroine has a pet that it will die before end credits I am just saying?
* The speech from one of the other characters explaining the theme of the movie during an argument. I mean come on.
All and all a great movie to spend an evening with. The filmmakers did a lot with very little money. A great location, good actors and a pretty good story. Pop some popcorn, grab your crosses and give this movie a chance. I give it 4 and a half stars out of 5.
HABIT
NEW Director-Approved HD Transfer
NEW Audio Commentary With Actor/Director/Writer/Editor Larry Fessenden
The Making Of Habit (1995)
Short Film Habit (1981)
The Making Of Short Film Habit (1981)
Save You From Yourself Music Video
Theatrical Trailer
Short Film N Is For Nexus From Magnet Releasing's The ABCs Of Death 2
The Making Of N Is For Nexus
Frankenstein Cannot Be Stopped Music Video

Habit is included on the special Larry Fessenden Bluray Pack released by Shout Factory